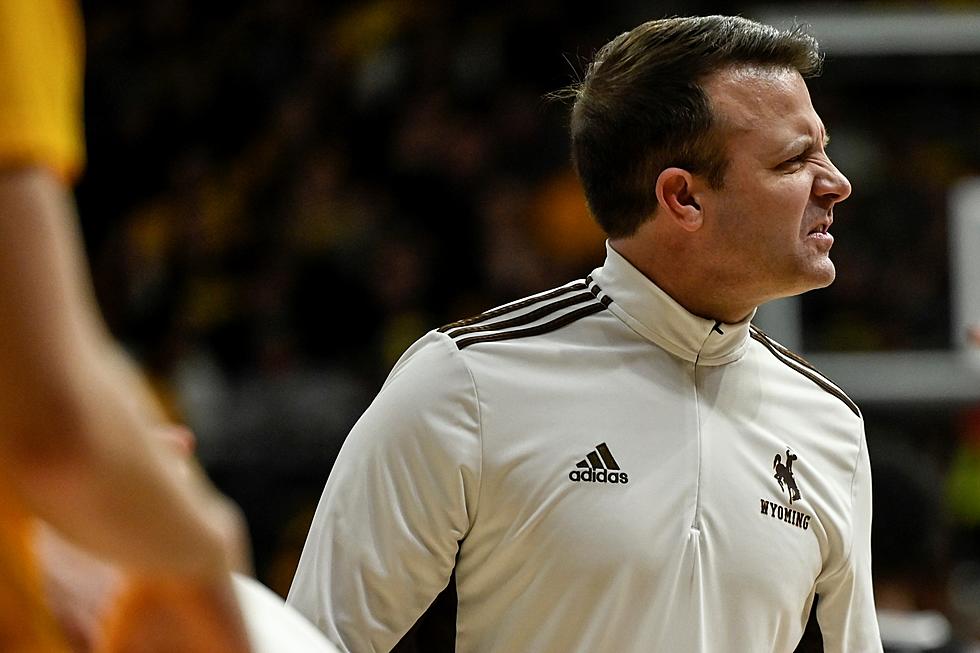 Wyoming Basketball Inks Guard From Famed DME Academy
LARAMIE, WY - FEBRUARY 26: Head coach Jeff Linder of the Wyoming Cowboys works the sidelines against the Nevada Wolf Pack during the second half of Wyoming"u2019s 74-61 win at the Arena Auditorium on Saturday, February 26, 2022. (Photo by AAron Ontiveroz/MediaNews Group/The Denver Post via Getty Images)
DETROIT, Mich., -- Albany offered Nigle Cook. So did Villanova.
Yes, the school that claimed national championships in 2016 and '18.
The 6-foot-6, 180-pound sharp shooter from DeLand, Fla., chose Wyoming, signing with Jeff Linder's program Friday afternoon. Cook is the third player to ink with the Cowboys this week since the signing day window opened Wednesday.
The point guard played his high school basketball at DME Academy, one of the nation's elite prep programs. Not only does DME frequent the Top 10 in the country, Keegan Murray, the second pick in last year's NBA Draft, attended the Daytona Beach institution.
"Nigle has major upside," Linder penned on Twitter. "He is a phenomenal athlete that can shoot the ball."
Cook joins Kobe Newton and Mason Walters in this season's recruiting class.
Newton, also a guard, helped lead Fullerton College (Calif.) to a CCCAA Championship in 2023. The Portland, Ore., native averaged more than 13 points per game and shot nearly 40% from the field. Walters was named the NAIA Player of the Year after leading the University of Jamestown (N.D.) to that league's version of the Sweet 16. The 6-foot-9, 255-pound forward was named a First Team All-American for the third straight season.
Newton has two years of eligibility remaining. Walters has one.
This trio joins holdovers Brendan Wenzel, Caden Powell and Kenny Foster in Laramie. Linder's 2022-23 squad lost nine players to the NCAA Transfer Portal, including Mountain West Preseason Player of the Year Graham Ike, who has yet to announce his next destination.
Noah Reynolds (Wisconsin), Ethan Anderson (Pepperdine), Xavier DuSell (Fresno State) and Jeremiah Oden (DePaul) have all signed. Jake Kyman, Nathanial Talich, Nate Barnhart and Max Agbonkpolo have yet to find their next landing spot.
Cook is the first high school player to sign on the dotted line with UW this offseason. During his junior year, he averaged nearly 12 points per game and pulled down 5.5 rebounds. He also dished out nearly three assists per outing.
Linder and Co. still have seven available scholarships to fill.
POKES: The Seven Best Games In The History Of The Wyoming-CSU Border War Rivalry (Naturally, they were all Wyoming wins)