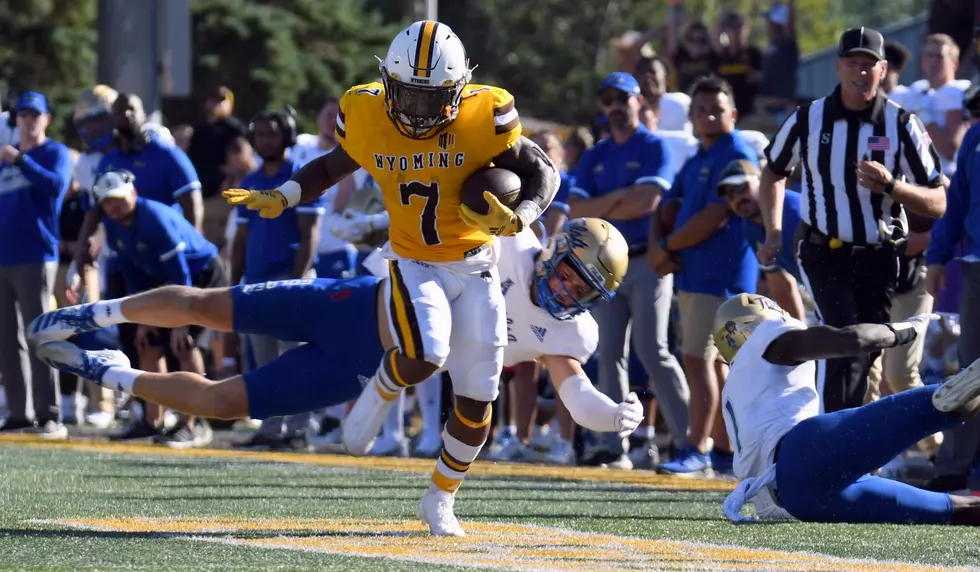 PODCAST: Let's Put a Bow on Pokes Training Camp
Wyoming running back DQ James blows past a Tulsa defender during a 40-37 double-overtime win over the Golden Hurricane Saturday in Laramie./ DJ Johnson photo
LARAMIE -- Craig Bohl will step behind the podium next Monday afternoon, surely sharp-dressed, tie and all, and whip out his manila folder. Inside, all the right things to say about the Cowboys' Week 1 opponent.
He'll tell us how well-coached Texas Tech is. He'll compliment the visitor's fast-paced offense and issue a warning to his guys, saying they need to be ready for everything. He'll say the Red Raider defense is likely one of the best his team will see all season.
He's not wrong.
Football season is here.
Finally. Thank God. Hallelujah.
MORE UW FOOTBALL NEWS VIA 7220SPORTS:
* Pokes Practice Report: Texas Tech is officially on the clock
* Wyoming WR Alex Brown: 'I think this will be a big year for me'
* Throwback Thursday: Neff's rainbow turns tide for Cowboys
* UW quarterback Evan Svoboda trying to win 'race to maturity'
* Senior Bowl eyes pair of Pokes, Easton Gibbs, Cole Godbout
* Ayir Asante looking to add new element to Pokes offense
* Q&A with Wyoming DC Jay Sawvel
* Wyoming RB Jamari Ferrell sits atop initial fall depth chart
* Wyoming's proud Poly's Suiaunoa, Tulafono up for national award
* Pokes Practice Report: Sabastian Harsh nearing return
The Big XII's dark horse will ride into Laramie looking to prove 2022 was no fluke. They are bringing experience, a seasoned quarterback and plethora of playmakers. Joey McGuire's squad finished the year 8-5 overall and 5-4 in conference play. That featured big wins over Texas, Kansas, Oklahoma and a 42-25 beatdown of the Ole Miss Rebels in the Texas Bowl.
Impressive? You bet.
Jay Sawvel, UW's defensive coordinator, said this will be the best offense the Cowboys will face this fall. That's saying something when the mighty Longhorns are on the schedule.
While that might be true, here's another question to ponder: Will Wyoming's defense be the best the Red Raiders see this fall?
It's a legit query.
Cody Tucker and Jared Newland put a bow on fall camp and chat about the storylines that emerged in August. There's a new starting running back, left guard and right tackle. Kolbey Taylor, the unquestioned MVP of the offseason, is the lone new starter on defense. Still, he appeared in eight games in '22 and started the final two, including the Arizona Bowl.
Make sure to check out the latest edition of the Roaring Repeater Podcast right HERE. Next week, we're talking about an actual game.
Finally. Thank God. Hallelujah.
Also, don't forget the 7220sports.com online merch store is open. Check out some awesome finds right HERE.
Have you signed up for our daily newsletter yet? Do that right HERE.
We are the only outlet that covers the Pokes with our own exclusive app. You can download that bad boy right HERE. Don't forget to sign up for app alerts, too.
Want to listen to live Pokes games? You can do that right HERE.
PRESS PASS: Roaming The War
Wyoming Cowboys vs. Montana State Bobcats
-PRESS PASS: Roaming The War