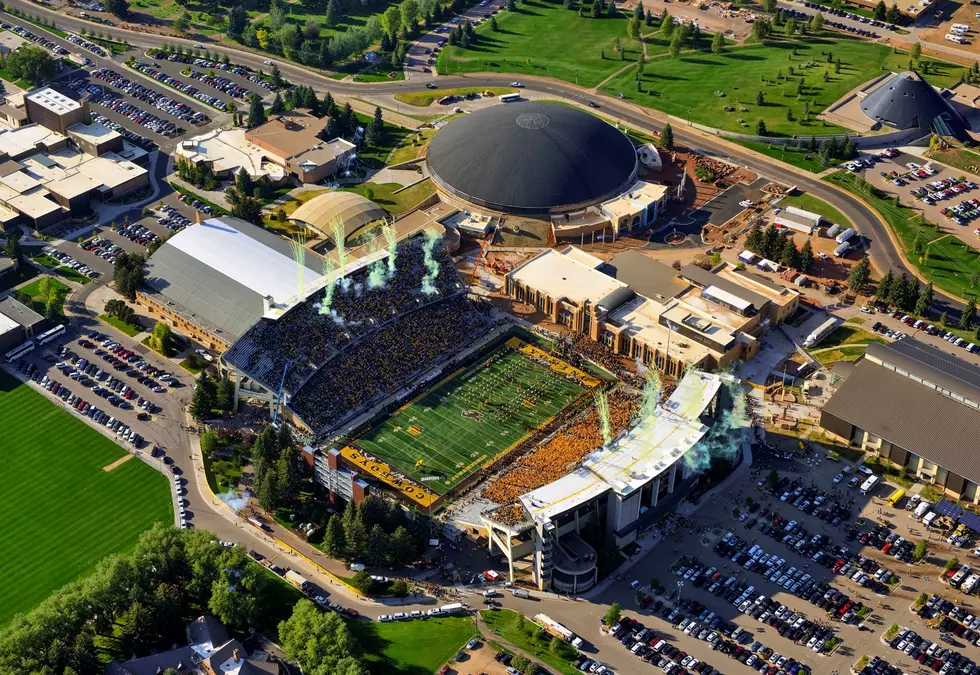 Pokes Ink 'dynamic' Three-Star Cornerback on Early Signing Day
Naz Hill, a three-star cornerback from Illinois, signed with the Cowboys Wednesday despite offers from Nebraska, Oregon, Kansas and more./ UW courtesy photo
LARAMIE -- Oregon, Nebraska and Kansas wanted Naz Hill. So did a host of other FBS programs, nine in total.
The cornerback from Kankakee, Illinois instead chose Wyoming.
Gordie Haug boasted about all 13 of the Cowboys' high school signees Wednesday afternoon. He raved about the lone transfer portal addition, Harrison Waylee, too. That grin flashed a little brighter when he talked about Hill.
"He's a very explosive player. I mean, he's dynamic," UW's recruiting coordinator said. "We're really excited about him. I mean, his length, athleticism and playmaking ability is off the chain."
Hill, the No. 33 overall recruit in Illinois, according to 247 Sports, tallied 32 tackles during his senior season. He added four interceptions -- including one for a touchdown -- and registered a pair of safeties while helping lead the Kays to an 8-3 record.
The 6-foot-3, 180-pound three-star recruit is also a standout basketball player and a state champion sprinter.
Why Wyoming?
"It's the program and definitely the coaching staff," Hill told The Daily-Journal on Wednesday. "When I went there it was a whole different world -- the way they treated me, helped me go through the process along with me as we went down the road, that played a big part of my decision."
MORE UW FOOTBALL NEWS VIA 7220SPORTS:
* Wyoming Football Announces 2023 Early Signing Class
* Where are the Local Wyoming Football Recruits?
* Craig Bohl: Expect 'Blend' of Prep, Portal Players at Wyoming
* Wyoming Snags Near 2,000-Yard Rusher in Transfer Portal
Haug said Hill's father and coach came to Laramie on a visit. The rest, as they say, is history.
"It was kind of a match, you know? It felt like this guy could fit here and be a player for us," he said. "We're really excited about him."
Haug credited cornerbacks coach Benny Boyd with recruiting Hill and developing a relationship with his family. Despite other schools tossing out offers, Wyoming, Haug added, staying the course.
"That was a good one," he said. "That was a really good one to get."
Hill will join a secondary that featured plenty of youth and inexperience last fall. Cam Stone, who led the Cowboys with two interceptions, including one for a score in a road victory at New Mexico, entered the NCAA Transfer Portal at season's end. The junior inked Wednesday with Mountain West foe Hawaii.
Jakorey Hawkins and Deron Harrell, two incoming transfers before the 2022 campaign, will return to the corner spot next season. So will Kolbey Taylor, who saw action late in the year and racked up a pair of tackles against Fresno State.
Wyoming signed two additional cornerbacks in this early signing period. Chauncey Carter (Garland, Texas) and Ian Bell (La Verne, Calif.) will also have an opportunity to crack the lineup next September.
PRESS PASS: Roaming The War
Wyoming Cowboys vs. Montana State Bobcats
-LOOK: Pokes vs. Bobcats