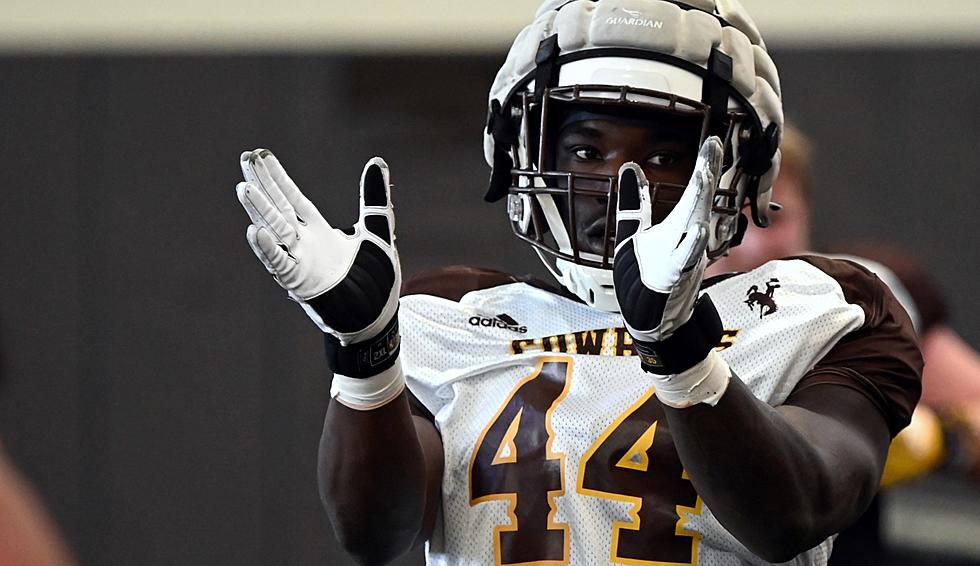 Pokes Practice Report: Things are getting physical
Wyoming defensive end Oluwaseyi Omotosho has been impressing his coaches this spring with his edge rushing./ DJ Johnson photo
LARAMIE -- If the NCAA allows it, Craig Bohl's Cowboys will do it this spring.
Of course, Wyoming's ninth-year head coach is referring to physicality, something that was plentiful in last Saturday's scrimmage inside War Memorial Stadium and again tonight under the lights.
"It was a physical day," he said. "This spring, we've probably been more physical and had more full contact than what I can remember."
Four players didn't finish practice Tuesday. That just comes with the territory, Bohl said, adding injuries are always a concern this time of year. But, he feels it's a must with the youth littering this roster.
"I feel like we've got a lot of unproven players and we need to expose them to full contact," he said. "... That's a line we need to walk."
About that scrimmage.
Bohl said the Cowboys' offense ran 77 plays Saturday afternoon. He was pleased with the composure with so many new faces on that side of the ball. That unit committed just one turnover -- a fumble -- and didn't have one pre-snap infraction.
Running back Titus Swen took just "four-or-five reps" opening the door for redshirt freshman DQ James. Bohl said the 5-foot-7, 180-pound Texas native was electric.
"DQ did some great things on Saturday and also today," Bohl said. "He is an added running back that gives us a different pace. He's got good speed but he's got excellent change of direction. He really did a super job."
MORE UW FOOTBALL COVERAGE:
* MSU transfer Cole DeMarzo battling for outside linebacker spot in Laramie
* PODCAST: Position battles galore inside War Memorial Stadium
* Wyoming's Cole Godbout locked in this spring
* Sabastian Harsh primed for breakout 2022 campaign
On the defensive side of the ball, Bohl said safety Wyett Ekeler made some big open-field tackles. Once again, though, the head man was impressed with the Cowboys' young pass-rush unit.
He's mentioned the name Sabastian Harsh numerous times this spring. That happened again Tuesday. He also said DeVonne Harris and redshirt freshman Oluwaseyi Omotosho would've racked up a couple of sacks if they were allowed to hit the quarterback.
"When we recruited him, we saw him run a 4.5 (40-yard dash)," Bohl said of Omotosho. "You knew that it was there, but it hadn't transitioned into football speed. What he wasn't able to do, the next step was to become more of an effective defensive end to where he can play the run and pass. He's still not where we want on the run, but I thought he really did some great things with his speed."
Bohl didn't specifically talk about the Pokes' crop of quarterbacks other than to say Utah State transfer Andrew Peasley "handled stuff pretty well but still has a curve to go." When asked what his thoughts are on the QB situation today compared to this time a year ago, Bohl came with a quick response.
"I would say this, we're more accurate," he said. "I don't know if we're throwing the ball deep, as well, but the throws in the mini-field -- which really come off of the west coast offense, which we run -- I'm pretty pleased with that right now."
Here are some other news and notes from this week at camp:
* A number of players didn't finish practice Tuesday evening. Offensive guard Eric Abojei and linebacker Shae Suiaunoa suffered knee injuries. Bohl didn't know the severity of either but added the words "tweaked" and "minor." Defensive tackle Gavin Meyer also didn't finish practice for an undisclosed reason. Deron Harrell, the cornerback transfer from Wisconsin, took a big hit, according to Bohl, and will be evaluated for a concussion.
* Bohl reiterated once again that this program will be run-first when it comes to offensive football. With a guy like Swen in the backfield, Bohl plans on using him -- a lot. "I think we've got a heck of a tailback," he said. "I just think Titus Swen, I mean, he had really good production last year. We were able to share the load and I mean, I think you guys saw how many times he had yards after contact. Hell, there was one game that the whole damn jersey got ripped off -- and it wasn't the old tearaway jersey. He's got an unbelievable explosion, so we're going to leverage that."
* What about the guys that are blocking for him? Abojei, along with Frank Crum, Zach Watts and Latrell Bible are seasoned, but Bohl said he is liking what he's seeing from the big guys up front. "I think we have a really good young offensive line," he said. "I'm really pleased with the progress there. They're protecting well, but their run capabilities, I think, are excellent." Remember, there is more help on the way. When the freshmen arrive in June,  Jagger Filippone, Mykel Janise, Wes King and four-star recruit, Deshawn Woods, will join the offensive line group.
* The outside linebacker spot is wide open. "We're still very much unsure of who our WILL is going to be," Bohl said. Some players to watch in the spring game are Cole DeMarzo, Suiaunoa, Connor Shay, Sam Scott and Read Sunn.
* Bohl said Tuesday that last season he gave a few directives to first-year offensive coordinator, Tim Polasek. UW fans won't be surprised to hear that one of them was to run the ball. "I mean, we had two really good running backs," he said, referring to Xazavian Valladay and Swen. "I just said, 'Hey, listen, we're going to try to move people on the line of scrimmage. We will always try to be a run-first football team. I think that's important at Wyoming."
* Bohl said he wanted to throw the ball more last season. In an interview this winter, he expanded on why he felt they couldn't. You can read that right HERE. He said Tuesday it will be imperative to implement a passing game this fall to keep defenses honest and out of the box. "To be able to throw the ball efficiently is going to be something that I know it's going to be important for us to improve this next year," Bohl said. "I mean, it's not like you're going to see the Cowboys putting the ball up, you know, 55 times a game, but we need to be more efficient and we need to do it more ... We're making it a point of emphasis."
* Make sure to download our free 7220sports.com mobile app for all the latest up-to-the-minute University of Wyoming sports news. It's available on Apple and Android. You can also sign up for our daily newsletter right HERE.
* Make sure to follow us on Facebook and Twitter @7220sports
* The Cowboys annual spring game is scheduled for April 30 at 2 p.m. inside War Memorial Stadium.
PRESS PASS: Roaming The War
Wyoming Cowboys vs. Montana State Bobcats
-LOOK: Pokes vs. Bobcats