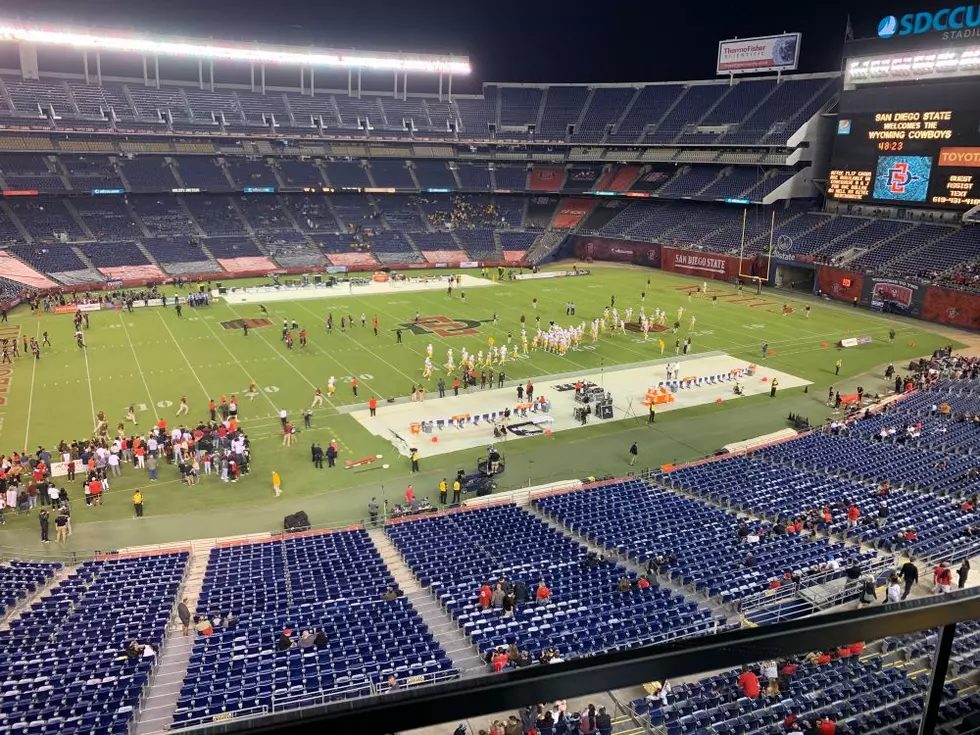 Press Pass: Fun in sunny San Diego
stadiumUSE
SAN DIEGO -- Hey sports fans, DJ Johnson here with this week's version of "Press Pass."
This past week, we took the road west to sunny California, where we faced off with San Diego State University in a Mountain West showdown. The last time I shot a game in SDCCU Stadium, aka Qualcomm Stadium, was in 2016 when I shot the Wyoming-BYU game in the 2016 Poinsettia Bowl. I was hoping for a different outcome than occurred in that game; however, it actually turned out to be a very similar outcome … a late fourth-quarter interception that sealed the deal for the opposing team. Let's see what the field had in store for us this past week against the the SDSU Aztecs …
We'll start this week off with where we started first … in the parking lot, at a tailgate, with some solid UW alumni and fans. Big shout out to Rob Lubnau and his entire crew for hosting a Wyo tailgate at SDCCU Stadium this past weekend, and inviting 7220sports.com to attend. It was a pleasure to meet new Wyoming fans and socialize with some pretty awesome supporters. For those who tailgate at away games, keep informing folks of your tailgate locations by posting on Facebook in 7220sports.com and Pokes Nation …we here at 7220sports will do our best to stop by and say hello!
Leave it up to California to "one up" when it comes to music and entertainment. If you were in attendance of the game in San Diego, you undoubtedly heard the sound system inside the stadium … I also heard that the CBSSN broadcast caught quite a bit of the beats and often the music drowned out the sideline reporter. For those of you wondering, the team employs their own personal DJ, "Mister E," who digitally spins the records and keeps the volume at what I would guess to be at 130+ decibels. At least.
This week's sideline wanderer happens to be a pretty well-known name in the Major League Baseball community. While traversing the sidelines during pre-game, I ran into, and snapped this photo of current Colorado Rockies manager, Bud Black. For those of you that don't know, Black attended San Diego State University his junior and senior years, and graduated from their in 1979. Professionally, Black was a MLB pitcher from 1981-1995 and accrued 121 wins while pitching for the Royals, Indians, Mariners, Blue Jays and Giants. He was in the starting rotation for the 1985 Royals, the year they won the World Series. Two interesting facts about Black: he was the starting pitcher for the Royals during the infamous pine-tar incident, where George Brett's home run was disallowed after the umpires determined there was an illegal amount of pine tar on his bat. Black was also the pitcher on the mound when Reggie Jackson hit his 500th career home run.
Communication is key. Typically known for their questionable pass-interference calls, the field judge works downfield behind the secondary, on the same side as the line judge. He primarily focuses on the the nearside running backs, wide receivers and defensive backs and is accountable for calling associated pass-interference infractions, illegal blocks downfield, as well as incomplete passes. Here, the field judge communicates with the referee to ensure information is known by all.
Like photography, videography is often anticipating where the action is going to be. Here the CBSSN videographer correctly positioned himself to the right location to capture Sean Chambers crossing the goal line for a second quarter touchdown. The guy standing to the videographers left is the "cord guy," who is responsible for running up and down the sidelines with hundreds of feet of cable, ensuring the videographer can get to where he needs to be, while not allowing any players -- or other sideline roamers -- to trip over said cord.
"OH MY" is all I can say about this homer … and once again, I reiterate that Wyoming has the best fans in the world. I think this young fella may have indulged in one too many of that refreshing left-handed beverage. Nothing like testing out your new iPhone 11 in selfie mode while being "smashed" in the stands. The San Diego State fan behind him doesn't look too thrilled that this dude is representing his Aztecs. Oh, and is it just me or did this guy also "tap the bladder" and soil his 'jorts'? #sandiegostateproud
I hadn't noticed this before last Saturday's game, but Gunner Gentry and older brother, Tanner, have practically identical tattoos. Albeit they are on different limbs, Gunner sports his trees on his right shin, while Tanner prominently displays his trees on his left forearm. Perhaps that's a question we'll ask Gunner at the next opportunity to see what the significance, if any, is.
Ever wonder how all of the equipment gets to and from away games? Well, why most folks have departed the stadium and have either headed home or to the bars to indulge in some post-game celebrations -- or sorrow -- there is a crew of folks who pack up everything and load it onto the UW Football semi-truck for transport back home. Here is a glimpse of the crew packing up the sideline after the SDSU game, the beginning of the loading process before they get on the road back to Laradise. Hats off to these men and women who work behind the scenes to make sure the players and coaches have everything they need while on the road.
Leave it up to a couple of Gillette boys to have San Diego's finest swing by and say hello! Actually, all of the San Diego folks that we encountered were friendly and accommodating. Again, thanks to Rob Lubnau for the tailgating hospitality prior to the game.
Well, my selfie this trip includes more than just myself. Here's a quick snap of a couple of 7220sports.com guys and a friend from Cheyenne, Ryan Rogers (middle), at San Diego International Airport, just prior to heading home. I'd say we look pretty good for the limited amount of sleep that we got over the weekend. Those late games can be taxing, as Cody Tucker puts our anywhere between 5-7 stories after a game, while I edit 20-30 pictures to supplement those stories. Why do we do it? For the fans of course … We want to make sure that you have the latest and greatest information on the Cowboys and are up to date on all the days happenings. For those of you that know Cody, the next time you see him, ask him about getting locked in SDCCU Stadium at 3 o'clock in the morning and the encounter with security when trying to get out.
4-2 my friends, heading into Homecoming week to take on New Mexico. There's a lot going on this weekend, from parades to alumni and student events, and Chancey Williams and the Younger Brothers Band playing that night at the Cowboy Saloon and Dance Hall in Laramie. Pin your ears back this week, rest up for the weekend, and we'll see ya'll on Saturday for Homecoming!