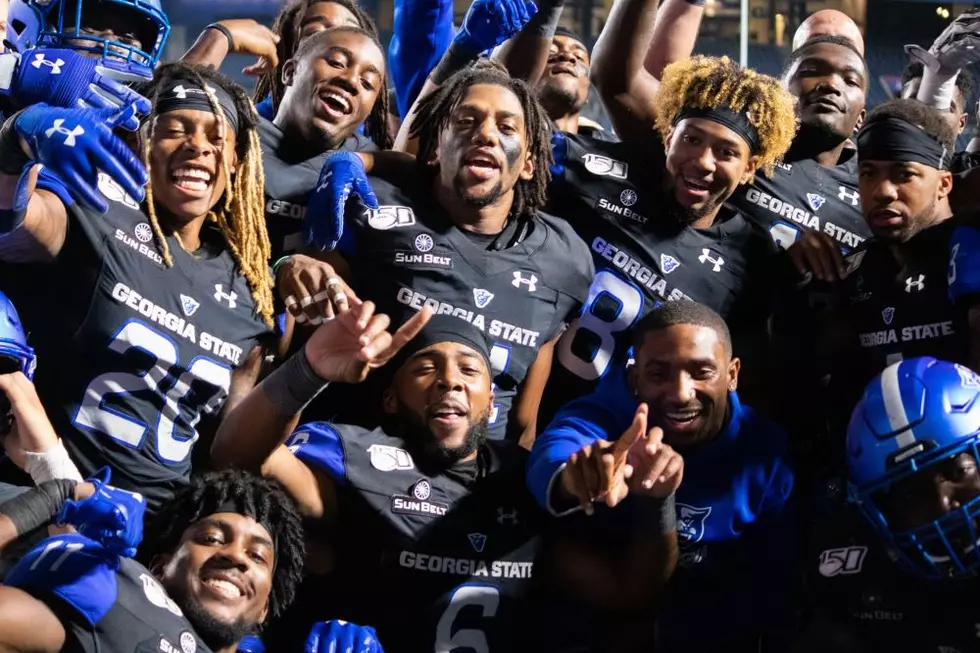 Q&A with Georgia State beat writer Brady Weiler
GSUteamUSE
LARAMIE -- Wyoming and Georgia State will meet for the first time Tuesday afternoon at the Arizona Bowl in Tucson.
We talked with Brady Weiler, programming director/writer with THERSdayNight.com, a source for all things Georgia State athletics.
Weiler, along with three other GSU graduates, started this Panthers website last February.
Visit their website here.
"We felt there was a need for another site dedicated to GSU athletics and, we wanted to be able to grow the Georgia State beat and do our bit to cultivate the growth of the fan base," Weiler said.
Sound familiar?
Here is our Q&A with Weiler, giving you a better idea of what to expect from the Panthers in the desert.
Q: If you had to give an overall opinion about this season for Georgia State what would you say?
A: The end stretch of games is disappointing to be sure, especially losing by 28 to your biggest rival in Georgia Southern, but there is no other way to describe this season for Georgia State than a big success. The Panthers have a chance with a win to set a new program-high in wins at eight, so the season could be unprecedented success as well. But even with a loss in this game, the team upset an SEC foe in their building, went 5-1 at home, the offense set records galore over the year and this marks two bowl games in three years under Shawn Elliott. Fans will want to see this success sustained and even built upon in 2020 and beyond, but this is a season to cherish for a program which has seen some real low times in its short history.
Q: GSU Quarterback Dan Ellington has proven to be a heck of a passer — and can even run a little bit — but is playing with a partially torn ACL. How is he doing this and how has he performed since the injury?
A: The short answer on how he is doing this is the simplest - Dan Ellington is one of the toughest guys in college football. Once he was cleared to play, he knew he wanted to finish out his senior season and so he's fighting through it. As far as his play, it's definitely not the same level as it was pre-injury. He couldn't really get zip on his throws against Appalachian State, his first game after the injury against ULM, throwing a couple of costly interceptions and missing open receivers as a result. Against South Alabama the next week, his passing looked back to normal and he had his best passing game in a month, even including games pre-dating the injury. The numbers -- and the sacks -- especially against Georgia Southern look bad for him given his situation, but it has to be said that the usually-stout offensive line unit had their worst game in weeks and Dan was bombarded with pressure all night. He's looked more and more mobile each week, though he's no longer the threat on the ground he was earlier in the season, and we'll just have to see how he looks after a month off of game action.
Q: Running back Tra Barnett is a tough runner, who has put up big yards this season. How important will it be for the Panthers offense to get that guy going if they hope to have success in Tucson?
A: I said in my preseason preview for the running backs that I would be surprised if this was the year Georgia State got its first 1,000-yard rusher and Tra Barnett went and proved me wrong -- emphatically. Tra is a guy who's gotten better every year he's been in Atlanta, culminating in his 1,389 yards and 12 scores so far in 2019. No. 5 will be a big key in this game for Georgia State's offense. And the thing that makes Tra so good is that he's a very patient runner. He really waits for the hole to develop. And when he hits that hole, he's able to hit top speed almost as he's crossing the line of scrimmage. Once he gets going, he's a hard man to catch.
Q: This GSU team went into Rocky Top and knocked off the Vols in week one. How much confidence do you think that win gave this team in all facets?
A: I would actually reverse it and say the confidence this team has is the reason for the upset of Tennessee. In postgame interviews after the spring game, Dan Ellington called his shot and said "Don't be shocked when we beat 'em," referring to the Vols. Coach Elliott has said that, in a staff meeting in the weeks leading up to the game, he wrote on a whiteboard that Georgia State would run for 200 yards against Tennessee (They ultimately ran for 213). The confidence the team has is maybe surprising coming off a 2-10 season, but they truly believe in themselves and what they can do and that has been borne out in the successes of 2019.
Q: Wyoming boasts one of the nation's best run defenses. How much of a concern is that for Elliott and Co.?
A: Sticking with the previous answer on confidence, this staff definitely respects what Wyoming has done in stopping the run but that doesn't mean they're going to shy away from their identity. As an example, in October, Georgia State hosted a Troy team that had been allowing 93.3 yards a game on the ground and less than three yards a carry. The Panthers ran it down Troy's throat to the tune of a then-school-record 390 yards on the ground. Coach Elliott is keenly aware of how good Wyoming's defense has been but I don't think that will scare him off of running the rock.
Q: GSU is traveling a long way to the desert and Arizona Stadium will be predominantly brown and gold ... what do you think the Panthers plan is on offense and defense in what is essentially a road game?
A: I think Georgia State would be more comfortable in a high-octane, high-scoring affair and so the plan will be to push the tempo and move the ball. The defense struggled mightily this season -- there's no other way around it. But the games where the team had the most success, they played good complementary football with the offense, forcing stops and/or getting turnovers at the same time in the game the offense was putting points on the board. They will want to get that synergy back and get enough points on a tough Wyoming defense to get over the line.

Q: The Panthers haven't exactly been stout in stopping the run this season. How does GSU plan on stopping a potent Cowboy attack that has been one of the best in college football in 2019?
A: The truth is, in games where the team wasn't a potent rushing team, Georgia State stopped the run. In games where the team did have a good rushing attack, the defense struggled. That doesn't necessarily bode well for the Panthers in the Arizona Bowl, but there is a blueprint to stop the run. Nose guard Dontae Wilson graded out as one of the best at his position in the country, earning first-team All-Sun Belt honors on PFF College's end-of-year list. Wilson and defensive ends Hardrick Willis and Terry Thomas have been good against the run overall. The problems have mainly had to do with losing contain on the perimeter or a linebacker going in the wrong run fit or making the wrong read, leaving a hole for the running back to go through. Cleaning up errors like this will have been a key point of emphasis in the lead-up for defensive coordinator Nate Fuqua.
Q: Both teams have 7-5 records. Both knocked off an SEC foe this season. Both started fast and stumbled toward the finish line. Who wins this one and how do they do it?
A: With the caveat that an extremely small sample size is guiding my thinking here, Coach Elliott and his staff have shown they use the month of extra practice well. In 2017, Georgia State looked far-and-away the more prepared team in the Cure Bowl against WKU, adding some offensive wrinkles and cleaning up fundamentals to play a very sound game. That year, the team also slid towards the end of the season, losing their last two games of the regular season. For that reason, despite their late-season woes, I believe the Panthers will show up in Tucson ready and will give Wyoming their best shot. In the interest of going out on a limb, I'll say offensive coordinator Brad Glenn dials up a game plan that emphasizes the run while also getting Dan into a rhythm in the pass game early and Georgia State does enough, winning 28-24 and getting that record-setting eighth win.