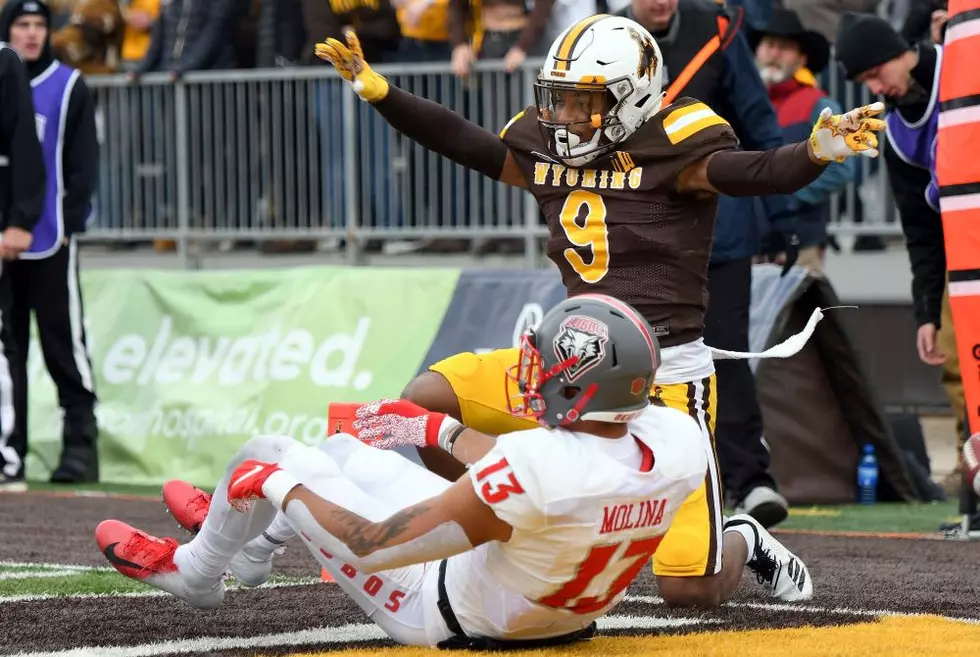 HallTylerCropUSE
LARAMIE -- Snake-bit is one way to describe it.
Tyler Hall prefers to think of it as the quiet before the storm.
Wyoming's senior cornerback has made a name for himself around the Mountain West Conference for his lock-down abilities on the outside, and his propensity for making the big play.
In the Cowboys second game this season, Hall purposely let his man float away from him. He knew what Texas State quarterback, Gresch Jensen, was going to do. His defensive coordinator, Jake Dickert, backed up this claim.
Then he picked him off and rambled 72 yards for the touchdown. That play changed the complexion of the game. It turned the tide. Wyoming left San Marcos, Texas, 2-0.
Since, the stat sheet has remained relatively blank.
He sustained a concussion at Tulsa two weeks later that sidelined him for the Pokes conference-opening win over UNLV. Since his return to the lineup, Hall, who has four career interceptions, hasn't been returning kicks or making the game-changing plays in the secondary.
"It's been a season where I kind of started off strong, then went quiet," he said. "Like I said before, it's about me making the play if I get opportunity."
Hall, a Hawthorn, Calif., product, is no longer returning kickoffs for one main reason -- depth. Wyoming's secondary is razor thin after Antonio Hull didn't rejoin the team, Allen Smith was dismissed and CJ Coldon was lost for the season with a leg injury.
Craig Bohl and Co. made the decision to not take any chances with their best cover corner.
It's bittersweet for Hall, who has two kick returns for touchdowns in his career.
"It's just a safety precaution," Hall said. "I'm an emergency guy only. It's tough, knowing the ability in me to change a game and help the offense with field position. I just want to do anything I can to help the team. I feel like I am always ready to go."
Despite his lack of big plays this season, where Hall has become a major asset for this defense is as a leader. With the youth and inexperience littered throughout the secondary, especially at the corner spot, it's much needed.
Not to mention Willie Mack Garza, the Cowboys' secondary coach, resigned two weeks ago.
Jordan Murry, a true freshman, has watched Hall like a hawk since fall camp. He tries to pick his brain and his tendencies. Azizi Hearn is also an understudy for Hall.
Braden Smith, a safety, and Keyon Blankenbaker, the Cowboys nickle back, have also had to share some time at corner this season with the lack of bodies at that position.
"I'm most definitely proud of those guys," Hall said. "It's a resemblance of how we run our program. It's truly next man up. This group is going to keep fighting no matter what."
Hall joked that anytime another position group needs a player, they pick from the cornerback room. Not this season.
Even though the Cowboys are currently ranked 121st in the country in passing yards allowed with 278 per game, Hall said this group is improving each week.
Last Saturday night, Wyoming held the high-flying Boise State offense to just 194 yards through the air. Hall drew a matchup against John Hightower, the Broncos leading receiver, for most of the night. He held him to just two catches for 46 yards. Hightower racked up 43 on one catch.
"On a couple of plays, I needed to read my keys better," Hall said. "I needed to make a big-time play to change the game for the defense. I felt like we played a heck of a game, they just made a few more plays than us.
"We have to move forward. We can't let them beat us twice. We will watch the tape today, put it on the shelf and move on to Utah State."
Speaking of the Aggies, they have a stud at the wide-out position, too.
Siaosi Mariner, a 6-foot, 2-inch, 195-pound senior, has 45 catches for 630 yards. He has also snagged six touchdown passes.
"I've seen him on film and watched highlights," he said of Mariner. "He's kind of an overall do-it-all guy in the passing game. It will be another fun matchup. I'm a competitive guy. I have my work cut out for me, but i'll be ready to go."
Wyoming will face on of the top passers in the nation in Utah State's Jordan Love. The junior has tossed 11 touchdowns and thrown for more than 2,400 yards through nine games.
Hall smiled. He loves a challenge.
But will this be the week he picks off a pass and makes a play for his team on the road?
"I need to make a play on it when it comes my way," he said. "I need to capitalize on every opportunity I get and execute my assignments."