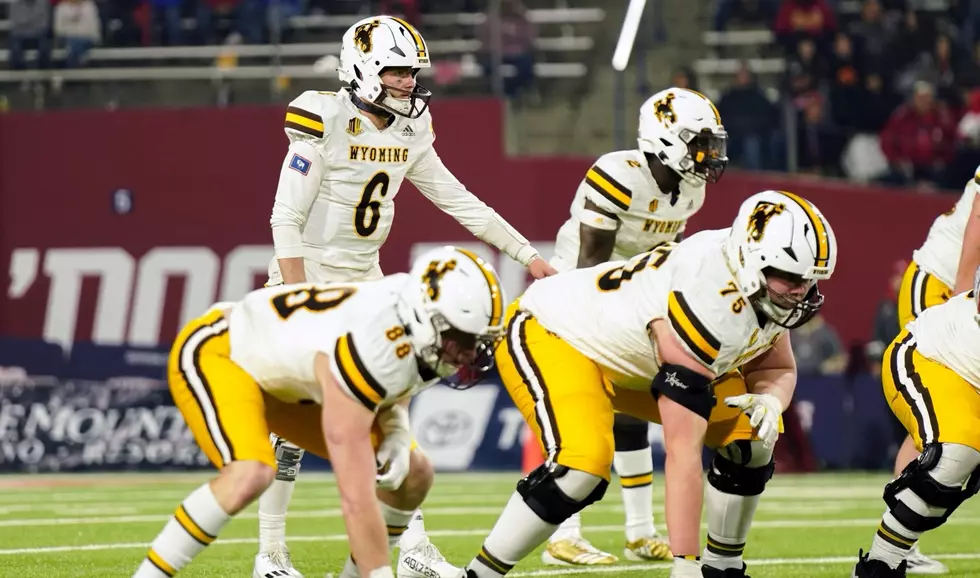 Rants & Raves: Fresno State Edition
Wyoming quarterback Andrew Peasley barks out his cadence during the Cowboys' 30-0 loss to Fresno State Friday night inside of Valley Children's Stadium./ UW courtesy photo
FRESNO, Calif., -- Finding raves about Friday night's game was about as successful as Wyoming's offense has been against Fresno State over the last eight quarters of football.
Well, that's not entirely true. There were a few positive posts. Very, very few.
What is a fact is the Cowboys have not scored a single point against the Bulldogs in the last two seasons, falling in the season finale 30-0 inside Valley Children's Stadium. UW caps its season at 7-5 overall and 5-3 in Mountain West play. The 'Dogs will go on to face Boise State in next Saturday's conference title game.
Craig Bohl and Co. will eagerly await selection Sunday and where they will spend the holidays.
Here are this weeks rants and raves:
FIRST HALF
Ron Weltmer (Facebook) Haener is playing chess and we are playing go fish. Not even checkers at this point.
Christian Lasher (Facebook) What was I saying about being unprepared on the road in the first quarter?
Chris Mcnees (Facebook) Coaching staff is still in Laramie pathetic job of coaching bohl
Pat Scissons (Facebook) This team, this coaching staff, is trying to win each game they compete in….it sounds like we need some of u to quit your day job and turn in your coaching resume to the University of Wyoming….#GoPokes !!!
Aaron Wilhelm (Facebook) Swear to God this team has boughts of amnesia during late season games
Travis WebB (Facebook) Isn't this fun?! More Craig Bohl football coming our way!
Chad Wendland (Facebook) There has to be an offensive coordinator somewhere in this country that can bring us some offense. Year after year with none.
SECOND HALF
Jason Ferguson (Facebook) Should just officially change their name from the Wyoming Cowboys to the Wyoming 7-5 Potato Bowls.
Jackson N Renee Stewart (Facebook) Our O line has been absolutely whooped tonight. Too much turkey?
Wade Bergslien (Facebook) This is a poorly disciplined and non functional football team. At this time of the year you should be escalating playing towards mistake free. I can't explain this, it's not falling into some bad habits. It's across the board just not even fundamental at all.
John Wolever (Facebook) Not the same team we've watched all season.
Jason McMackin (Facebook) I think we were still reeling from the Boise loss. Let regroup and win the bowl game. GO POKES!
John Rando (Facebook) Going to be hard to find a silver lining with that poor effort...hope to God we didn't just play our way to another trip to Boise in mid December...think we've had enough potato bowls to fill grandma's hutch for a lifetime.
Ryan Hart (Facebook) This team has far exceeded expectations and is super young. Just kids. Don't get how Cowboy fans have gotten so nasty lately.
Just The Facts: Size Doesn't Matter For Wyoming's War Memorial Stadium
Did you know it would take the populations of
Gillette
(32,857),
Laramie
(32,381),
Rock Springs
(23,319),
Sheridan
(17,844) and Wright (1,200) to create a sellout inside Michigan's famed 107,601-seat
Big House
, the largest college football stadium in the nation?
For those of you not familiar with the
Cowboy State
, those are Wyoming's third through sixth most inhabited cities, along with the small mining town in Campbell County.
- Just The Facts: Size Doesn't Matter For Wyoming's War Memorial Stadium