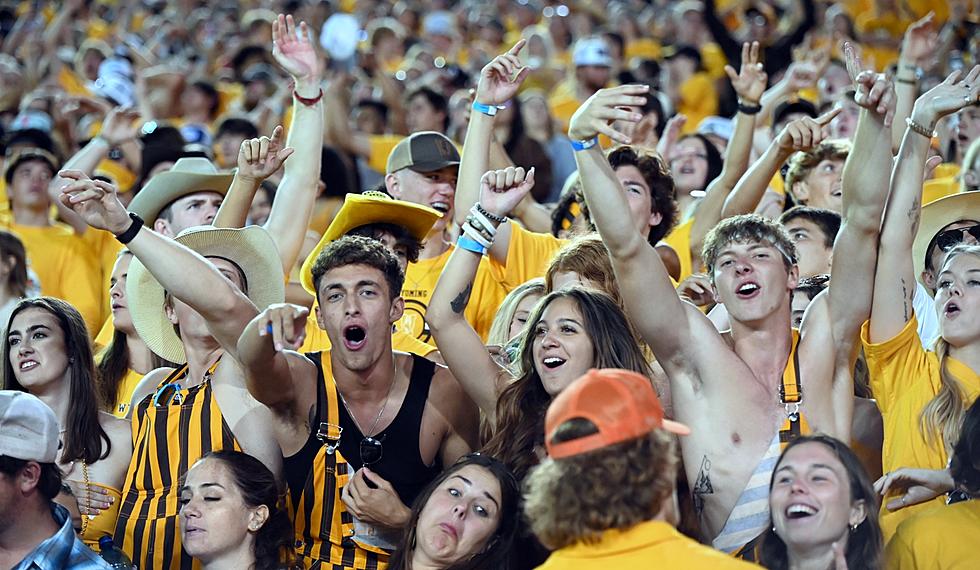 Rants & Raves: Texas Tech Edition
More than 26,000 were on hand inside War Memorial Stadium to witness the Cowboys knock off Texas Tech 35-33 in double overtime Saturday night./ DJ Johnson photo
LARAMIE -- I believe the kids call it "keeping receipts."
Plenty of Wyoming fans lost faith early in this one as Texas Tech scored a pair of touchdowns on its opening two drives, aided by a quick three-and-out and a Jamari Ferrell fumble.
"Fire Bohl" tweets flew before the season was 15 minutes old. One fan even begged for basketball season to arrive early.
I get it. It was ugly early on. The Cowboys punted on their third possession and DQ James coughed it up on the next. Handing this team a 17-0 lead was "dangerous," according to UW quarterback Andrew Peasley.
You think?
Tyler Shough and the Red Raiders ran roughly 80 plays and racked up 461 yards of total offense per game a season ago. They also averaged more than 34 points an outing en route to an 8-5 record and a resounding victory over Ole Miss in the Texas Bowl.
Joey McGuire's program has not been shy about its Big XII aspirations.
This appeared to be a rout in the making. Even Craig Bohl admitted it was a "series or two" from getting out of hand.
Then, these Pokes got off the mat, scoring 20 unanswered points and eventually pulling off a 35-33 stunner in double overtime.
Ride the wave of emotions right here in this week's version of rants and raves:
FIRST HALF
Tim Morrison (Facebook) Shoulda canceled the game the way the Pokes are playing so far.
Zak Fitzcharles (Facebook) When does basketball season start?
Joel Petersen (Facebook) Love my Cowboys. 5 minutes in to the first quarter, I'm predicting Texas Tech 55 Wyoming 3.
D.j. Ackerman (Facebook) Love the POKES but it looks like it's gonna be another long season!
Aaron McTee (Facebook) I wasn't sold on Peasley last season and I'm still not. I would love to see a different QB
Whitey Gardner (Facebook) The great sports movie Waterboy stated it best: "Oh great we suck again!"
Eric Popham (Facebook) Do we have another QB? Maybe one that can throw within 10yrds of the WR
Todd Willis (Facebook) Too early to start in on Bohl?
John Taylor (Facebook) Crazy things can happen in the Gem City when lightning strikes. Go Pokes!
Michael Fox

 (Facebook) 
This is a terrible start. Penalties and turnover. It doesn't get much worse than that.
SECOND HALF
John Taylor (Facebook) Unbelievable, Defense pitching a shutout for nearly 3 quarters. C'mon O finish the deal.
Jakob Olheiser (Facebook) Peasley may not be the greatest qb but you have to admire his toughness and commitment. Respect young man
Marianne Scotty Cochran (Facebook) I am crying tears of happiness. I love our Cowboys, Coach Bohl, his assistants and our fabulous fans!
Sonny Montoya (Facebook) That was one for the ages!
Garrett David Angell (Facebook) Peasley is a warrior he was getting mauled the entire game.
Pete Bentley (Facebook) Lot of fight in those kids. Love it
Chris Howe (Facebook) They need a wheelbarrow to carry them man parts! Oh yeah!!!
Paul Malsom (Facebook) 1st qtr start couldn't have been worse… but there is no quit. They found a way to fight through adversity and our D stepped up hugely to keep their offense off balance from 2nd qtr on…. Great team win! Go pokes! W Y O
Clay Daniel Cates (Facebook) I have to admit that I thought we were toast earlier in the game....way to hang in there Pokes and pull it out.....
Mac ZT (Facebook) Honestly one of the best called offensive game plans in the Bohl era. I felt they kept Texas Tech off balance just enough
Marcy Renee (Facebook) I am proud of our grit, and we never gave up! Go Pokes, powder river.
Tom Cudney (Facebook) Imagine if we had RB1 & RB2……. it wouldn't have gone to OT!! This team has som F'ING GRIT!!! Won against a Big12 team with RB3,4&5! Impressive!!!
MORE RECEIPTS
Jackson N Renee Stewart (Facebook) Our receivers can't get open. Our QB can't throw a deep ball. So much for the improved passing game. Why do we have a passing coordinator who played for run HEAVY Nebraska team?
Thomas Anthony Rhodes (Facebook) Time for QB2
Jordan Garriott (Facebook) I wouldn't make that bet if I was Josh. I have absolutely zero faith in Peasley. It'll be a blow out if we can't run the ball on them.
Matthew Hardy (Facebook) Good Luck Keeping TT under 50 Points
Craig Helart (Facebook) Go Pokes. This loss will probably be ugly, but it'll be a character builder.
PRESS PASS: Roaming The War
Wyoming Cowboys vs. Montana State Bobcats
-PRESS PASS: Roaming The War