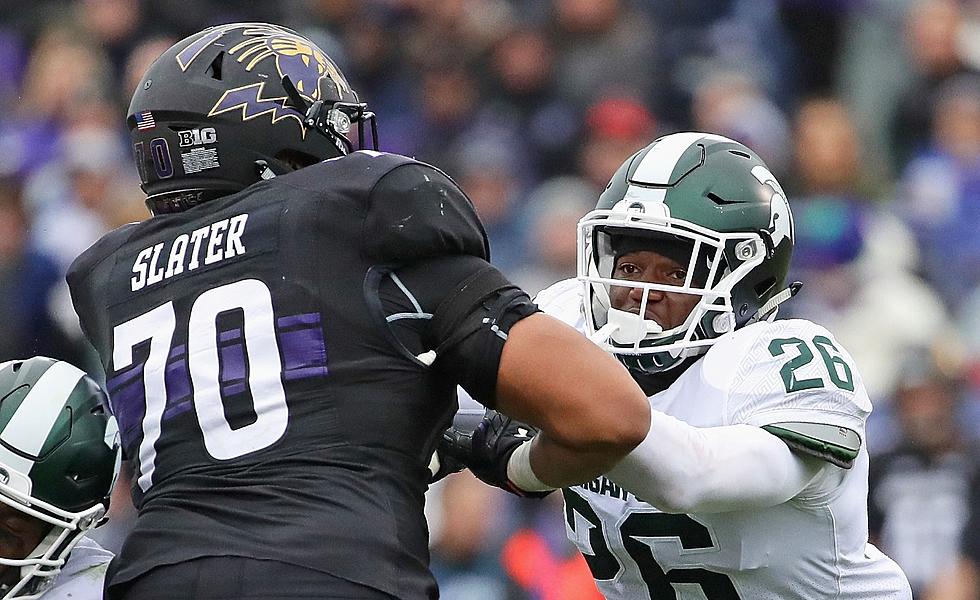 Reggie Slater's son selected 13th overall in NFL Draft
EVANSTON, IL - OCTOBER 28: Brandon Randle #26 of the Michigan State Spartans rushes against Rashawn Slater #70 of the Northwestern Wildcats at Ryan Field on October 28, 2017 in Evanston, Illinois. Northwestern defeated Michigan State 39-31 in triple overtime. (Photo by Jonathan Daniel/Getty Images)
LARAMIE -- Rashawn Slater Jr. has a new gig -- protecting Justin Herbert's blindside.
The Northwestern product was selected 13th overall by the Los Angeles Chargers in the first round of Thursday night's NFL Draft. He became the first Wildcat to be selected in the opening round since 2009.
"I got your back, man," Slater said to Herbert on ESPN cameras live from the draft in Cleveland.
Why should you care about an offensive lineman from Northwestern? Well, his father is Wyoming basketball legend, Reggie Slater.
Rashawn Slater, who was recruited by the Cowboys out of Sugar Land High School in Texas, started all 12 games at right tackle as a true freshman in Evanston, Illinois. He was named a Third Team All-Big Ten player as a sophomore and earned an honorable mention nod the following season. Slater opted out for the 2020 season because of the ongoing COVID-19 pandemic.
Back to the main reason you're probably reading this.
Reggie "The Big Cat" Slater played under Benny Dees at Wyoming from 1989-92. Over his career in Laramie, he averaged 15 points per game and pulled down 9.9 rebounds. Slater finished his UW career as the all-time rebounding leader with 1,197.Slater was the first player in WAC history to lead the league in rebounding for three straight seasons. In 1992, he was named the conference Player of the Year.
Slater was named to Wyoming's All-Century Team, joining names like Fennis Dembo, Kenny Sailors, Eric Leckner and others. He was also inducted into the school's Hall of Fame in 2002.
Despite going undrafted in 1992, Slater played overseas for two seasons. In '94, he got his first crack at the NBA, playing for the Denver Nuggets for two seasons. During his eight-year career, Slater also played for the Blazers, Mavericks, Raptors, Timberwolves, Nets and Hawks.
So, while there likely won't be any Wyoming players hearing their names called this weekend, here's one tie to be proud of.
Hear what Reggie had to say about his son's big day and the advice he gave him about being a professional athlete right here:
LOOK: Here are copycat recipes from 20 of the most popular fast food restaurants in America