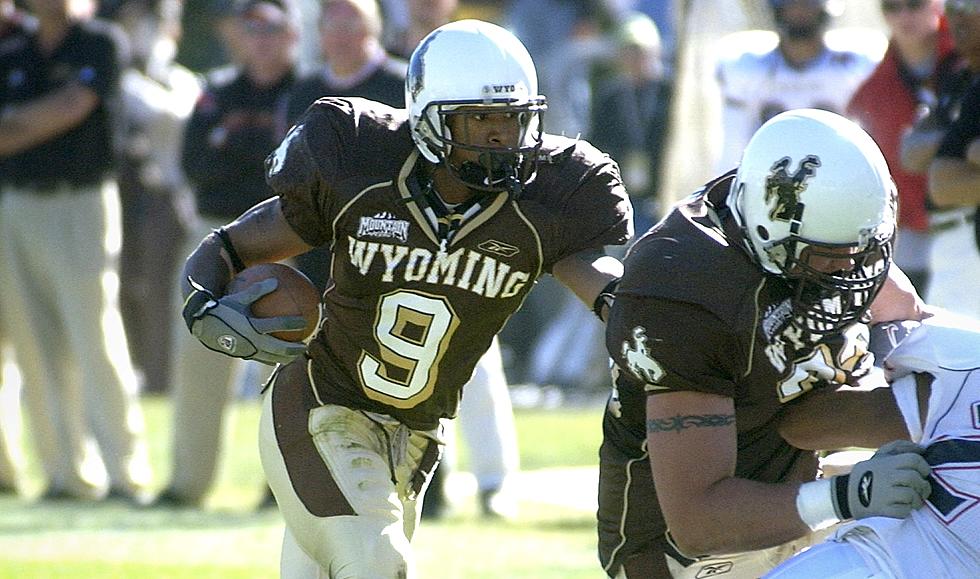 Show us your picks: Week 12
Jovon Bouknight was a receiver in Laramie from 2002-05./ UW courtesy photo
LARAMIE -- We put Jovon Bouknight in a rough spot this week.
Like always, we ask a former player to be our guest picker.
Why would selecting a winner between Wyoming and Utah State be a tough decision for one of the best players in Cowboys history? Well, Bouknight did coach in Logan from 2008-13.
"My heart will always be with the Pokes, but I also got love for the Aggies, which allows me to call a fair game," he said.
We get it.
Bouknight, who is now the wide receivers coach at the University of Kentucky, can be forgiven. After all, isn't it great to not face him or see him wearing Utah State garb?
Here's how we fared after last week's picks:
Jen Kost - 10-2
DJ Johnson - 9-3
Mat Murdock - 9-3
Kasey Orr - 8-4
Jared Newland - 8-4
Cody Tucker - 7-5
Kyle Sedar - 5-5
DJ Eliot - 5-5
Here's how the yearly standings now look for us regulars:
Johnson: 101-31
Kost: 97-35
Sedar: 94-38
Newland: 94-38
Murdock: 91-41
Tucker: 87-45
Here are this week's Mountain West games -- and a couple of others -- and the money lines from BetMGM: (Subject to change):
Wyoming (+5.5) at Utah State
Air Force at Nevada
San Diego State at UNLV
New Mexico at Boise State
Colorado State at Hawaii
Michigan State at Ohio State
Wake Forest at Clemson
Oregon at Utah
Nebraska at Wisconsin
Arkansas at Alabama
UCLA at USC
Cal at Stanford
You already met our first guest picker. Bouknight played in Laramie from 2002-05. In that span, the Denver native snagged 250 passes for 3,626 yards and 29 touchdowns.
He was truly special.
Our other guest is Baend Buus.
Buus is currently the City of Cheyenne Assistant City and Prosecuting Attorney. He was also the equipment manager for the Pokes football team from 1996-98. He has also spent time as a marketing intern at UW, a marketing assistant for Colorado College athletics and was a grad assistant in Wyoming Athletics marketing from 2002-04.
Buus currently lives in Laramie.
Here's our best bet this week:
PRESS PASS: Roaming The War
Wyoming Cowboys vs. Montana State Bobcats
-PRESS PASS: Roaming The War