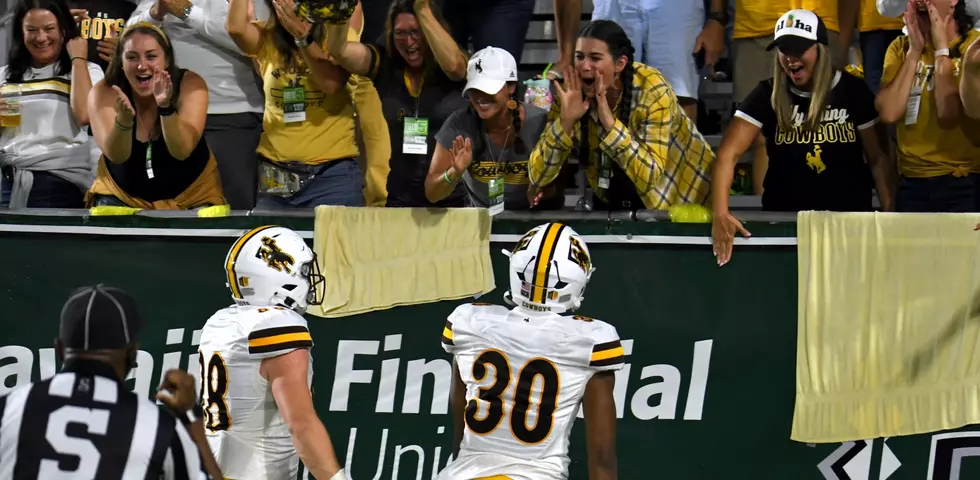 Three stars of the game: Pokes vs. 'Bows
Wyoming running back Dawaiian McNeely (No. 30) celebrates with Pokes fans after a 61-yard touchdown run in the fourth quarter of a 27-20 win over Hawaii Saturday night in Honolulu./ DJ Johnson photo
HONOLULU, Hawaii -- Last week, we passed out some game balls to a very deserving group of blockers.
Well, they all deserve another one.
Wyoming rushed for a season-high 365 yards in Saturday night's 27-20 victory over Hawaii. The Cowboys moved to 6-3 overall and 4-1 in Mountain West play, staying just one game behind Boise State in the loss column in the Mountain Division.
Starting left tackle Eric Abojei briefly left the game with an unspecified injury. So did right guard Emmanuel Pregnon. Still, the beat went on. A makeshift offensive line -- at times -- featured veteran Zach Watts and redshirt freshman Jack Walsh.
All the Pokes did was average 8.3 yards per carry.
Plenty of that credit goes to the tight ends, too. And don't forget about fullback Caleb Driskill.
Here's our three stars of the game:
1st star: DQ James - Running back
His smile is infectious. So is his enthusiasm for the game.
We always heard about the legend of DQ James on the practice field. Now, we're all getting to see it live in meaningful games. I'm betting Utah State and Hawaii won't soon forget the night the 5-foot-7, 172-pound redshirt freshman made it all look way too easy.
Saturday night, the Lancaster, Texas product, who ironically enough committed to Hawaii out of high school, blew past the Rainbow Warriors for a career-best 179 rushing yards on just 14 carries. For the second week in a row, James averaged more than 12 yards per carry.
If there's one knock on the fun-loving running back, it's that he has yet to find the end zone this season.
"That's what I'm saying," he joked postgame.
Cam Stone said it's nice to see James doing this against opponents, not his unit.
"Oh, man, it feels good," the sophomore cornerback said. "And people don't know the half of it. I'm glad he's now over there with the ones and not on scout team."
2nd star: Cam Stone - cornerback
I'm sure James is thrilled to not face Stone in practice, too.
Early in the season, Stone was learning on the job. Remember, last season CJ Coldon and Azizi Hearn were fully entrenched in starting roles. Stone played sparingly. Tulsa threw for 460 yards on the Cowboys' secondary. BYU added 337 a few weeks later.
It wasn't pretty. It also wasn't all Stone's fault.
Craig Bohl called it a "broken record" and said the pass defense would get fixed. It appears that has started to happen. Against Hawaii, Stone broke up a team-high three passes. All were of the big-play variety. Even when he was beaten, he used his make-up speed and aggressive hands to knock the ball away.
MORE UW FOOTBALL NEWS FROM 7220SPORTS:
* Turning point, unsung hero and what's next for UW football
* Behind the numbers: Wyoming vs. Hawaii
* Rants & Raves: Hawaii Edition
* Tuck's Takes: What if I told you ...
He looked like a veteran.
"We've seen that in practice, he has amped up his game," Bohl said of the 5-foot-10, 188-pound Angleton, Texas native. "He competes. He listens to coach (Benny) Boyd. He's following through on putting himself into a competitive situation to where he can rake the ball out. They went after him several times tonight. I mean, he stood out like a rock star, but that has been an evolution. It has been on his practice habits and then he's carried it over onto the game field."
Stone didn't mind UH quarterback Brayden Schager often looking his way.
"It felt good. It felt real good," Stone said. "I didn't expect to get tested this much, but he tested me and I was out there most of the time. I think I did pretty well. And, yeah, it felt real good. After making those plays, it gave me a lot of confidence throughout the game."
Stone now has 26 tackles, six pass breakups and two interceptions on the season.
3rd star: Dawaiian McNeely - Running back
This has been a bizarre season for Dawaiian McNeely.
After offseason surgery, the sophomore running back suffered a hip injury in fall camp. Nerve damage in his right hand followed, forcing him to miss the season opener at Illinois.
Sporting a cast -- sometimes a club, sometimes just a wrap -- McNeely didn't receive a single handoff in last Saturday's 28-14 victory over Utah State. Maybe it's because he fumbled against New Mexico. Bohl has made no bones about it, he's nervous giving McNeely the ball because he's forced to carry it in his off-hand.
That changed in the second half Saturday night.
With Titus Swen on the sidelines in street clothes after going through concussion protocol, McNeely's number was called. His first carry went for seven yards. The next, nine. Then, with 14:12 remaining in regulation, McNeely blew right through a gaping hole in the Warriors' front and cruised 61 yards untouched into the end zone to give the Cowboys' a 20-13 lead.
"I'm speechless," James said of McNeely's fourth-quarter sprint. "We needed that. That brought us back because the energy was falling down a little bit. Once he hit that, I felt good. Real comfortable."
McNeely capped his night with 81 yards on just four carries. For the season, the California kid now has 297 rushing yards on 52 attempts. That's an average of 5.7 yards per carry.
UW vs. NIU September 11, 2021