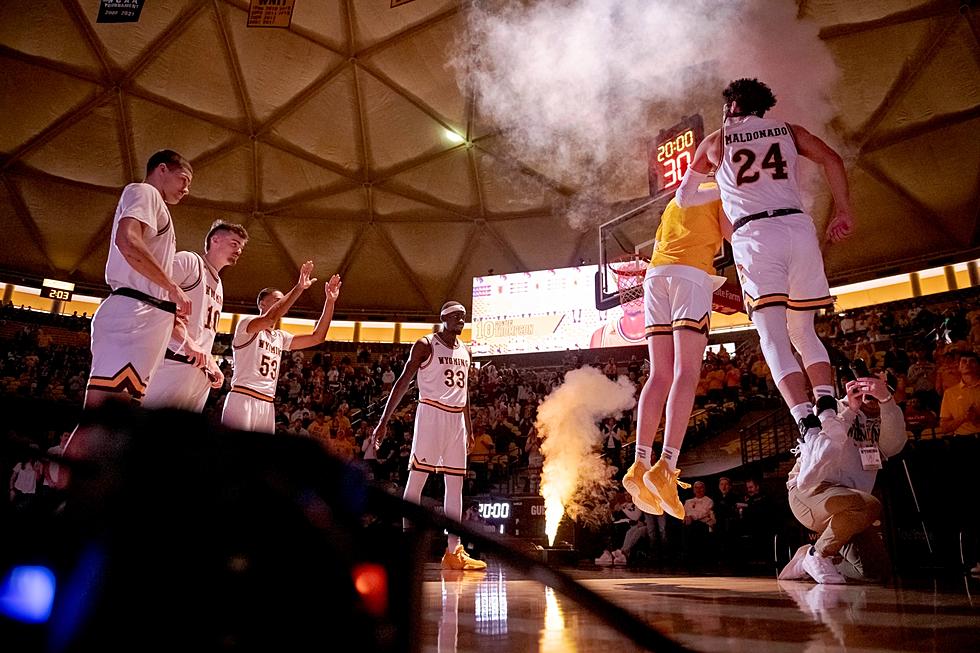 Transfer Portal tracker: Mountain West basketball
A Xavier DuSell 3-pointer with 30 second left lifted the Cowboys to a 59-55 victory over UNLV Thursday during the quarterfinals of the Mountain West Tournament./ UW courtesy photo
LARAMIE -- It's transfer portal season.
Jeff Linder's Cowboys have already seen five players leave the program: John Grigsby, Deng Dut, Ben Bowen and Eoin Nelson. Three-point specialist Drake Jeffries also announced he will not return to the program for the 2022-23 campaign. He intends to play professionally.
Wyoming's second-year head coach replaced those guys with a trio of PAC-12 players. He snagged points guard Ethan Anderson and Max Agbonkpolo from USC and Jake Kyman from across town at UCLA.
You can read about those guys right HERE.
Hunter Maldonado, the senior most UW fans have been waiting on, announced March 22 that he will test the NBA waters and go through the evaluation process. If he doesn't like what he hears, however, the most-tenured Poke has left the door cracked for a potential return to the high plains of Laramie for a sixth season.
Hunter Thompson also announced he will be back in brown and gold in 2022-23.
Other high-profile names around the league going through the NBA Draft process are: David Roddy (Colorado State), Marcus Shaver Jr. (Boise State), Emmanuel Akot (Boise State) and Orlando Robinson (Fresno State).
In the meantime, let's take a look at this ever-changing landscape of the Mountain West Conference. This list will be updated daily:
* Air Force
Joseph Octave - Freshman - Shooting guard - 8.3 ppg (signed by Holy Cross)
* Boise State
Emmanuel Akot - Redshirt Junior - Guard - 10.6 ppg
Kasean Pryor - Freshman - Guard - 2.3 ppg
* Colorado State
Adam Thistlewood - Senior - Forward - 2.4 ppg (signed by Colorado School of Mines)
Dischon Thomas - Junior - Forward - 5.7 ppg (signed by Montana)
Kendle Moore - Junior - Guard - 6.5 ppg
Jalen Scott - Freshman - Guard - N/A
* Fresno State
Deon Stroud - Junior - Guard - 5.2 ppg
Kyle Harding - Junior - Guard - 0.4 ppg
Robert Vaihola - Freshman - Forward - 1.5 ppg
Braxton Meah - Sophomore - Center - 2.2 ppg
* Nevada
Warren Washington - Redshirt sophomore - Power forward - 10.5 ppg (signed by Arizona State)
Alem Huseinovic - Freshman - Shooting guard - 1.3 ppg
Caleb Oden - Freshman - Small forward - N/A
Desmond Cambridge Jr. - Senior - Guard - 16.2 ppg (signed by Arizona State)
DeAndre Henry - Freshman - Forward - 1.1 ppg
Grant Sherfield - Sophomore - Guard  - 19.1 ppg
* New Mexico
Valdir Manuel - Junior - Power forward - 7.9 ppg in 2021-22 (signed by Catawba)
Gethro Muscadin - Freshman - Center - 9.3 ppg
Saquan Singleton - Senior - Guard - 4.6 ppg (signed by George Mason)
Jeremiah Francis - Junior - Guard - 1.7 ppg
* San Diego State
Keith Dinwiddie Jr. - Freshman - Shooting guard - 2.8 ppg
Che Evans - Freshman - Small forward - N/A (signed by UTEP)
* San Jose State
Sebastian Mendoza - Freshman - Shooting guard - 3 ppg
Josh O'Garro - Freshman - Small forward - 2 ppg
Michael Ofoegbu - Freshman - Power forward - N/A
Kaison Hammonds - Junior - Guard - N/A
Trey Smith - Senior - Guard - 8.8 ppg
Majok Kuath - Junior - Forward - 7.4 ppg
Eduardo Lane - Senior - Center - 3.3 ppg
Caleb Simmons - Redshirt junior - Guard - 2.6 ppg
* UNLV
Marvin Coleman - Junior - Shooting guard - 2.5 ppg
Trey Hurlburt - Redshirt junior - Guard - 2 ppg
* Utah State
Norbert Thelissen - Freshman - Forward - 0.5 ppg
* Wyoming 
Eoin Nelson - Sophomore - Power forward - 1 ppg
Deng Dut - Sophomore - Point guard - 0.7 ppg
John Grigsby - Freshman - Power forward - 0.7 ppg (signed by Concordia-St. Paul)
Ben Bowen - Freshman - Guard - N/A
* All names courtesy of verbalcommits.com
Last updated 4/25/22 4:26 p.m. MT
Wyoming lands in 16th NCAA Tournament