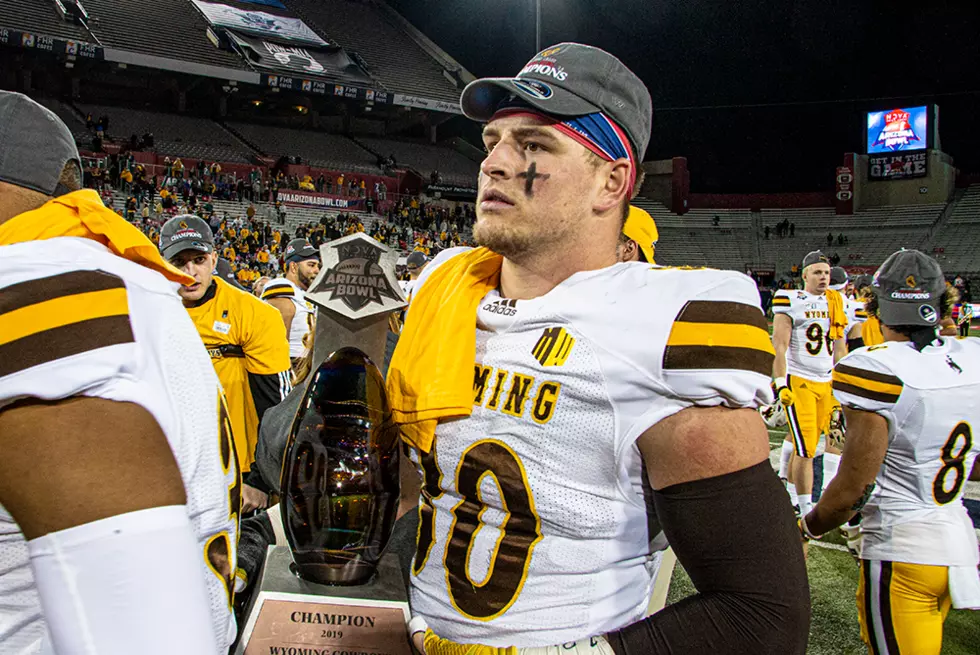 Trio of Pokes to compete in All-Star games this weekend
Wyoming's Logan Wilson heads toward the podium with the Arizona Bowl trophy after knocking off Georgia State in Tucson./ DJ Johnson photo
LARAMIE -- Football season isn't over quite yet.
Three Cowboys will strap on that helmet -- donning Steamboat -- one last time this weekend as Logan Wilson, Cooper Rothe and Tyler Hall set to compete in separate college All-Star games.
Wilson will suit up in the Senior Bowl Jan. 25 in Mobile, Alabama. Kickoff is slated for 12:30 p.m. Mountain Time. Wilson joins fellow Mountain West players Jordan Love (Utah State) and Keith Ismael (San Diego State) at the game's premiere postseason event.
The Casper product, who was a Butkus Award finalist and All-American as a senior, finished the season with 105 tackles, including 8.5 for loss. Wyoming's senior linebacker also racked up four interceptions and a forced fumble. Wilson ended his collegiate career in Laramie with 409 tackles, which is good enough for fourth in school history behind only Jim Talich, Andrew Wingard and Galand Thaxton.
Rothe, Wyoming's all-time leading scorer, is spending his week in Tampa preparing for the Eat-West Shrine Bowl.
Rothe finished his final season in Laramie, connecting on 15-of-22 field goals, including a career-long 53-yarder in the Arizona Bowl. The Colorado native booted 16-of-17 through the uprights during his junior campaign, earning a top-three finish for the Lou Groza Award.
Rothe will join fellow MWC opponents, Dominik Eberle (Utah State), John Hightower (Boise State) and Daishawn Dixon (San Diego State) on the West roster.
The East-West Shrine game will kickoff Saturday at 1 p.m. Mountain Time.
Hall will take part in Saturday's NFLPA Collegiate Bowl at the Rose Bowl in Pasadena, Calif. Kickoff is scheduled for 5 p.m. Mountain Time.
Hall was the nation's leading kick returner during his senior season at Wyoming, averaging 33.4 yards per return. After sustaining an injury in week four at Tulsa, Hall, because of depth issues at the cornerback position, was taken off the return team by head coach Craig Bohl.
Later in the season, Hall returned to kick duties and hauled in eight kicks for for 267 yards.
A three-year starter at corner, Hall single-handily turned the tide in the Cowboys game at Texas State, returning an interception 72 yards for a touchdown. The California product finished the season with 33 tackles, a forced fumble and seven pass breakups.
Hall will join fellow MWC players, Javon Mosley (New Mexico), Alexander Vainikolo (New Mexico), Javin White (UNLV), Rojesterman Farris (Hawaii), Tipa Galeai (Utah State), Scott Hattock (Air Force) and John Molchon (Boise State) in Pasadena.
Logan Wilson
WHAT: Senior Bowl
WHERE: Mobile, Alabama
WHEN: Saturday, Jan. 25 at 12:30 p.m.
TELEVISION: NFL Network
Cooper Rothe
WHAT: East-West Shrine Game
WHERE: St. Petersburg, Fla.
WHEN: Saturday, Jan. 18 at 1 p.m.
TELEVISION: NFL Network
Tyler Hall
WHAT: NFLPA Collegiate Bowl
WHERE: Pasadena, Calif.,
WHEN: Saturday, Jan. 18 at 5 p.m.
TELEVISION: NFL Network