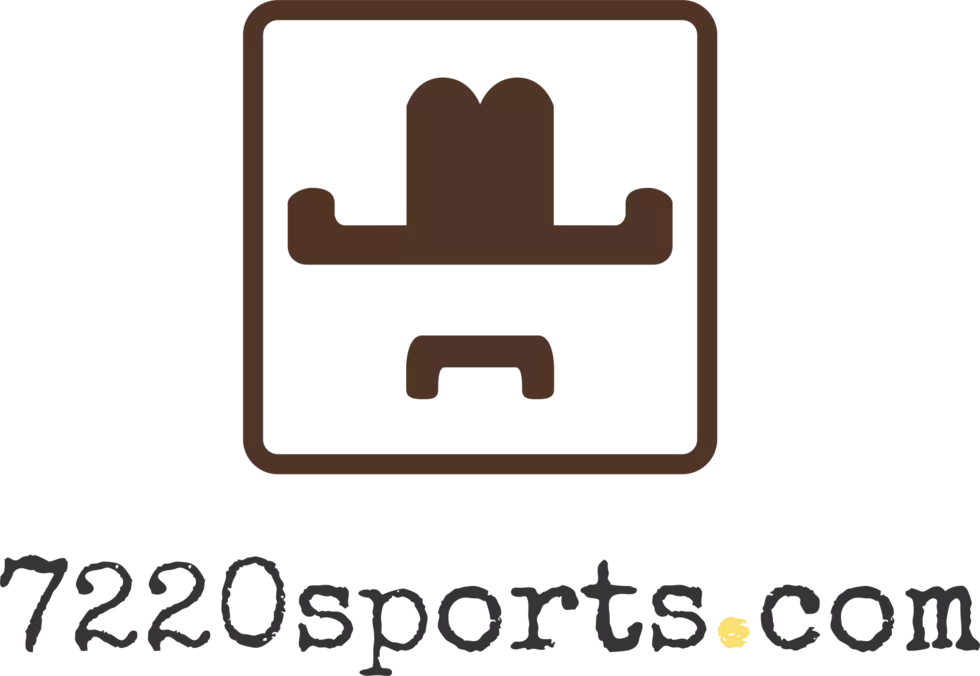 TUCKER: 7220sports.com is on the move
We turned two today! 7220sports.com was launched on June 1, 2019, and has since published nearly 2,000 stories.
CHEYENNE -- With each lightning strike illuminating the gray skies above and the thunderous booms that surely followed, my anxiety spiked.
 Another 30 minutes? Are you sure? That last bolt didn't seem that close.
I was lying to myself.
I had big plans that night and Mother Nature was playing a dirty trick. My day job was right there in that press box high above Spartan Stadium in East Lansing where I was covering No. 24 Michigan State playing host to seventh-ranked Penn State in November of 2017.
It was a big game. There was plenty on the line, especially for the Nittany Lions. But my mind -- and heart -- was in Laramie, where in a handful of hours my beloved Wyoming Cowboys were hosting their hated Border War rival, Colorado State.
I had a brisket in the smoker, a case of Coors Banquet in the fridge and some celebratory Wyoming Whiskey patiently waiting for me at home. Under my fancy button-up work shirt, my less professional attire read "CSU Sucks."
I needed the game in front of me to end. It started at noon. I figured I'd have plenty of time to watch and analyze, conduct interviews with players and coaches, write three or four stories, put up a quick video and hit the road.
The nearly four-hour weather delay was doing me zero favors.
Trust me, I was invested in my duties, but there's no denying it, my thoughts kept drifting to that Bronze Boot and what Josh Allen was about to do to the Sheep in the snow globe that engulfed War Memorial Stadium.
It's that passion that has me sitting at a keyboard at 2:05 a.m. on a Monday morning when I start a brand-new endeavor in less than six hours.
I wanted to cover the Pokes. Scratch that, I needed to cover the Pokes.
That was always my lone goal once I was introduced to the journalism game more than a decade ago. I had no idea the pit stops I would have to make along the way, but today -- especially today -- it all seems worth it.
By now, hopefully you are very familiar with 7220sports.com. It was my brain child that hatched, where else, but in a press box. This time I was the beat writer for the Pittsburgh Penguins and not fully invested in the preseason practice session happening on the ice below.
I don't want to come off like I didn't appreciate those gigs, I certainly did, but once again my attention -- and cell phone screen-- were 7,220 feet above sea level where the Cowboys were struggling with mighty Wofford.
I digress.
Today is a very special day for this little company. One I never imagined in my wildest dreams.
We sold.
Townsquare Media is now the owner of 7220sports.com. The ink is drying on the contracts as we speak. Is it bittersweet? Sure. But I'm thinking long term here. With this new agreement, this local website now has something that COVID-19 nearly stole overnight -- stability. That's the one thing I craved when I left the Steel City in 2018 and high-tailed it back to God's Country.
I didn't even own my own laptop at the time. I was away from my wife. I slept on a single mattress on the floor in a friend's basement for nearly a year. I installed garage doors to finance this crazy, lofty dream.
Here we are.
If I learned one thing since our humble launch on June 1, 2019, it's that I am not a savvy business man. I'm not a boss. I'm not a book keeper. I'm not a salesman. OK, that's more than one thing, but what is clear is, I'm a writer. Now, that's exactly what I get to do.
What does this all mean for you, the loyal readers who have tallied nearly 3 million page views in less than two years? The experience will be better. Way better.
First off, keep your subscription money. That is a thing of the past. That $3.07 per month helped us survive the toughest stretch -- thank you! thank you! -- but it's no longer required.
Also, we will have a free app. You're one click away now instead of hopefully running across our content on social media.
Podcasts will be a regular thing. We will come up with a schedule and stick to it. This can be a once-a-week thing or a few minutes every day. We can even have callers now. It's all up to you, honestly.
Townsquare Media owns and operates KGAB 650 AM in Cheyenne, K2 Radio in Casper , and KOWB AM in Laramie, along with eight other stations around the Cowboy State and over 300 others across the country.
In case you're on pins and needles, MSU won that game above on a 34-yard field goal as time expired. The placekicker, Matt Coghlin, ran straight down the middle of the field in celebration and slid head first on the rain-soaked turf. I made it home in time for kickoff and Allen did indeed do a number on the Rams, leading Wyoming to a hard-fought 16-13 victory.
This upcoming football season will be my third covering UW. Our promise is to always be objective, thought-provoking, creative and accurate. No exceptions. Though I was born and raised here, and obviously shared with you my passion for our home team, that doesn't ever get in the way of what we do here. We aren't a blog, let alone a fan blog.
I hope we've proven that already.
I couldn't be more proud of what we've accomplished here, and in such a short amount of time, no less. It wasn't just me. Kasey Orr is a wizard with videos and graphics. DJ Johnson loves being behind the lens and sharing those experiences with all of us. Casey Dearcorn has always been one text away and a savior on the tech side of things. I can't thank those three enough for their contributions.
We've tried a lot of different things in less than two years. Whether that's cooking shows, cartoons, learning to kick field goals with Cooper Rothe or doing live podcasts, just know we have thoroughly enjoyed it all.
Our goal is to be your go-to for your daily UW fix. That will never change.
Enter your number to get our free mobile app
POKES: The Seven Best Games In The History Of The Wyoming-CSU Border War Rivalry (Naturally, they were all Wyoming wins)