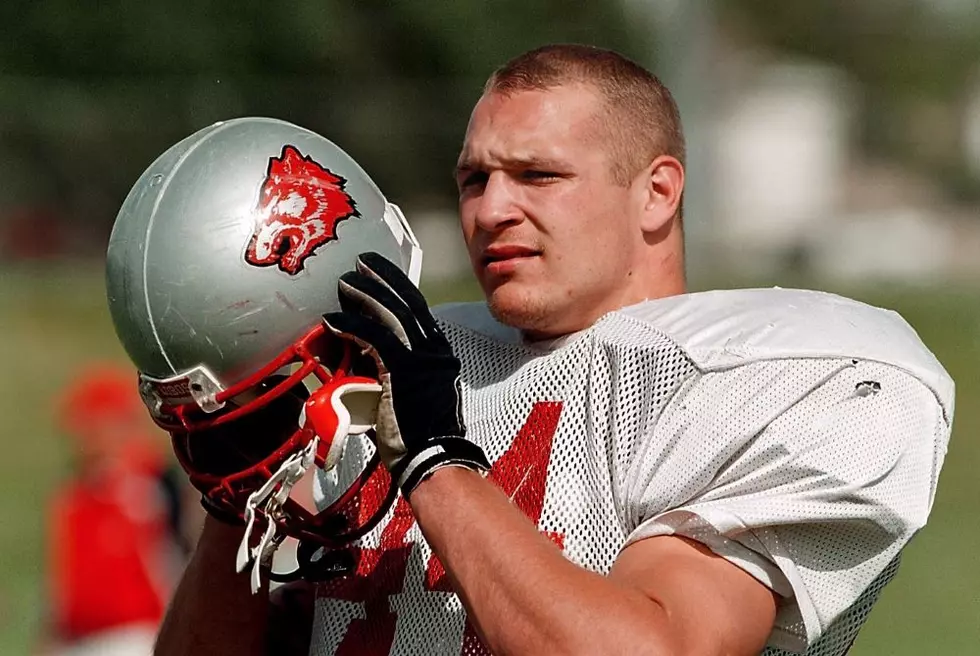 TUCKER: These players were scary good
Urlacheruse
LARAMIE -- A lot of you remember the days of conference showdowns with Arizona, Arizona State, BYU and others.
There have been plenty of memorable matchups between the Cowboys and Cougars. The two rivals have met 75 times on the football field, most recently in 2016 when the teams met in the Poinsettia Bowl in San Diego.
Others recall a game inside War Memorial Stadium when the No. 11 Sun Devils fell to a feisty underdog, 45-43. Fritz Shurmur's Cowboys finished that season 4-7, but many of the 20,000 in attendance will never forget that one.
My story inside that stadium begins around 1988. I was just 5 years old, but that's when things started to permanently stick in the brain matter.
So, that's where this list begins. These are the best visiting players from the Western Athletic Conference and Mountain West that I have had to the pleasure -- or many times, displeasure -- of watching play against the Cowboys.
With some of these selections, like a particular one from Albuquerque, you knew you were witnessing greatness.
Here are the greatest conference players since 1988 -- in my opinion:
Air Force
CB - Carlton McDonald (1989-92)
This name might not roll off the tongue for most, but he was one of the best cornerbacks this conference has ever seen. Plus, I missed Chad Hennings by one season. I'm not sad about that. As a senior he racked up an NCAA best 24 sacks. Anyway, during McDonald's four seasons at the Academy he was selected WAC Defensive Player of the Year twice. As a senior, he was a consensus All-American. That same season he finished second in the voting for the Thorpe Award, which is given to the best defensive back in the nation. His biggest moment came in the 1990 Liberty Bowl victory over Ohio State. McDonald picked off two passes including returning one 40 yards for a touchdown in the 23-11 win over the Buckeyes.
Honorable mentions: Beau Morgan, Chris Gizzi, Dee Dowis, Chad Hall, Blane Morgan, Donald Hammond, Jeremy Fejedelem, Shaun Carney, Tim ?Jefferson, Jacobi Owens, Cody Getz, Jalen Robinette, Matt Farmer, Ryan Fleming, Weston Steelhammer, Drew Fowler, Vergil Simpson, Johnny Harrison
Boise State
Former Wyoming linebacker Lucas Wacha has spoken -- and he's 100 percent correct. Jay Ajayi was one of the most powerful backs the conference has ever seen since Boise State joined the Mountain West in 2013. The following season, the junior shattered the school's rushing record with 1,823 yards. He also found the end zone a record-breaking 28 times that season. It's not hard to see why Wacha was so impressed. In the 2014 meeting between the Cowboys and Broncos, Ajayi rushed for a modest 110 yards. However, it took just 16 carries to get that done. Ajayi scored twice in the 63-14 rout of the Pokes in Laramie. He also caught two passes for 92 yards. "Jay looked good," Boise State coach Bryan Harsin told the Associated Press. "Guys did a great job blocking for him, but when he got between the backers and the safety, he looked fast and he hit hard." Ajayi rushed for 200-plus yards in three career games and parlayed his college success into becoming a fifth-round selection of the Miami Dolphins in the 2015 NFL Draft. He made the Pro Bowl in 2016 and won a Super Bowl title with the Eagles the following season.
Honorable mentions: Kellen Moore, Brett Rypien, Grant Hedrick, Jeremy McNichols, Matt Miller, Shane Williams-Rhodes, Thomas Sperbeck, Doug Martin, DJ Harper, Darian Thompson, Donte Deayon, Curtis Weaver, Demarcus Lawrence, Kamalei Correa
BYU
When you win a Heisman Trophy, you make this list. Although, for a split second, I did think about going with another former Cougar quarterback, Max Hall. Yes, Max Hall. That guy is second to only Detmer in passing yards and touchdowns. Not to mention made life miserable for the Cowboys. Detmer is the selection here though. Not only for the reason listed above, but the fact that he threw for a school record 15,031 yards and 121 touchdowns during his four-year career in Provo. The Cowboys actually knocked off BYU 29-27 during Detmer's freshman season. He redshirted that year. The following season, Detmer was under center. And guess what? Wyoming won again, beating the Cougars, 24-14. The next three seasons were a very different story. BYU outscored the Pokes 137-65 and Detmer threw six touchdowns and zero interceptions in the three-game sweep. And those were pedestrian numbers for him.
Honorable mentions: Max Hall, Steve Sarkisian, Harvey Unga, Austin Collie, Shad Hansen, Jan Jorgensen, Kyle Van Noy,
Fresno State
QB - Derek Carr (2009-13)
Trent Dilfer could've been the choice here. But, he played just two seasons in the WAC. Dilfer was named the Offensive Player of the Year in the conference in 1993 after passing for 3,799 yards and 30 touchdowns. Carr played just two seasons in the Mountain West after the Bulldogs made the move in 2012. And he shattered Dilfer's and his brother, David Carr's, school records. As a senior, Derek Carr threw for an NCAA best 5,082 yards and 50 touchdowns. The Fresno native won the Sammy Baugh Trophy, given to the nation's best passer, and finished eighth in the Heisman Trophy voting. He led the Bulldogs to a MW Championship and was the game's MVP. He also did a number on the Pokes. As a junior, Carr threw three touchdown strikes in a 42-14 victory. The following season, he tossed four more scores in a 48-10 win in Laramie. Carr was selected by the Raiders in the second round of the 2014 NFL Draft.
Honorable mentions: Jaime Kimbrough, Derek Carr, Michael Pittman, Keesean Johnson, Omar Stoutmire, Lorenzo Neal, Trent Dilfer
Colorado State
This guy won the Jim Thorpe Award, given to the nation's top defensive back. He was a consensus All-American. He was a first-team All-WAC player all four seasons in Fort Collins. He wasn't done there. Myers was also a returner, racking up three more All-WAC selections. To make matters worse, he went 3-1 against the Cowboys in the annual Border War. The Windsor native earned his biggest distinction in 2012 when he was inducted into the College Football Hall of Fame. That's where 14 career interceptions and three touchdowns on punt returns will land you. CSU has produced its share of great players -- or villains -- if you prefer. Meyers is certainly one of them.
Honorable mentions: Nate Kvamme, Joey Porter, Clark Haggans, Bradlee Van Pelt, Moses Moreno, David Anderson, Ray Jackson, Brady Smith, Damon Washington, Rashard Higgins, Michael Gallup, Warren Jackson
Hawaii
PK - Jason Elam (1988-92)
Timmy Chang and Colt Brennan, two quarterbacks that thrived on the islands, would've battled it out for this honor. However, neither played in the Mountain West or the old WAC. Cole McDonald did. He is the school's fourth leading passer with 8,032 yards through the air. He also tossed 70 career touchdown passes. Hawaii has been long known for its offensive outbursts, but someone had to finish those drives with a kick, right? Jason Elam, better known around these parts as the best Broncos place kicker of all-time, booted a school record 79 field goals for the Rainbow Warriors. He hit on 79 percent of his kicks, including 90.9 in the 1989 campaign. He was Mr. Automatic in Aloha Stadium or on the road. It's rare a kicker would get this honor, but the numbers speak loudly.
Honorable mentions: Mark Odom, Michael Carter, Diocemy Saint Juste, Jamal Farmer,
UNLV
QB - Jon Denton (1996-97)
Raise your hand if you remember Jon Denton. Didn't think so. Yes, that name certainly doesn't jump off the page, but his numbers -- especially against the Cowboys -- do. In the 1996 meeting, Denton threw for 486 yards in a 33-21 loss at Sam Boyd Stadium. He was named WAC Offensive Player of the Week. You might recall, that was a pretty darn good Wyoming secondary led by Brian Lee, Lee Vaughn, Je'Ney Jackson and others. Fast forward to 1997. The Cowboys win again, 35-23, this time in Laramie. Denton, one of the nation's leading passers, had a rough afternoon. With little protection up front, Denton tossed three interceptions while finishing 10-of-30 for 134 yards. Still, Denton broke 10 NCAA freshman passing records at UNLV. He was a local star in the making. That is until off-the-field trouble followed. Denton was suspended after his sophomore season and ultimately transferred to Eastern Kentucky. The Omaha World-Herald detailed Denton's fall in 2014. They made a stunning comparison between Denton and Johnny Manziel, the Heisman Trophy winner from Texas A&M. "I told my wife the other day, I should've coined 'Johnny Football,'" Denton said. "Now, this guy's going to get millions and millions of dollars for trademarking the phrase. I was a true rebel, I guess you could say. I did some things I probably shouldn't have. Don't most college kids? I never got arrested. I was never on the front page of the paper for a DUI or anything like that. It was more being a knucklehead within the program than anything else.' Denton is still the third-leading passer in school history with 6,177 yards. Imagine if he stayed all four years?
Honorable mentions: Ryan Wolfe, Beau Bell, Casey Flair, Phillip Payne, Omar Clayton, Jason Thomas, Adam Seward, Jason Beauchamp, Tim Cornett
Nevada
QB - Cody Fajardo (2011-14)
Wyoming faced Cody Fajardo and the Wolf Pack just once time after Nevada joined the Mountain West in 2012. That was a 35-28 win for the home team in Reno. That day, Fajardo completed 19-of-26 passes for 221 yards and two touchdowns. It wasn't his biggest offensive day. In fact, he only rushed for eight yards in the victory. That was no Fajardo-like. He is the school's seventh leading rusher all-time with 3,482 yards. He scored on the ground 44 times. He had a nice right arm, too. Fajardo is Nevada's third-leading passer with 9,659 yards through the air. He also capped his career with 57 touchdown passes. Fajardo replaced maybe the school's best player in history, Colin Kaepernick. They didn't skip much of a beat, either.
Honorable mentions: Albert Rosette, Brock Hekking, Lenny Jones, James Butler
New Mexico
ATH - Brian Urlacher (1996-99)
New Mexico's starting safety-linebacker-wide receiver-tight end-kick returner-Mr. Everything, Brian Urlacher, snagged his sixth touchdown reception of the season that late sunny November day in Laramie. The 6-foot, 4-inch, 230-plus pound athlete was truly a man among boys. And that's taking nothing away from Wyoming players like Al Rich, who snagged an interception during the 42-28 win, or Matt Lehning, Robbie Duncan or Trent Gamble. They would most likely agree. Many Wyoming fans point to this afternoon as a day they saw one of the greatest college football players to ever live. I agree -- wholeheartedly. Aside from being a weapon on offense and special teams, Urlacher is also the fourth-leading tackler in school history with 442 stops. Rocky Long, then head coach at UNM, dubbed Urlacher's position "Lobo Back." He picked off three passes, and racked up 11 forced fumbles and sacks. And, oh, by the way, he returned five kicks for touchdowns. He was an All-American and even ended up on the Heisman ballot. Urlacher was inducted into the College Football Hall of Fame in 2017. And did we mention he had a pretty nice career in Chicago, too. He is also the proud owner of a new gold jacket. He picked that up in Canton, Ohio, the following year.
Honorable mentions: Graham Leigh, Stoney Case, Carmen Messina, Blake Irwin, Donovan Porterie, Terance Mathis, Hank Baskett, DonTrell Moore, Rodney Ferguson, Jeremy Leach
Rice
QB - Chad Richardson (1996-99)
Wyoming and Rice met just one time during the Owls' brief three-year stint in the WAC. That was a 34-24 Cowboy victory in Laramie in 1998. I still remember the Pokes busting out those yellow jerseys that day. Anyway, like most of you, I'm sure, no one really stood out for me when it comes to the smart-kid school in downtown Houston. So, after a little research, I came up with the guy above, Chad Richardson. In '99, Richardson was a senior dual-threat quarterback. He passes for 563 yards and seven touchdowns. That same season, he rushed for a team-leading 831 yards and 11 scores. He is still the ninth-leading rusher in school history with 2,024 yards.
Honorable mentions: Chad Nelson, Michael Perry, Dan Dawson, LaDouphyous McCalla, N.D. Kalu
San Diego State
RB - Marshall Faulk (1991-93)
Donnel Pumphrey is San Diego's all-time rushing leader. Larry Ned and Rashaad Penny and Ronnie Hillman are just a few more studs that have lined up in the Aztecs' backfield. Those guys were amazing, but it all started with No. 28. Marshall Faulk racked up 4,786 rushing yards in just three seasons in San Diego. How did this guy end up in that uniform? He was one of the most-highly recruited players out of high school in New Orleans, but most teams wanted him to play cornerback. Marshall Faulk on defense? Boy, did they screw up. Faulk found the end end zone 57 times on the ground in college. As a junior, Faulk finished second in the Heisman Trophy voting to Miami quarterback Gino Torretta. Faulk was a finalist in 1991 and '93, too. He was a three-time All-American and the WAC Offensive Player of the Year in '92. During that season the Aztecs Came to town for an early November meeting. It was 44 degrees, cold by their standards. Faulk rushed for 127 yards during a 17-6 loss to the Cowboys in Laramie. It took him 33 carries to get there. And his longest run was just 19 yards. "It was muddy and I couldn't do a couple of things," Faulk told the LA Times. "But I knew it would be like that." Did that game hurt his Heisman chances? "(The Heisman) doesn't concern me more than the WAC title does," Faulk said. "Why would it?" Faulk became the Aztecs all-time leading rusher that day. Wyoming's Kurt Whitehead wasn't impressed. "He is a great player, but I can't say as much for his class," Whitehead said. "He started talking from the time he came on the field until it ended. He would be on the bottom of the pile saying stuff, and that just got the defense fired up." Faulk, of course, went on to have a successful 13-year career in the NFL, highlighted by a Super Bowl title, league MVP and numerous other records broken. He was inducted into the NFL Hall of Fame in 2011. Wyoming beat Faulk's Aztecs twice in three tries.
Honorable mentions: George Jones, Larry Ned, Donnel Pumphrey, Rashaad Penny, Ryan Lindley, Billy Blanton, Ronnie Hillman, J.R. Tolver, Jeff Webb, Kassim Osgood, Will Blackwell, Darnay Scott, Damontae Kazee, Kirk Morrison, Kabeer Gbaja-Biamila, Kyle Turley
San Jose State
This honor goes to a former Wyoming Cowboy. Well, kind of. David Fales, San Jose State's all-time leading passer, took summer classes at UW after transferring from Nevada. Some freshman named Brett Smith was fully entrenched in the starting role. Fales saw the writing on the wall and headed back to junior college in California. After leading Monterey Peninsula to a conference title, Fales transferred to SJSU. There, he dominated for two seasons. In 2013, Fales and the Spartans hosted the Pokes. That evening, Fales threw for 482 yards, which is still the fifth-best passing day in school history. Fales threw 66 touchdowns in two seasons and leads the school in overall offense. He was selected in the sixth round of the 2014 NFL Draft by the Chicago Bears. He has also played for the Ravens, Dolphins and Lions. He is currently a member of the New York Jets. Josh Love, who was SJSU's quarterback from 2016-19, was set on coming to Wyoming, too. That is until Josh Allen showed what he could do.
Honorable mentions: Josh Love, Tyler Ervin, Deonce Whitaker, Chandler Jones, Noel Grigsby, Tyler Winston, Keith Smith, Josh Parry, Austin Lopez
SMU
Like Rice, SMU played in the WAC from 1996-98. The conference left them behind to form the Mountain West in 1999. The Cowboys and Mustangs met in all three seasons with Wyoming winning both in Laramie and the Ponies edging Dana Dimel's squad in Dallas, 22-17, in 1997. Also like Rice, no one comes to mind when I think of those SMU days. There was definitely no Eric Dickerson, Craig James or Emmanuel Sanders on those teams. I settled on Luke Johnson, who is the school's all-time leader with 23.5 sacks. For comparison sake, Mitch Donahue had 49 sacks at Wyoming.
Honorable mentions: Josh McCown, Donte Womack, Tracy Hart, Chris Bordano
TCU
RB - LaDainian Tomlinson (1997-00)
Here's a guy who almost came to Wyoming. Tomlinson didn't have many suitors out of high school. Dana Dimel wanted him to come to Kansas State. Before the two could meet, Dimel accepted the gig in Laramie. He made a call to Tomlinson. He was coming for a visit. Then, things all changed when TCU entered the fray. Tomlinson and the Horned Frogs played Wyoming just one time when they were both members of the WAC in the late 90's. The all-world running back didn't do much that day, but that was the exception. Tomlinson rushed for 5,387 yards during his four years in Ft. Worth. He scored 56 touchdowns on the ground. As a senior, LT led the nation in rushing with 2,158 yards. He was named a consensus All-American, won the Doak Walker Award, given to the best college running back, and was a Heisman Trophy finalist. His No. 5 at TCU has been retired. He was selected fifth overall in the 2001 NFL Draft by the San Diego Chargers. LT was an MVP, two-time rushing leader and was inducted into the NFL Hall of Fame in 2017.
Honorable mentions: Jerry Hughes, Andy Dalton, Lonta Hobbs, Josh Boyce, Aaron Schobel, Tommy Blake, Tank Carder, Jeremy Kerley
UTEP
RB - John Harvey (1985-88)
The Miners and Cowboys have met 32 times on the gridiron with Wyoming coming away with a win in 26 of those. None were bigger than WAC Championship clinching wins over UTEP in 1987 and '88. The Miners were members of the WAC from 1968 to 98 before the Mountain West was formed and El Paso's school was left in the dust. One name that sticks out for me during those meetings is John Harvey, the school's second all-time rushing leader. Harvey suited up four times against the Cowboys, including a 1985 meeting in Australia. Harvey never beat Wyoming during his four years in El Paso, but he put up plenty of numbers, including a 232-yard performance against Colorado State as a freshman. Harvey finished his career with 3,576 yards on the ground and a school-record 42 touchdowns. Harvey didn't exactly have the best exit to his college career. After leading the Miners to the Independence Bowl during his senior season, Harvey was suspended for the bowl game after testing positive for marijuana. He played one professional season in Tampa Bay before drugs derailed that dream, too. In 2007, Harvey was accused of raping a 12-year-old. He pleaded guilty and was sentenced to 12 years in prison. Sad ending to a great college career in El Paso.
Honorable mentions: Rocky Perez, Mike Perez, Toraino Singleton, Paul Smith, Lee Mays, Brian Natkin, Barron Wortham, Doug Morgan, Michael Comer, Gonzalo Floyd, Chris Jacke
Tulsa
Tulsa came out of the locker room in red uniforms. That, in the end, spelled danger. Las Vegas Bowl representatives were in the house. They even brought showgirls with them to northeast Oklahoma for the season finale. The fanfare wasn't for the home team either. Wyoming was one win away from clinching a berth in Sin City, coming in with an 8-2 record. Lowly Tulsa sat at 3-7. The Golden Hurricane had zero to play for. It sure didn't look like it when the dust settled on a 35-0 blanking. Players have told me that Las Vegas Bowl shirts were in the locker room. The party was supposed to be on after the final whistle. That couldn't have been further from the truth. Wyoming and Tulsa met just one time as members of the WAC. It was an unforgettable memory for the visitors. "It was such an empty feeling," color commentator Kevin McKinney told the Wyoming Tribune Eagle in 2019. "As the year is going on, you get excited and you want to keep it going. We had such a good team and had had such a good season, but it ended in disappointment. The Vegas Bowl was probably angrier than anyone because they had to ship all that gear back, and they all had to go home." Wyoming not only lost its chance to win a conference title at home against Air Force a week prior, they were headed home for the holidays.
Honorable mentions: John Fitzgerald, Solomon White, Domon Savage, Wes Caswell, James Anderson
Utah
QB - Alex Smith (2002-04)
Sure, Scott Mitchell has the better passing numbers. He has thrown more touchdowns and holds the single-season and game record for yards and scores. But, Alex Smith helped send the Utes to another dimension. Smith was Urban Meyer's first signal caller in Salt Lake City. He ran the spread-option to perfection, leading the Utes to a perfect 12-0 record and a victory over Pittsburgh in the Fiesta Bowl. Smith threw for 5,203 yards in his three seasons at Utah. He connected on 47 touchdown passes. Where he separated himself was in the running game. Smith eclipsed 1,000 yards and scored 15 touchdowns on the ground. The Meyer-Smith experiment landed the head coach a new gig at Florida and the quarterback the No. 1 selection in the 2005 NFL Draft. It also launched the program as a whole. In 2011, the Utes bolted for the PAC 12 Conference. In Smith's lone start in Laramie, he torched the Cowboys to the tune of 244 yards passing and three touchdowns. He also scored on the ground while rushing for 90 yards. That night is best remembered for the bitter cold weather and the lights in the stadium not coming on for 99 minutes. That's about the only thing that stopped Smith and the Utes that night.
Honorable mentions: Steve Smith, Eric Weddle, Luther Elliss, Brian Johnson, Scott Mitchell, Chris Fuamatu-Ma'afala, Mike Anderson, Matt Asiata, Kevin Dyson, Bryan Rowley, Paris Warren, Mike McCoy, Spencer Toone, John Frank, Louie Sakoda
Utah State
QB - Chuckie Keeton (2011-15)
Wyoming and Utah State have met 66 times on the gridiron despite a 52-year span when the two weren't even in the same conference. From 1938 to 1961, the rivals played in the Skyline Conference. It wasn't until 2013, the season the Aggies joined the Mountain West, that these two would once again squabble on a year-to-year basis. Chuckie Keeton was the first Aggie quarterback to navigate the new conference. He did in sometimes dominating fashion. Before there was a Jordan Love, there was a Keeton. He didn't finish with the numbers Love did, but he brought the element of the run-pass option. And he ran it to perfection. Keeton is No. 3 in passing yards in USU history with 7,393. He added 1,415 rushing yards into the mix, too. That, and 16 touchdowns on the ground and a school record 62 through the air. You might remember the Aggies and Cowboys meeting in 2011. That day Keeton tossed five touchdown passes in a 63-19 rout in Logan. Keeton played in 41 career games though injuries plagued the signal caller throughout his time at USU, limiting him to just 17 games over his last three seasons.
Honorable mentions: Jordan Love, Jalen Davis, Zach Vigil, Dominik Eberle, Jake Doughty, Hunter Sharp, Darwin Thompson, Gerold Bright