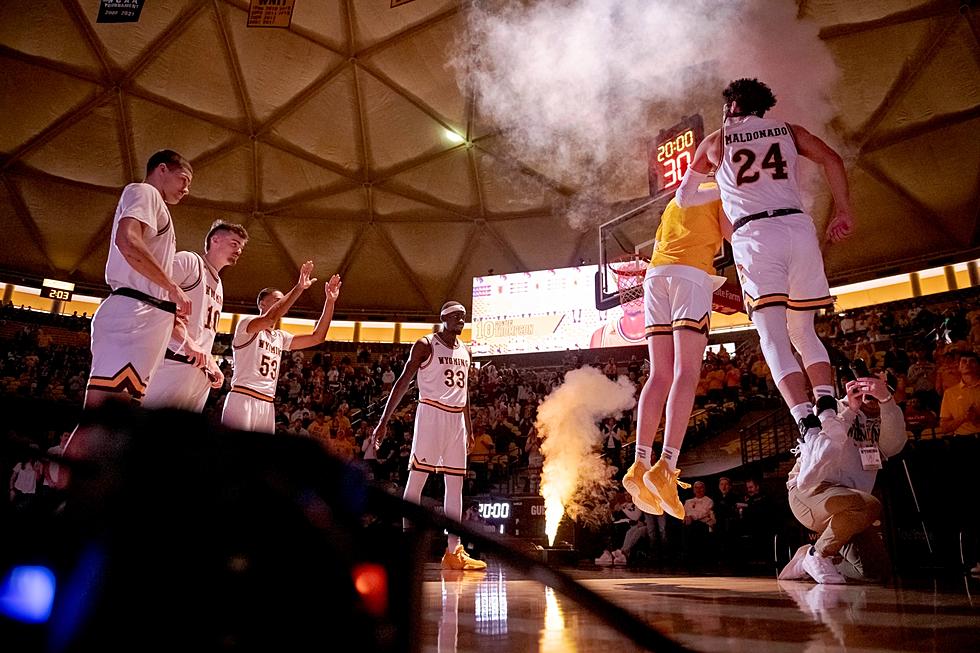 Tuck's 10 Takes: Pokes finally top Rebels in Las Vegas
A Xavier DuSell 3-pointer with 30 second left lifted the Cowboys to a 59-55 victory over UNLV Thursday during the quarterfinals of the Mountain West Tournament./ UW courtesy photo
LAS VEGAS, Nev., -- It had been 6,978 days since the Cowboys beat the Rebels inside the Thomas & Mack Center.
The last victory came back in 2003. That's a streak of 19 straight. Wyoming rolled to a 90-80 win over the Rebels that February night.
That was the same day the space shuttle Columbia disaster in Texas happened. "The Recruit" was the top movie at the box office, followed by "Final Destination 2" and "Kangaroo Jack." A gallon of gas set you back about $1.59. Too soon?
"It's sweet, to be honest," said Hunter Maldonado, who finished with 11 points in the 59-56 quarterfinals victory over UNLV Thursday afternoon. "I think, at the end of the day, it was grit. This whole game was grit."
Here are some other tidbits and takeaways from the Cowboys win:
* UNLV hit its first shot of the afternoon. That was a Royce Hamm Jr. layup just 37 seconds in. The Rebels sank their second bucket -- a Bryce Hamilton jam -- with 7:33 left in the first half. For nearly 12 minutes, Wyoming's defense held UNLV to just 1-of-13 from the floor and built a 13-point lead at 21-8.
* The last time UW played in this arena, eight long days ago, it was outrebounded and out-hustled. The Rebels won the battle of the boards, 44-36. They beat a weary Wyoming team to seemingly every loose ball and turned it over 10 times in the 64-57 loss. Not today. Led by Brendan Wenzel, Wyoming owned the boards, 45-29, including a 12-7 edge on the offensive glass. "We challenged our guys, but I felt like a lot of it had to do with our fatigue -- our third game in five days," Wyoming head coach Jeff Linder said. "But they beat us to the 50-50 balls when we played here and they out rebounded us here. We knew that was a big part of the game in terms of beating that team, to beat them to the ball. I thought we did it from the start. You could just tell we were moving at a different pace from the time we played here last time."
* The duo of Wenzel and Xavier DuSell held Hamilton to just 2-for-6 from the floor over the first 20 minutes of play. That all changed in the second half. That all changed, in a hurry, out of the locker room. The Pasadena, Calif., product, drained seven of the Rebels' first nine buckets out of the break. He added a pair of and-ones. He made those shots, too. Hamilton finished with a game-high 22 points, 18 of which came in the second frame. So, what happened?  "In the first half, we were using a lot more ball screens," Hamilton said. "So, we noticed after the ball screen, they would trap us. We made an adjustment in the second half, kind of just doing the ghost screen where we don't actually screen and that was just able to make me use that advantage to make plays." Linder said earlier this week the Cowboys were "at the mercy" of Hamilton making and missing. He missed just enough early on.
MORE UW HOOPS NEWS:
* Wyoming's sixth man answers the bell
* DuSell triple lifts Pokes past UNLV, 59-56
* Wyoming looking for an aggressive Xavier DuSell in Sin City
* Does Wyoming need to win in Vegas to punch ticket to NCAA Tournament?
* Maldonado hit a special milestone in the Cowboys' win today. With his five assists, the senior guard became the all-time assists leader in school history, breaking Sean Dent's record that stood for more than 35 years. He now has one more than Dent with 503. You can read about Dent's thoughts on his former record right HERE.
* How about the lift today from true freshman Noah Reynolds? Linder always compliments the young guard on his fearless nature. That was on display early against the Rebels with Maldonado on the bench in foul trouble. Reynolds hit 2-of-3 shots from the field and added a trio of free throws in the win.
* Speaking of fouls. DuSell and Maldonado both finished with four. Hunter Thompson, Graham Ike and Wenzel all had three. The whistles weren't just saved for the Pokes, either. UNLV had three players land four fouls -- David Muoka, Hamilton and Royce Hamm. Donovan Williams was hit with three.
* Since we're still on the subject of fouls. Ike, once again, struggled to get to the line in this one. He attempted three and sank them all. This was a guy who led the nation in fouls drawn at nearly eight per game. The big man hasn't even toed the line for eight freebies in six of the Pokes' last seven games. There's a correlation, folks. In two games against the Rebels this season, Ike has netted just 25 points on 10-of-33 shooting. Hamm explained postgame how UNLV has been so successful against him. "Personally, I think he's a good player,  but I think if you make him finish over you instead of going around you or not finish through you, basically, I think it's a better situation for us," Hamm said. "When you get the ball down low in the post, if you make his catches a little bit farther out then you make him have to work for his position. Then I think it gets tougher on him." Bingo. Ike needs to get closer to the bucket and quit settling for turnaround jumpers.
* While there are no guarantees, UNLV head coach Kevin Krueger called Wyoming an NCAA Tournament team. Linder referred to the Big Dance ahead, too. Some think it would take just one victory in Vegas to seal the deal. Others think it could take a championship game appearance. Many experts had the Cowboys in regardless of what went down today. I say they are in. The resume is impressive enough and this league is brutal. Add in a COVID pause, a stretch of seven games over the final 18 days and one of the youngest rosters in the nation, and you have a team that deserves to go dancing. We'll all find out together on Sunday at 4 p.m. MT on CBS. Stay tuned.
* We have no idea what the attendance was during the game, but what we do know is it was pro-Wyoming -- to say the least. "Shout out to all the fans that did come," Maldonado said. "They're a huge part. Obviously, down the stretch, the noise and making it feel like a home game. With us being the higher seed, having our home jerseys on, like I told the guys before the game, we protect home court. With everyone coming out here, it's a home game for us. We got to go out there and win." Wenzel agreed. "Down the stretch -- the fans traveling all this way -- it gives us the energy that we really need to really pull through," he said. "I mean, it's love, man. Seriously. I didn't think we were going to get that many fans at the game,  but it felt like a home-court advantage." Linder said a memory that sticks out to him from 2015, other than Josh Adams and Larry Nance Jr. leading the Cowboys to a win over Linder's Boise State squad en route to a tournament title, was the UW fanbase. "That was the thing that I always remembered," he said. "It was the thing that these guys weren't able to experience with COVID, but that's the beauty with the University of Wyoming, to have the support and for people to come ... But to go out there on UNLV's home floor and to have a home-court advantage with your crowd, just shows you why Wyoming is a special place."
Wyoming scorers: Wenzel 12, Ike 11, Maldonado 11, Drake Jeffries 8, DuSell 8, Reynolds 7, Jeremiah Oden 2
Wyoming will take on Boise State in Friday's semifinals matchup in Las Vegas. Tipoff is set for 7:30 p.m. MT and will be broadcast on CBS Sports Network. The Pokes and Broncos split the season series, each winning on their home floor.
University of Wyoming's Top 50 Football Players
The rules are simple: What was the player's impact while in Laramie? That means NFL stats, draft status or any other accolade earned outside of UW is irrelevant when it comes to this list.
This isn't a one-man job. This task called for a panel of experts. Joining 7220's Cody Tucker are Robert Gagliardi, Jared Newland, Ryan Thorburn, and Kevin McKinney.
We all compiled our own list of 50 and let computer averages do the work. Think BCS -- only we hope this catalog is fairer.
Don't agree with a selection? Feel free to sound off on our Twitter:
@7220sports
- #Top50UWFB
- University of Wyoming's Top 50 Football Players