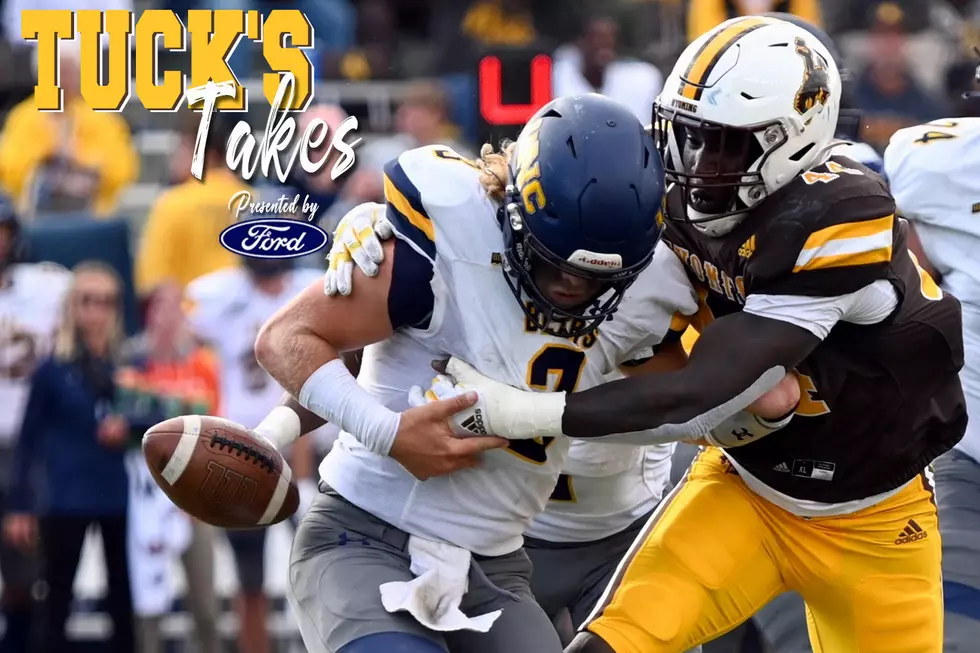 Tuck's Takes: Death, taxes and sleep walking against the FCS
Redshirt freshman defensive end Oluwaseyi Omotosho wraps up UNC quarterback Jacob Sirmon late in the fourth quarter, causing a fumble in the Cowboys 33-10 victory over the Bears Saturday in Laramie./ DJ Johnson photo
LARAMIE -- Death, taxes and Wyoming sleep walking through a home game against an FCS opponent.
Ah yes, it's that time of year on the High Plains.
Don't be fooled by the final score of this one, for more than three quarters the Cowboys' offense was sluggish, stagnant and at times, appeared completely disinterested in taking advantage of the many weaknesses Northern Colorado showed in its opener last Saturday.
Like how the Bears gave up 212 rushing yards to mighty Houston Baptist, a team that didn't win a single game in 2021. Or the fact the Huskies torched the UNC secondary to the tune of 305 passing yards and four touchdowns.
After one half of football, Andrew Peasley and the Cowboys rolled up a grand total of 133 yards of total offense. That's 64 through the air and 69 on the ground. They had just three John Hoyland field goals on the scoreboard to show for it.
We've seen this movie play out time and time again during Craig Bohl's eight-plus years in Laramie:
2021: 19-16 victory over Montana State
2019: 21-16 victory over Idaho
2018: 17-14 victory over Wofford
2017: 27-0 victory over Gardner Webb
2016: 45-22 victory over UC Davis
2015: 24-13 loss to North Dakota
2014: 17-12 victory over Montana
The good news, Wyoming is 6-1 against FCS opponents. The bad, it always seems to be a struggle.
So, what gives?
"What you have is guys, it's an opportunity for players to show that they really belong on a different stage, so you're going to get max effort," Bohl said postgame, adding that during his 11 seasons at North Dakota State, the Bison were 8-2 against FBS foes. "We told our guys that. You know, I think youth sometimes goes 'yeah, the old coach, he doesn't know what the heck he's talking about.' But every game that we've had has been somewhat challenging.
"We anticipated that today and we certainly got that."
Bohl's NDSU teams knocked off Minnesota twice, Kansas, Kansas State, Iowa State, Central Michigan and Colorado State. One of those losses came against the Golden Gophers. The other, a 16-13 setback inside War Memorial Stadium back in 2008.
Remember that one? I certainly do. My thoughts: 'Why are the Cowboys screwing around with these guys?'
Turns out, this isn't just a Bohl issue.
You probably remember that embarrassing 24-22 setback against the juggernaut known as Cal Poly in 2012. Or how about the triple-overtime win at Idaho? Twice the Cowboys had to sneak past Weber State at home. Southern Utah nearly ruined the 2010 season opener.
There's no way this version of the Cowboys looked past UNC, right? Wyoming has the third-youngest roster in the country. It got blasted in its road opener at Illinois and had to overcome a 10-point fourth-quarter deficit before pulling off a double-overtime win last Saturday against Tulsa.
"I'm not sure," wide receiver Joshua Cobbs said when asked why the "little guys" give the Pokes fits, especially in this building. "But, I mean, I think we banded together and came out here and busted it open, so I think that's the most important thing."
That's a positive way to look at things.
How did the Cowboys avoid the upset in this one? One word: Defense.
Five sacks, six tackles for loss, two interceptions and a fumble recovery aided in this victory. Led by linebacker Easton Gibbs, who finished with a team-high nine tackles, a sack and a pair of TFL's, UW limited the Bears to just 147 yards of total offense, including 15 rushing yards on 24 attempts.
That domination also helped lead to 17 fourth-quarter points to put this one out of reach.
The Cowboys won't play many -- if any -- "lesser" programs this fall. Playing down to the level of its competition has been a plague around here for far too long. This team is lucky a majority of these close calls have still ended up in the win column.
"Well, we're certainly glad we won the game," Bohl said. "It didn't turn out how I thought it would. I was glad we got some separation at the end."
Wyoming 33, Northern Colorado 10
Smothering secondary
Last Saturday, in this same venue, Davis Brin made light work of the Wyoming secondary, completing 30-of-52 passes for 460 yards and three touchdowns in a 40-37 double-overtime loss to the Cowboys.
Three Tulsa receivers eclipsed the 100-yard mark. A fourth finished with 79.
It was ugly. And way too easy.
UNC's quarterback tandem of Dylan McCaffrey and Jacob Sirmon connected on 37-of-57 throws for 425 yards and four scores through the air in last week's home loss to Houston Baptist.
Ed McCaffrey's "Bear-Raid attack" seemed to be in mid-season form.
So, who would budge in this one?
Not Wyoming.
The Cowboys, led by sophomore Cam Stone, limited the Bears' to just 132 passing yards. McCaffrey, Saturday's starter, completed only 3-of-8 passes for 35 yards. He also tossed an interception right into the No. 4 on Stone chest in the second quarter.
"It feels good," the 5-foot-10, 188-pound Texas product said of his first pick in a UW uniform. "I was actually really happy -- and I was thinking, like, 'why would he throw that?' I wouldn't do it, at least, but I'm happy that came my way."
Sirmon was much more effective.
The Washington and Central Michigan transfer connected on 12-of-27 throws for 91 yards. He also tossed a pick, only this one wasn't so blatant. Late in the fourth, he threw a low fastball to wide receiver Trevis Graham -- ironically the only player on the UNC roster to throw a touchdown pass on this day -- that bounced off his hands and into the arms of UW linebacker Shae Suiaunoa.
"As a whole, we took a great deal of it into consideration this week," Stone said. "But me personally, I expect way more from myself and I was going to show it. I think we did that, I think I did that. It's all about consistency now."
Bohl, who said he was going back to the drawing board after that outing against Tulsa, said his secondary is loaded with "self-starters." He had a feeling they would bounce back in this one.
"You look at the tape and go, 'we're better than that,'" Bohl said. "Then we knew that, I mean, those quarterbacks were heavily recruited and are both four-star quarterbacks. They threw the ball up and down the field (against HBU), and to come out the way we did today, I think that formula was stopping the run. We made them one-dimensional."
Ten quarterback hurries and five sacks certainly didn't hurt the cause either.
Glass half empty
After a 23-13 loss at Boise State last November, I asked Craig Bohl about the significance of the "middle eight."
That means the final four minutes of the first half and the first four out of the third quarter.
That night inside Albertsons Stadium, the Cowboys -- three timeouts still at their disposal -- got the ball back with 2:47 remaining in the second quarter. They had all the momentum after marching 76 yards on the previous drive, capped by a seven-yard touchdown run by Titus Swen to even the score at 7-7.
With a chance to take a lead against the Broncos on that famous blue turf, a rare occasion in their building, Bohl and Co. ran the ball three times and punted. Boise State, on the flip side, took less than a minute to go from its own 12-yard line to the UW 26. There, placekicker Jonah Dalmas waited -- and laughed -- as Bohl used all three of his timeouts to "ice" him.
Of course, the 43-yard sailed right through the uprights, Dalmas talked trash and the home team took a lead into the break. He would add three more points on the first drive of the third.
A defiant Bohl said no matter what, it was still a "one-possession game." By now, you know when it comes to this offense, even three points can be insurmountable at times.
Saturday, Bohl found himself in a similar spot.
With 24 seconds to go in the half, UW lined up at midfield and, again, had all three timeouts. Hoyland, who made a 55-yard field goal last week against Tulsa, needed just a handful of yards to reach his range.
Peasley took the first-down snap, looked down field and was eventually sacked. The junior signal caller also fumbled on the play though it was recovered by one of his own linemen.
Did Bohl rush to the nearest official to stop the clock? Nope. Instead, he had some choice words for anyone within shouting distance and ushered his team to the locker room as time expired.
He also failed to draw a whistle after UNC completed a short second-down pass on the previous drive. Precious ticks drained there, too.
I guess he was fine with a slim 9-0 lead at the break.
I asked.
"I thought about it and I felt like one of you guys were going to question me on it," he joked. "We just got sacked. They did some unconventional things so I said screw it ... we wanted to keep Peasley upright and that was conservative. I felt like we had some tempo of the game, which is why I did what I did."
Did the performance of his defense make that an easy call?
"I could say that, but I was frustrated that we got sacked," he continued. "I mean, damn it, in that situation, to get sacked, I was like, screw it. We're going to go in there and make some adjustments and get after it in the second half. Thanks for putting me in a bad mood."
Wyoming was able to overcome that conservative play calling today, but the road gets tougher from here. Much tougher. Air Force, which will pay a visit to Laramie Friday night, just laid the wood to in-state rival Colorado, 41-10. The next opponent, BYU, is in the Top 25.
When points are there for the taking, you have to do just that -- take them.
LOOK: Pokes' unis through the years