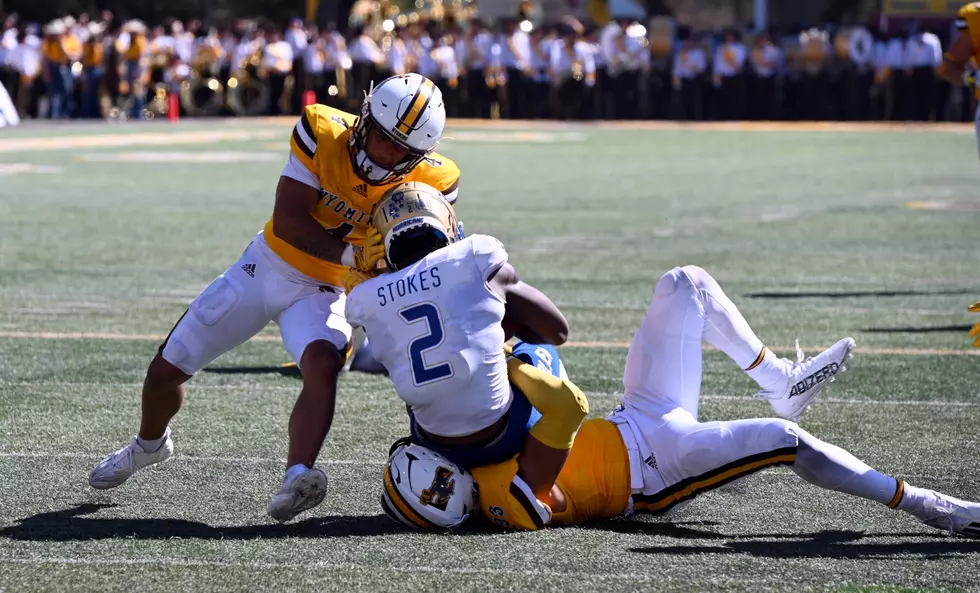 Tulsa torches UW secondary for 460 passing yards in loss
Cam Stone (No. 4) along with DeVonne Harris, combine to bring down Tulsa receiver Keylon Stokes last Saturday during the Cowboys 40-37 double-overtime victory over the Golden Hurricane./ DJ Johnson photo
LARAMIE -- Three Tulsa receivers eclipsed the 100-yard mark last Saturday inside War Memorial Stadium.
A fourth, Isaiah Epps, also hauled in four catches for 79.
Davis Brin completed balls to six different pass catchers, none more dynamic than slot receiver Keylon Stokes, who finished with a game-high 11 grabs for 136 yards and a touchdown.
Brin's 460-yard passing day also included three touchdown tosses in the 40-37 double-overtime loss to the Cowboys.
During the Craig Bohl era, only twice has an opposing signal caller thrown for more than 400 yards in a single game. Kelly Bryant did it in the 2019 season opener, hitting the 423-yard mark in Missouri's 37-31 setback in Laramie. During the first game the following year, Nevada's Carson Strong torched Wyoming's secondary to the tune of 420 yards through the air in a 37-34 overtime victory.
The last time a UW team gave up more yards than it did last Saturday was way back in 2013 when Hawaii's Sean Schroder finished just one shy of 500 in a 59-56 overtime loss. Luckily for the Cowboys, Brett Smith threw for 498 yards and a school record seven touchdowns in that win.
MORE UW FOOTBALL NEWS:
* Hoyland's career day earns him MW Special Teams Player of the Week nod
* Wyoming QB lands Mountain West Offensive Player of the Week honors
* Wyoming walk-on waltzes into end zone for first-career touchdown
* Tuck's Takes: Peasley hushes critics with career outing
"On the back end, way too many yards in the passing game," Bohl said Monday during his weekly press conference in Laramie. "We need to tighten our coverage down, and along with that, we need to improve our pass rush. So there's a combination of some things there."
Though it wasn't a great day for UW's three corners -- Cam Stone, Deron Harrell and Jakorey Hawkins -- that trio did make big plays when it mattered most. On Tulsa's final drive of regulation, Stokes took a slant pass 33 yards up the middle of the field. It appeared he was about to give the visitors a shot at a long, game-winning field goal.
Stone had other ideas.
The sophomore chased the play from behind and eventually blindsided Stokes, causing a fumble near midfield. That play not only likely saved the Cowboys, it put them in position for a game winner that John Hoyland clanked off the top of the right goal post.
That wasn't the only play that impressed his head coach.
"He's a competitive player and makes a lot of plays," Bohl said of the Angleton, Texas product. "Beyond that hit that caused the fumble earlier in the game, There was a short route, he came up and missed a tackle and the receiver was burning down the field. It looked like he was going to score a touchdown and Cam came from behind and stripped the ball. The ball went out (of bounds) and we were able to hold them to a field goal. He's a self-starter, he plays hard and he's competitive."
Keonte Glinton had the unenviable task of shadowing Stokes all afternoon. Wyoming's nickelback, who missed a majority of the opener against Illinois with cramps, had his hands full with Tulsa's third all-time leading yards producer.
UW defensive coordinator Jay Sawvel said postgame he wants his defensive backs to press more, but there were a few reasons for the cushion on the outside.
One, inexperience.
Yes, Harrell and Hawkins came to Laramie from Power-5 programs, Wisconsin and Ole Miss, respectively, but he added they didn't play much. Harrell is still making his way back from a hip injury he sustained during his final season in Madison. Stone played sparingly in 2021, stuck behind Azizi Hearn and CJ Coldon on the depth chart.
Sawvel also said his secondary simply needs to make more plays, especially against a talented Tulsa team that traveled nine wide outs in Week 1.
Bohl agreed, adding the Golden Hurricane receivers deserve a lot of the credit.
"When you underachieve, you go back to the drawing board as far as each individual person and coach and how we're going to improve in that area. I think we've got good ability," he said. "... The receivers made some good plays and the quarterback is a good player, but it's a great opportunity for us to improve and we'll need to improve."
Northern Colorado, the Cowboys' week-3 opponent, racked up 425 passing yards last Saturday in a 46-34 loss to Houston Baptist. Jacob Simon completed 22-of-33 balls for 249 yards, a pair of touchdowns and an interception. Dylan McCaffrey also stepped under center for the Bears, connecting on 15-of-24 throws for 176 yards and two scores.
Both of UNC's quarterbacks, Bohl said, were four-star recruits out of high school.
Trevis Graham hauled in just three catches but turned those into 83 yards and two touchdowns. Alec Pell caught a team-high eight balls for 68 yards and a score.
Kickoff is scheduled for 2 p.m. Mountain Time Saturday in Laramie.
Just The Facts: Size Doesn't Matter For Wyoming's War Memorial Stadium
Did you know it would take the populations of
Gillette
(32,857),
Laramie
(32,381),
Rock Springs
(23,319),
Sheridan
(17,844) and Wright (1,200) to create a sellout inside Michigan's famed 107,601-seat
Big House
, the largest college football stadium in the nation?
For those of you not familiar with the
Cowboy State
, those are Wyoming's third through sixth most inhabited cities, along with the small mining town in Campbell County.
- Just The Facts: Size Doesn't Matter For Wyoming's War Memorial Stadium