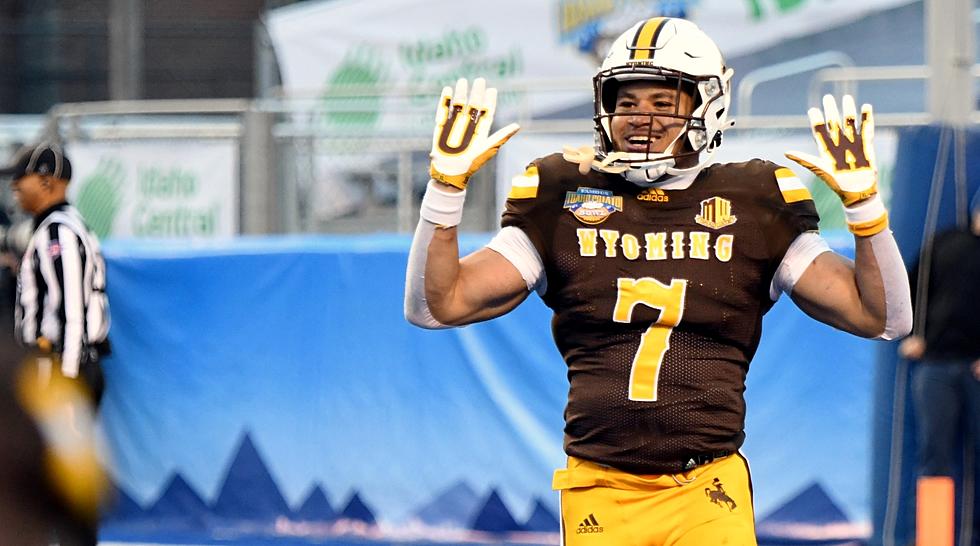 Turning point, unsung hero and what's next for UW football
Trey Smith celebrates a 49-yard touchdown run in the fourth quarter of a 52-38 victory over Kent State in the Famous Idaho Potato Bowl./ DJ Johnson photo
BOISE, Idaho -- After an impressive opening drive that saw Wyoming march 67 yards on nine plays, culminating with 5-yard touchdown run by quarterback Levi Williams, the Cowboys offense came crashing back down to earth.
You've seen this movie before: three straight drives, three straight punts. All of those possessions lasted, you guessed it, three plays.
It was an all-too-familiar scene: Run up the middle. Try it again. Incomplete pass on third and long.
You're familiar with that strategy if you have invested even one fall Saturday in this team since a guy named Allen strolled out of Laramie and into the NFL.
Of course, to make matters worse, Kent State was putting on a track meet of its own, utilizing it's lightning-fast run-pass option attack and running it to near perfection. There was the Famous Idaho Potato Bowl record 80-yard touchdown pass from Dustin Crum to Dante Cephas.
The following drive took a tad longer. Actually, an eternity for this unit.
Crum found the end zone from 12 yards out, capping an 11-play, 71-yard drive that ate up 3:49 of game clock. Kent State would tack on a field goal to take a commanding 17-7 lead.
It about got worse, too.
Crum and Co. were up to their old tricks, taking full advantage of a worn-out Wyoming defense. Bryan Bradford, Kent State's 6-foot, 243-pound running back, was churning up yards and Cephas hauled in a 21-yard pass. And who could forget a pair of defensive pass interference calls against the Cowboys?
Despite that nightmare scenario above, the Flashes were forced to settle for a 40-yard field goal.
Wide right.
That loomed large.
And it wasn't the last miss of the game for placekicker Andrew Glass, either.
"Anytime you get an opportunity to get points, you love to capitalize on that," Kent State head coach Sean Lewis said postgame. "Again, I think it comes back to my play calling. I need to put our kids in better positions so those are PATs and not field goals."
On arguably the biggest possession of the day, Williams took the shotgun snap, stuck the ball into the belly of Xazavian Valladay and quickly yanked it back out. Instead of trying the inside, Wyoming's quarterback hit the edge. It was a 19-yard gainer.
A sign of life.
The next play looked more familiar: Titus Swen into the teeth of the Flashes' defense for no gain.
After completing an 8-yard out route to Joshua Cobbs, the complexion of this game changed in a hurry.
Watch this:
Tight end Parker Christensen did just enough to impede oncoming Elvis Hines and Williams took care of the rest.
Wyoming would score a touchdown on four of its next five possessions. They went like this:
Williams rushed for 200 yards on just 16 carries and scored four times on the ground. That type of performance will land you MVP honors. For good measure, the redshirt freshman from Canyon Lake, Texas, added 127 yards and a touchdown through the air.
Ballgame.
"He can run like the wind," Wyoming head coach Craig Bohl said. "Obviously, it was great to see him make those plays. He's very capable. Anytime you have a player that can do that, that just gives you so many more weapons. That was a huge, huge component in our win today."
Williams, trophy in hand, just smiled.
"It's really awesome," he said. "It's about not quitting, knowing your role. I feel like I played my role pretty well."
That's an understatement.
Wyoming 52, Kent State 38
UNSUNG HERO
Of all the explosive plays Tuesday, a special one came with 3:11 left in the fourth quarter.
Coming into this game, Trey Smith had just nine carries for 14 yards. The former grad transfer from Louisville has spent the majority of his final season in Laramie on the Cowboys' special teams' unit.
When Smith capped that 49-yard touchdown run, the UW bench exploded.
"To see Trey go in and score, then the team just celebrate, he's been one of the ultimate team players, as well," Bohl said. "That's one of the reasons why I think this football team persevered through some ups and downs. They really believe in one another. We've got really great unity."
Sounds like the epitome of an unsung hero to us.
QUOTABLE
"I don't think the emotions really hit yet. Feels like we have film on Monday. I still have that feeling, but I'm just happy to come out of here with such a great team win today. How everybody played, especially Levi and Trey, some of those other seniors like Garrett (Crall) on defense, I thought all around everyone performed really well."
-- Chad Muma speaking about his emotions after playing his final game in a Wyoming uniform
WHAT'S NEXT?
The easy answer is winter conditioning, NFL Pro Day and practice in the spring. The reality of today's game, we always have to keep an eye on the NCAA Transfer Portal. Also, expect some announcements from players who won't be back next year. Bohl will have to make some tough decisions to cut this roster to 85. From the sounds of it, the offensive line is about to take a hit. Bohl knows who is leaving. He just wants them to tell the world, not him.
2017 Famous Idaho Potato Bowl