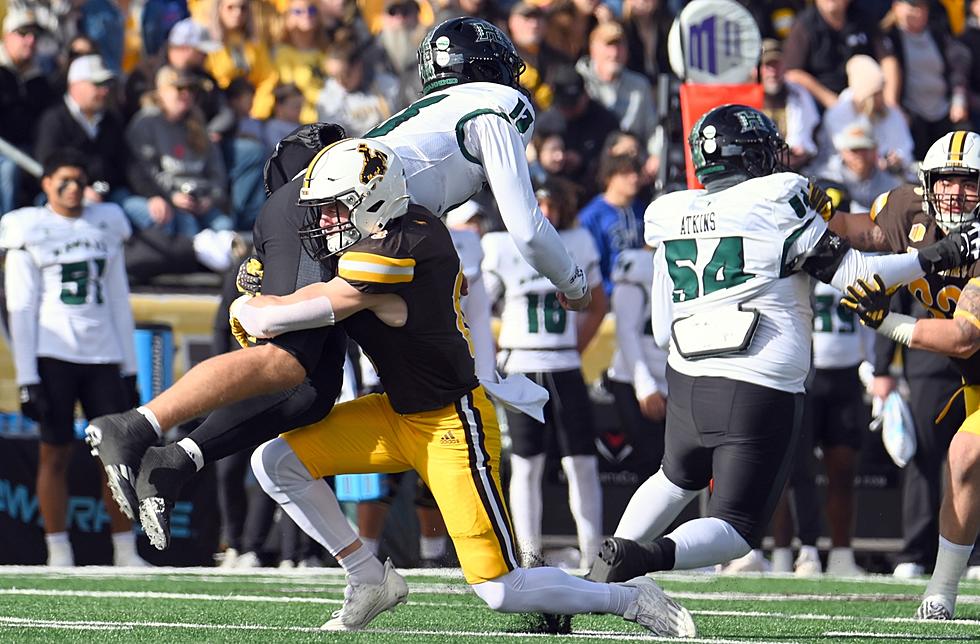 Turning point, unsung hero and what's next for UW football
Wyoming nickelback Buck Coors lays a lick on Hawaii QB Brayden Schager during a 42-9 rout of the Rainbow Warriors Saturday inside War Memorial Stadium./ DJ Johnson photo
LARAMIE -- The turning point in this game really took place inside the media room deep in the bowels of UNLV's Allegiant Stadium.
Without prompting, quarterback Andrew Peasley had some heartfelt words aimed at the Wyoming faithful.
"I just want to say that, this team has had a lot of ups and downs, but whatever people say about us, you know, we will always stick together. This is a true unit of a team," the senior quarterback passionately said. "I know it sucks for the fans that we are 0-4 on the road, but, you know, we do care a lot. We put in a lot of efforts toward this.
"So, you can say what you want about me, you can say what you want about this team, but we'll always stick by each other's side."
Wyatt Wieland, sitting to Peasley's left, stood up and scooted his chair in. Before leaving the room he uttered these words:
"That's why we rally around this man."
Peasley put his money where his mouth is in this one, connecting on 14-of-17 throws for a career-high 319 yards and three touchdowns.
He meant what he said.
"I've never been part of a team that's this close, all around," he said Saturday after a dominating 42-9 victory over Hawaii. "We haven't had one issue with drama, you know, pointing fingers. I think that's something -- it's hard to find. I don't know how you can create it, but that is this team, all around, on defense, offense and special teams. So, you know, I think that's really special."
With conference title hopes dashed in Sin City, this team, battered and bruised, made its way back to Laramie to "lick its wounds," according to head coach Craig Bohl. There are still dangling carrots out there -- a potential nine-win season, snapping a six-game skid on the road and finishing a perfect 7-0 inside War Memorial Stadium this fall. The latter was accomplished Saturday, but this one was about pride.
The seniors took it from there.
On the third snap of the game, Peasley took the snap, climbed the pocket and fired a 44-yard strike to Ryan Marquez, who had snuck behind the defense. On the first play of the ensuing drive, Peasley again confidently stepped up and delivered a beauty over the shoulder of tight end John Michael Gyllenborg, who took care of the rest, flying 89 yards down the west sideline into the end zone.
That was the longest pass play since Cam Coffman and Tanner Gentry connected on a 92-yarder back in 2015.
"I could've thrown it 50 feet in the air and I think he still would've caught it," Peasley joked.
The Cowboys were just getting warmed up.
Running back Harrison Waylee, who has dealt with a number of lower-body injuries, dating back to the offseason, took a handoff around the edge for 28 yards before diving into brown-and-gold paint early in the second quarter. Peasley made the score 28-0 minutes later when instead of dumping an underneath pass the Oregon product improvised and tossed a 40-yard laser down the seam to Wyatt Wieland.
He also dove in for the score, with former Wyoming teammate Cam Stone less than enjoying the ride.
Ayir Asante scored the team's fifth touchdown with just 2:35 left in the half. A Jaokrey Hawkins interception set that one up. After hauling in a six-yard pass, Asante dashed six more on a jet sweep before finding the corner for six points.
Marquez is playing his final game in Laramie. So is Peasley, Wieland, Asante and Hawkins.
Easton Gibbs, who still has a year of eligibility, also made his final entrance into The War in this one. He stuffed Hawaii quarterback Brayden Schager on the goal line in the first half, forcing the turnover on downs.
Evan Svoboda would put an exclamation point on this rout with an 18-yard jaunt into the end zone. The Cowboys' back-up signal caller took a shotgun snap and followed running back Sam Scott through the hole.
That came on a fourth down, too.
Where has a performance like this been all season?
"This question gets asked, obviously, more often when we have a bad showing," senior left tackle Frank Crum said postgame. "The Cowboys can either be really, really good or we can be really, really bad. We've shown that, obviously. There's no one answer to it. I don't know what it is. But there's one thing, this team always comes together."
Wyoming rolled up 472 yards of total offense. They picked off two passes and forced two turnovers on downs. The defense limited one of the top receivers in this league, Pofele Ashlock, to just 25 yards on four catches. Hawaii ran for just 67 yards on 34 attempts.
This is what it's always supposed to look like, right?
"You make that decision," Bohl quipped. "I'm pretty damn happy with it."
The Paniolo Trophy is staying in Laramie.
Wyoming 42, Hawaii 9
UNSUNG HERO
Buck Coors has been through the ringer during his career in Laramie.
Six times the sophomore nickelback has gone under the knife since arriving on campus back in 2020, his latest operation to repair broken metacarpal bones between his pointer and middle finger on his left hand.
There has also been a broken ankle, forearm, wrist and thumb -- twice, all oddly on the left side of his body.
Though he did leave his first start with an apparent lower-body injury, Coors did finish with a career-high four tackles, all solo stops. One was a tackle for loss. He also added a quarterback hurry.
The coaches love this kid. It's easy to see why. The future could be very bright -- if he can stay on the field.
QUOTABLE
"I was disappointed in Nic Talich. I hate to say I have favorites, but he may be one of my favorites because I can relate to him. He went out there and knocked the living snot out of a guy then got a stinger and couldn't go back in. I said, come on, Talich. Coach, I can't feel my hand. But you've got one more play. No, I can't go in, coach. As you know, Wyoming players are near and dear to my heart. For a guy like that to come out there -- it was great to see."
-- Wyoming head coach Craig Bohl joking about an exchange with linebacker and Cody product, Nic Talich, late in the fourth quarter.
"Right now, no, but I guess you never know. You can't say never right now, we still have two more games. So, we'll see how it goes."
-- Wyoming linebacker Easton Gibbs on if he could change his mind about leaving for a career in pro football with one season of eligibility remaining.
"The emotions definitely showed after the Cowboy Walk. It definitely got to me. I shed a few tears, for sure. I saw the fans that have supported me and believed in me and they know I take pride in them too and representing this town and state. It was the end. But once game time came around, it was time to roll. So, those emotions were put to the side. Then after the game I kind of got to, you know, soak it all in one last time. It's sad, but it feels good. I feel like I've accomplished a lot from where I started and, obviously, we're not done yet. The season's not over. But, I mean, I carried on a three-generation legacy and I can say I'm proud of that. Hopefully I did it well."
-- Wyoming's left tackle Frank Crum talking about the emotions of his final game inside War Memorial Stadium.
"It was really good to get a win today for those guys. You know, we didn't even -- this might sound bad to say -- but we didn't even talk about the trophy. I forgot this game was a trophy game. It was just for the seniors and the older guys and I think we came out on fire and, you know, played for them. It was awesome."
-- Wyoming tight end John Michael Gyllenborg on playing for the 18 seniors who were announced Saturday before the Cowboys' home finale.
WHAT'S NEXT?
Wyoming (7-4, 4-3) will attempt to put its road woes in the rear-view mirror next Saturday in Reno. The Cowboys have dropped six straight away from Laramie, including all four this season. Nevada is reeling under second-year head coach Ken Wilson. They have won just two games this fall and have dropped the last three, including a 30-20 setback at Colorado State this afternoon. The Pokes and 'Pack have met nine times, Wyoming clinging to a 5-4 lead. Kickoff inside Mackay Stadium is scheduled for 7 p.m. Mountain Time and the game will be televised on CBS Sports Network.
Just The Facts: Size Doesn't Matter For Wyoming's War Memorial Stadium
Did you know it would take the populations of
Gillette
(32,857),
Laramie
(32,381),
Rock Springs
(23,319),
Sheridan
(17,844) and Wright (1,200) to create a sellout inside Michigan's famed 107,601-seat
Big House
, the largest college football stadium in the nation?
For those of you not familiar with the
Cowboy State
, those are Wyoming's third through sixth most inhabited cities, along with the small mining town in Campbell County.
Gallery Credit: 7220Sports.com
- Just The Facts: Size Doesn't Matter For Wyoming's War Memorial Stadium