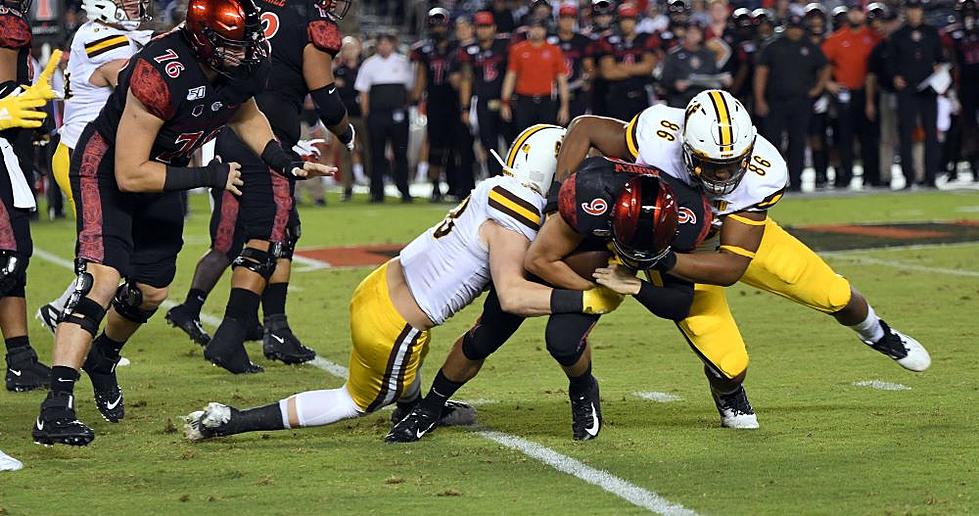 Turning point, unsung hero and what's next for UW football
USEaDJP_8999_88_86
SAN DIEGO -- Logan Wilson says the defense didn't run out of gas in the third quarter.
That stats and eye test told a much different story.
After a lack-luster first half that left the Aztecs trailing 14-6 at the break, Ryan Agnew, Juwan Washington and Jesse Matthews went to work. San Diego State had just two offensive drives in the quarter, but they did this on back-to-back drives:
12 plays, 69 yards, touchdown, time of drive: 5:07
9 plays, 63 yards, touchdown, time of drive: 4:47
No one would blame Wilson if the Cowboys' defense was exhausted. For nearly 10 minutes, the Aztecs (5-1, 2-1) moved the ball at will. Washington found the end zone both times. SDSU took a 19-14 lead.
"No, I don't think so," Wilson said about his defense being worn down in the third. "For the most part, being tired is a mentality. I think we are conditioned very well ... I don't think we were tired, they just made more plays than we did."
Wyoming's offense ran just nine plays for 13 yards in that span.
So, what was the difference? SDSU head coach Rocky Long said it was nothing on their end.
"We did not change one thing on defense in the locker room ..." he said postgame. "We were calling the same defenses that we called in the first half. Our players did a great job of executing them much, much better than they did in the first half."
What changed about the offense?
"I think we feed off each other: the defense plays better if the offense is moving the ball, too," Long said. "You know, offense did a nice job of controlling the ball and keeping the defense off the field in the second half, too."
Penalties sure didn't help the visitors' cause.
After the Pokes first three-and-out of the second half, Miles Williams, was charged with a late hit out of bounds. Late in the first quarter, another hit out of bounds, this time courtesy of Tyler Hall, aided in an SDSU field goal. In the second quarter, another personal foul led to Aztec points. Javaree Jackson was flagged for a late hit.
That's 13 points handed to a solid football team in their home stadium.
Wyoming finished the night with six penalties for 70 yards. That's not Craig Bohl football. That's not winning football, either.
Aztecs tight end, Daniel Bellinger, caught the winning touchdown with 2:09 remaining Saturday night.
He gave Wyoming plenty of credit. He praised their toughness. His response to what changed in the second half is a simple one.
"As coach Long said, we had to fight and fight and fight, and at the end, I think we fought harder," he said.
San Diego State 26, Wyoming 22
Unsung hero
Playing less than two hours down the road from his hometown of Compton, Calif., Cassh Maluia had a solid night for the Cowboys from his linebacker position, racking up a team-high nine tackles and helping to hold SDSU's potent aerial attack to just 209 yards.
With dozens of family members in the stands, the senior captain played sideline to sideline, dishing out a few big hits in the process. Early in the game, Maluia mowed over an Aztec receiver, drawing a few oohs and ahhs from the 28,000-plus in attendance.
Maluia now has 25 tackles, three for loss, and two interceptions on the season.
Quotable
"We don't really worry about stuff like that. We try not to think about where we're ranked and stuff. We just go out and play our game. They could have rushed for 300 yards -- the whole goal is to win the game. We'll fix everything on Monday
— SDSU junior linebacker, Kyahva Tezino, on whether or not the Aztecs' top-ranked rush defense had a letdown game after giving up 157 yards to Wyoming.
What's next?
Wyoming will head back to Laramie to face a New Mexico team that is coming off a 35-21 loss to Colorado State Friday night in Albuquerque. The Lobos are 2-3 overall and winless in their first two Mountain West contests of the season. The Cowboys have won two in a row in the series, including a 31-3 thrashing in the season finale last November. In the overall series, these old WAC rivals have had some battles. Wyoming leads 37-34.