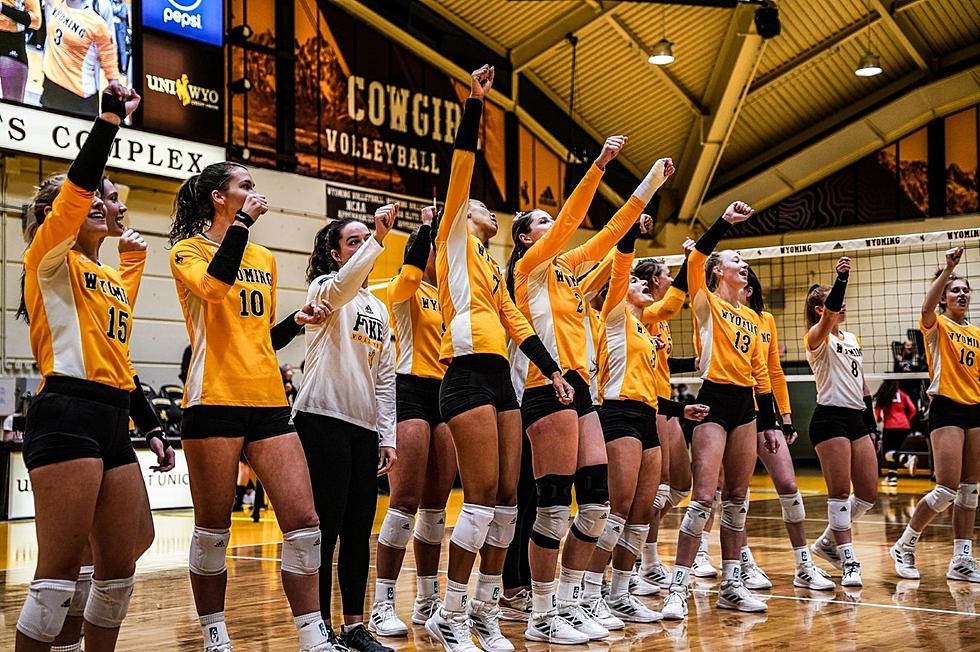 UW looks to continue win streak against UNLV, SDSU
The Cowgirls (12-8, 4-4 MW) are coming off a pair of sweeps last week at home, defeating Air Force and New Mexico./ UW courtesy photo
LARAMIE – The Wyoming Cowgirls look to extend their four-match winning streak this week with a trip to defending Mountain West Champion UNLV for a 6 p.m., match Thursday in Las Vegas. UW then returns home for a 6:30 p.m., contest against San Diego State Saturday.
The Cowgirls (12-8, 4-4 MW) are coming off a pair of sweeps last week at home, defeating Air Force and New Mexico. Naya Shimé led UW with 27 kills last week, averaging 4.50 kills per set. In the sweep over UNM, Shimé tied a career-high with 18 kills.
Also against the Lobos, Jackie McBride recorded her 1,000th-career kill in the sweep and sits just outside the top-10 all-time in career kills at UW. McBride also moved into a tie for third on the program's career sets played list at 462.
Erika Jones led Wyoming over the two matches with 33 digs, averaging 5.50 digs per set. Jones now ranks ninth in the league this season, averaging 2.99 digs per set on the season overall and is third in Mountain West-only matches, averaging 4.07 digs per set.
Lydeke King ranks eighth in the league in blocks per set this season, coming in at an average of 1.06 per set. McBride currently ranks ninth in the conference in hitting percentage (.324) while KC McMahon's 3.03 kills per set sits 10th in the Mountain West.
Defending conference champion UNLV enters Thursday's contest ranking second in the league in team hitting percentage (.250), opponent hitting percentage (.178) and blocks (2.46 per set). The Lady Rebels are also tops in the Mountain West in opponent kills per set (11.15) and opponent service aces (1.03).
Reigning Mountain West Player of the Year, Mariena Hayden leads the league in kills at 3.88 per set, points per set at 4.86 and in service aces with 0.63 per. Kate Brennan ranks second in the MW with a .388 hitting percentage. Jordyn Freeman and Brennan rank sixth and ninth, respectively in the conference averaging 1.12 and 1.01 blocks per set this season. Paris Oliveira ranks seventh in the league averaging 3.23 digs per set.
San Diego State ranks third in the league in both assists per set (12.18) and kills per (13.06) this season. The Aztecs also rank fourth averaging 13.89 digs per set as a squad.
Individually, Victoria O'Sullivan ranks fifth in the MW in kills per set at 3.58 and is sixth at 4.05 points per. Natalie Smith is fourth in the conference at 4.01 digs per set in 2021, while setter Noa Miller is eighth at 6.18 assists per set.
15 Questions You Should Never Ask Someone From Wyoming
- 15 Questions You Should Never Ask Someone From Wyoming