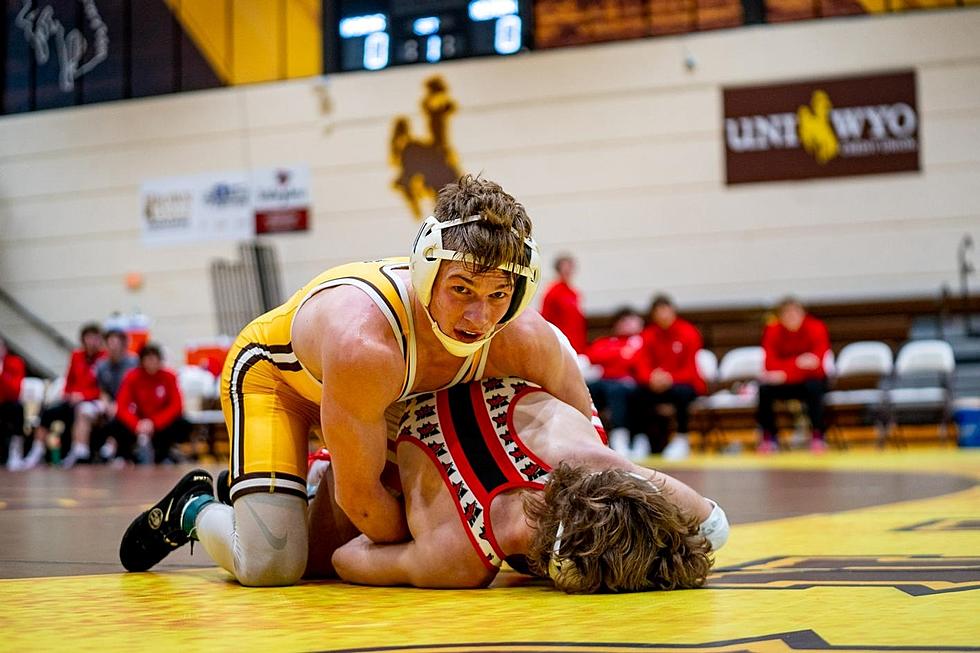 UW Wrestling Taking on Camels in Battle in the Barn
The University of Wyoming wrestling team is set to host a one-of-a-kind dual Friday at 5 p.m. The Cowboys compete against Campbell at Deerwood Ranch in Centennial in what's being deemed The Battle in the Barn. / UW courtesy photo
* University of Wyoming press release
LARAMIE -- The University of Wyoming wrestling team is set to host a one-of-a-kind dual Friday at 5 p.m. The Cowboys compete against Campbell at Deerwood Ranch in Centennial in what's being deemed The Battle in the Barn.
Wyoming is enjoying a strong start to its season. The Pokes – who sit at 3-0 overall and 1-0 in the Big 12 – are off to their best dual-meet record since 2008-09.
It's a team that's accomplished that feat with almost an entirely new roster. When looking at the lineup during this past weekend's 2-0 road trip to southern California, only two Cowboys who started on last year's team were starting this season.
The remaining eight are a combination of freshmen, returnees that broke into the lineup and a few Division I transfers that have made an impact. It's an eclectic and unproven collection of talent that head coach Mark Branch has enjoyed seeing improve during the early stages of the year.
"It's pretty fun to feel like you're a part of something that's doing some good things," Branch said. "The guys are relaxed and excited. It's cool to see the bonding in the locker room, in the hotel room and all of that. These guys are feeling good about themselves and what they can do, and we are having good results, individually and as a team."
The Cowboys will experience their toughest test to date Friday. The Camels are just on the outside of the NWCA Coaches' Poll and boast six ranked wrestlers, including four in each of heaviest weight classes.
Wyoming doesn't possess the same ranking notoriety, at least not yet. However, many of the brown and gold grapplers do own impressive early-season records.
Ethan Ducca (184) and Kevin Zimmer (HWT) are both 3-0. Cole Brooks (141), Riley Davis (174), Joey Novak (197), Gabe Willochell (141/149), Jore Volk (125) and Paolo Salminen (157) are also unbeaten on the year.
Only Volk, checking in as high as No. 13, is ranked at his current weight class. Willochell is No. 25 at 141, however, he wrestled at 149 against Cal Baptist.
The stage is set for the Cowboys to make an impression on a national scale. And they'll do so on UFC Fight Pass, as the UFC is putting on the event at Deerwood Ranch.
Following the dual against the Camels, the Cowboys travel to their first invitational of the season. The Cliff Keen Invitational in Las Vegas, Nevada, is slated for Dec. 1-2.
University of Wyoming's Top 50 Football Players
The rules are simple: What was the player's impact while in Laramie? That means NFL stats, draft status or any other accolade earned outside of UW is irrelevant when it comes to this list.
This isn't a one-man job. This task called for a panel of experts. Joining 7220's Cody Tucker are Robert Gagliardi, Jared Newland, Ryan Thorburn, and Kevin McKinney.
We all compiled our own list of 50 and let computer averages do the work. Think BCS -- only we hope this catalog is fairer.
Don't agree with a selection? Feel free to sound off on our Twitter:
@7220sports
- #Top50UWFB
Gallery Credit: 7220Sports.com
- University of Wyoming's Top 50 Football Players