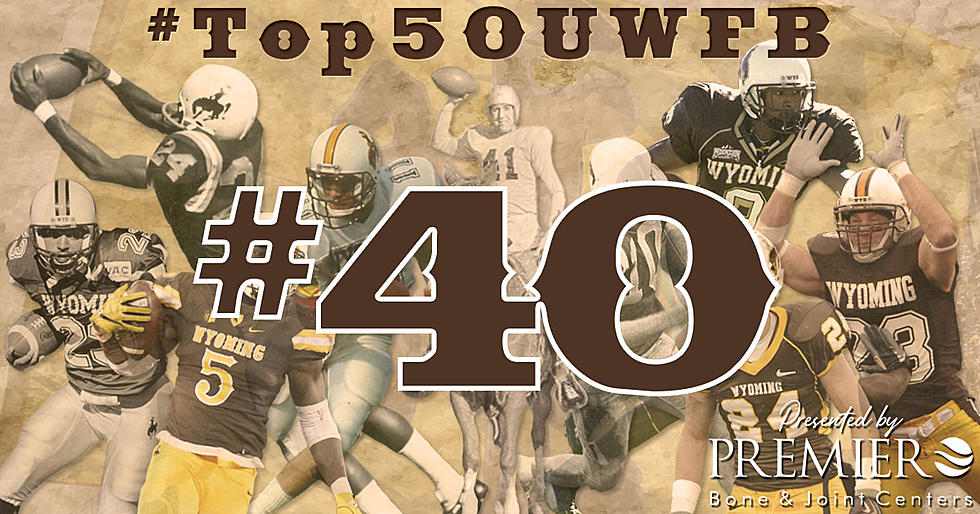 UW's Top 50 football players: No. 40
Jen Kost graphic/ UW courtesy photo
LARAMIE -- During this summer series we are going to countdown the Top 50 football players in Wyoming history, presented by Premier Bone & Joint Centers, Worthy of Wyoming.
The rules are simple: What was the player's impact while in Laramie? That means NFL stats, draft status or any other accolade earned outside of UW is irrelevant when it comes to this list.
This isn't a one-man job. This task called for a panel of experts. Joining me is Robert Gagliardi, Jared Newland, Ryan Thorburn and Kevin McKinney. We all compiled our own list of 50 and let computer averages do the work. Think BCS -- only we hope this catalog is more fair.
Don't agree with a selection? Feel free to sound off on our Twitter page @7220sports.
Adam Goldberg
Offensive line, 1999-02, Edina, Minnesota
Here's why: Joining the new Mountain West Conference was supposed to be a fun, fresh start for the Cowboys.
It was on the basketball court. Football, well, that was the polar opposite.
Despite the mounting losses on the gridiron, there were plenty of individual positives. Casey Bramlet became one of the best statistical quarterbacks in Wyoming history. Malcom Floyd, Scottie Vines and Ryan McGuffey were all playmakers on the outside. Patrick Chukwurah made life miserable on offensive tackles from the defensive end spot.
If there was a steady presence on that team, though, it was at the tackle spot where 6-foot-7, 318-pound, Adam Goldberg, week in and week out, continued to do his job, making sure the signal caller stayed upright. Often times, Bramlet picked himself up off the turf. Rarely was it Goldberg's guy getting to him.
The Minnesota native started all but one game during his college career. He was a model of consistency and a guy who could've easily been overlooked as Wyoming limped to just five victories over his final three seasons.
Goldberg earned a pair of First-Team All-MWC selections. He was on the Second-Team once. His peers and opposing coaches sure knew what he was bringing to the yard on Saturdays. His own teammates had zero doubt, electing Goldberg team captain in 2001. He was only the third junior in UW history to receive that honor.
Goldberg went on to play in the NFL for nine seasons after going undrafted in 2003.
Gagliardi's take: Adam Goldberg's first game in a Wyoming uniform was as a redshirt freshman in 1999. He started at left tackle at defending national champion Tennessee in front of 107,000 fans in Knoxville, Tennessee. It was a rough debut for the Cowboys and Goldberg — a 42-17 loss where UW gave up 13 quarterback sacks. To say things could only look up for the offensive line — and the Cowboys in general — was an understatement.
Wyoming finished 7-4 in 1999, including road wins at Air Force and Utah and a home victory over No. 15 Brigham Young. The Cowboys won only five games over the next three seasons, but that number could have been less if it wasn't for Goldberg protecting the blind side of quarterbacks Jay Stoner and Casey Bramlet.
Goldberg started 44 of 45 games for the Cowboys. The only game he didn't start was the 2001 season-opener against Furman — a game UW rallied late to win 20-14 — due to illness. He was a two-time first team All-Mountain West selection as a junior and senior, and a second-team pick as a sophomore. Despite the program's lack of success, it is tough to argue Goldberg wasn't one of the Cowboys' all-time great offensive linemen, which is why he made this all-time top 50 players list.
Goldberg was an unassuming guy who seemed to approach everything with a clear goal in mind. He played in the NFL for Minnesota — his home state — and the St. Louis Rams from 2003-12. Goldberg was the Rams' players representative for the NFL Players Association from 2008-12. Since 2016 he's been the president/principal of Gold Block Ventures, a Denver-based real estate firm focused on quality investment and development opportunities in select markets across the United States.
How the panel voted: Cody Tucker (41), Robert Gagliardi (42), Jared Newland (32), Ryan Thorburn (NR), Kevin McKinney (41)
Previous selections: No. 50, No. 49, No. 48, No. 47, No. 46, No. 45, No. 44, No. 43, No. 42, No. 41
Cody Tucker: Brand Manger and creator of 7220sports.com. Tucker has covered the Cowboys since June of 2019, but was a season-ticket holder for nearly three decades. Tucker has also covered Michigan State University Athletics for the Lansing State Journal and Detroit Free Press and the NHL's Pittsburgh Penguins during his 10-year journalism career
Robert Gagliardi: Former sports editor and University of Wyoming beat reporter for WyoSports. Gagliardi covered the Cowboys from more than a quarter century. He also covered the team at the Branding Iron, the UW student newspaper. Gagliardi also co-authored the book: The Border War: The Bronze Boot Rivalry Between Colorado State and Wyoming
Jared Newland: Currently the local sales manager for Townsquare Media SE Wyoming, Newland worked with and around Wyoming athletics for 20 years, starting as a student athletic trainer in 1990. Newland has also served in the Sports Information Office, the Cowboy Joe Club, Wyoming Sports Properties and was a UW Athletics Hall of Fame Committee Member from 2002-14.
Ryan Thorburn: Currently covering the Oregon Ducks for The Register-Guard, Thorburn also covered the Cowboys in the early and mid-90's for the Branding Iron and Casper Star Tribune. He has also written four books about Wyoming Athletics: The Border War: The Bronze Boot Rivalry Between Colorado State and Wyoming, Cowboy Up: Kenny Sailors, The Jump Shot and Wyoming's Championship Basketball History, Lost Cowboys: The Story of Bud Daniel and Wyoming Baseball and Black 14: The Rise, Fall and Rebirth of Wyoming Football
Kevin McKinney: Currently the senior associate athletics director for external affairs at the University of Wyoming, McKinney also serves as the radio color commentator for Wyoming football and men's basketball. McKinney has been involved with UW Athletics in some capacity since 1972. He was also inducted into the Wyoming Association of Broadcasters Hall of Fame in 2015.
CHECK IT OUT: The best county to live in for each state