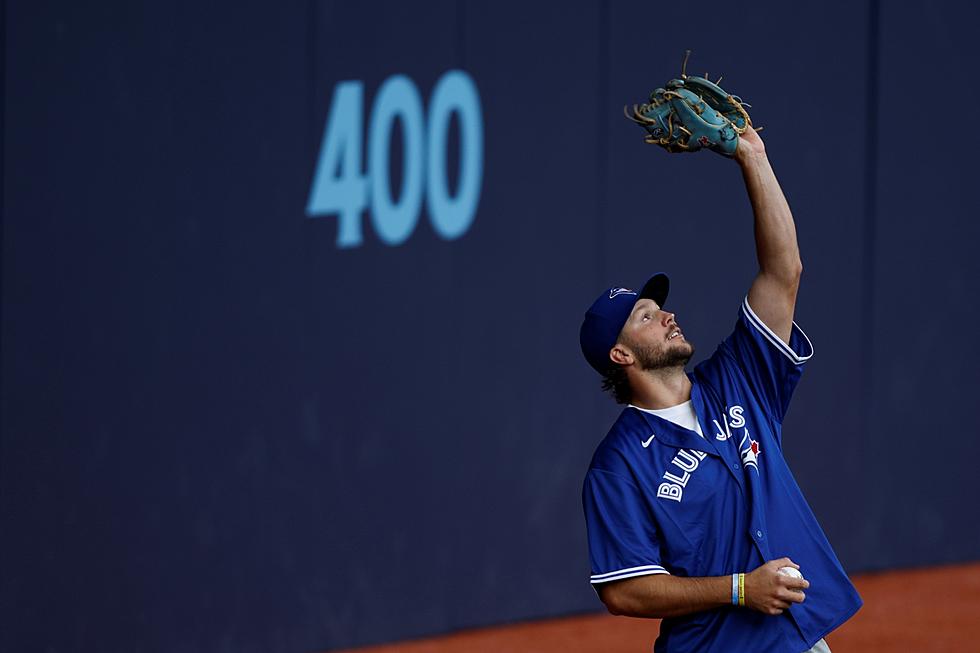 Want to Watch Josh Allen Crush Some Dingers?
TORONTO, ON - MAY 15: Josh Allen, quarterback of the Buffalo Bills, catches balls in the outfield during batting practice ahead of the MLB game between the Toronto Blue Jays and the New York Yankees at Rogers Centre on May 15, 2023 in Toronto, Canada. (Photo by Cole Burston/Getty Images)
LARAMIE -- We know Josh Allen can throw a football a country mile.
Turns out, he can make a baseball go boom, too.
The former University of Wyoming quarterback took batting practice with the Toronto Blue Jays Monday afternoon inside Rogers Centre. He blasted four balls out of the park.
It was impressive:
If the stats on MaxPreps.com are correct, Allen never did hit a home run while playing high school baseball in his hometown of Firebaugh, Calif. The then 6-foot-3, 180-pound senior batted .298 and drove in 17 runs in 28 games. He hit seven doubles and added four triples.
Allen, to the surprise of no one, was much better on the mound.
The big righty appeared in 10 games, starting five. He tossed one complete game and sported an ERA of 1.82. In 34.2 innings, Allen struck out 34 batters and walked 20. He gave up just two doubles and a home run while finishing with a modest 2-1 overall record.
During his three-year varsity career, Allen struck out 76 batters over 68.1 innings of work. His lifetime ERA sat just above two.
Not too shabby.
Of course, now Allen is much bigger, standing 6-foot-5, 238 pounds. The Buffalo Bills gunslinger, though, isn't too concerned with hitting dingers or striking out anyone these days.
Allen threw for 4,283 yards and 35 touchdowns during the 2022 season while leading the Bills to an 11-6 record before falling to former UW teammate Logan Wilson and the Bengals in the AFC Divisional round. He added 726 rushing yards and found the end zone seven more times.
Allen has yet to lead Buffalo to a Super Bowl. He's yet to claim a league MVP, either.
No. 17 is currently at the PGA Championship in Pittsford, N.Y. We all know Allen can swing the clubs, too. He's soaking it all in before reporting back to that same town for training camp in late July.
Until then, here's Allen crushing another moon shot:
LOOK: Pokes' unis through the years