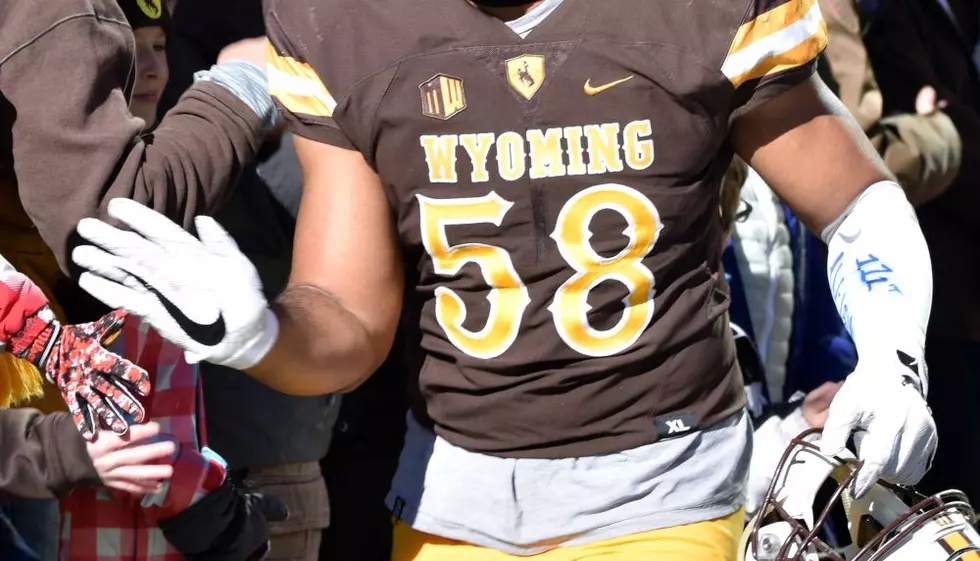 Which Wyoming Cowboy wore it best? No. 58
58cropuse
CHEYENNE — Do you ever see a number on a Wyoming football jersey and think of all the great players to wear it? Yeah, me too. In this daily series, I'll give you my take on which Pokes' football player was the best ever to don each number. The criteria are simple: How did he perform at UW? What kind of impact did he have on the program?
No. 58 – Dusty Hoffschneider
Nose guard, 2004-05, Littleton, Colo.,
Résumé in Laramie
Dusty Hoffschneider was named second-team All-Mountain West in both of his seasons at UW after transferring from Northern Colorado. He was a team captain on the 2005 squad, and the previous season led the Cowboys to the biggest upset of the bowl schedule.
Why Hoffschneider?
No one gave the Cowboys a shot that night.
Not UCLA. Not the casinos. Not anyone.
Why were the Cowboys a 12-point underdog in the 2004 Las Vegas Bowl? Well, there were many reasons, one being it's undersized defensive line. And no one fit that mold better than 5-foot, 8-inch nose tackle, Dusty Hoffschneider.
"Usually after the first couple of plays I prove myself and they know they got to try pretty hard to block me," he told the Associated Press. "I'm sure teams like Florida, the bigger teams, come out like 'He's so small; what's he going to do.' By the end of the game I get their respect."
Just ask Ed Blanton, UCLA's 6-foot, 9-inch tackle who was dubbed the "S.S. Blanton. He, along with his Bruins teammates got all they could handle from Hoffschneider on a chilly December night inside Sam Boyd Stadium.
Blanton thought UCLA could push the Cowboys around. Wyoming's head coach Joe Glenn was afraid of the same outcome.
Instead, Hoffschneider and Co. held Maurice Jones-Drew to 126 yards on 25 carries. The other four ball carriers for UCLA amassed zero yards on 17 attempts.
To make matters even worse for the Bruins, Hoffschneider and John Flora had a meeting at starting quarterback Drew Olson in the second quarter. Flora went high. Naturally, Hoffschneider went low. Olson didn't take another snap.
Wyoming went on to win that night in Sin City, upending UCLA, 24-21.
What Hoffscheider lacked in size he made up with speed and brute strength. When players prep for the NFL Combine, they are tasked with busting out 225-pound reps. For instance, last month, Ohio State's DaVon Hamilton led the way with 33.
Hoffschneider, for fun, put up 39 one day in the Cowboys' weight room.
"That guy, he is a pit bull," Glenn told the AP in 2005.
In fact, it wasn't uncommon to see Hoffschneider throw up 425 pounds.
"He's kind of a freak of nature I guess you could say," junior free safety John Wendling told the AP. "He'll make guys miss, he's just so quick and so strong. He's just a freak of nature."
Who else wore No. 58
Pat Brown (C), Quentin Skinner (OL, also wore No. 62), Tom Kramer (LB), Avi Kurtz (OL) Troy Langlett (LB-K), Bret Layher (OL), Brad Leopard (CB), Frank Tonkovich (LB), Scott Allmon (OG), David Hulshizer (MLB), Alvin Chapman (LB), Tam Pruitt (OG), Jordan Van Royen (LS), BJ Sumter (OG), Taylor Knestis (OL), Nela Lolohea (DE), Latrell Bible (OL)
All available rosters and photos courtesy of the University of Wyoming. If we missed one, please email Cody@7220sports.com.