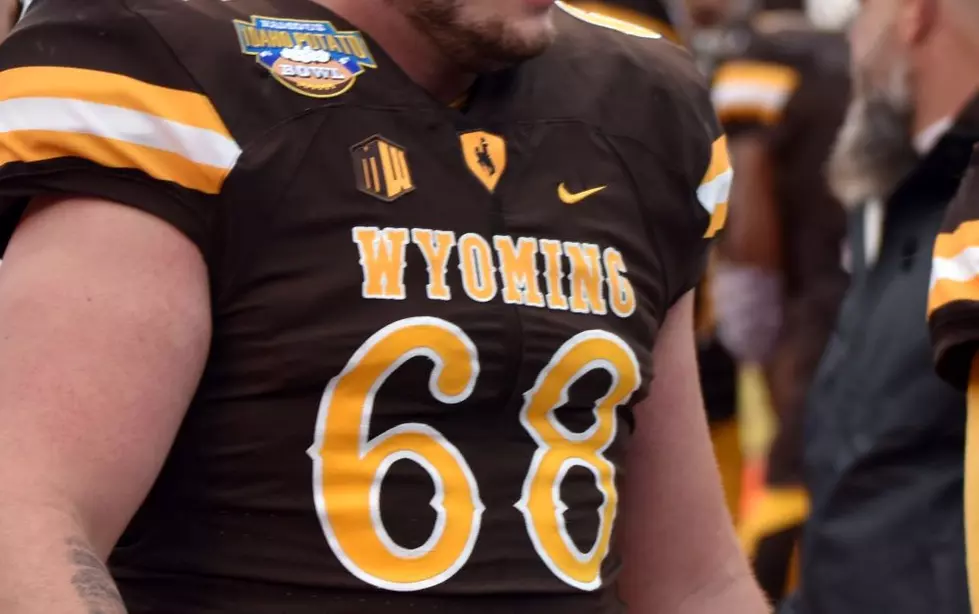 Which Wyoming Cowboy wore it best? No. 68
68cropuse
CHEYENNE — Do you ever see a number on a Wyoming football jersey and think of all the great players to wear it? Yeah, me too. In this daily series, I'll give you my take on which Pokes' football player was the best ever to don each number. The criteria are simple: How did he perform at UW? What kind of impact did he have on the program?
No. 68 – Bill Levine
Offensive/ defensive lineman, 1961, 1963-64, Winthrop, Mass.
Résumé in Laramie
Bill Levine earned first-team All-Conference honors in all three seasons in Laramie. The New England product was a team captain in 1964 and was an All-West selection by Football Magazine. He also earned the Humphrey Trophy, given to the best player in the program. He suited up for legendary coaches Bob Devaney and Lloyd Eaton.
Why Levine?
Bill Levine isn't the only member of his family in the Wyoming Athletics Hall of Fame.
His cousin, Stephen Adamson, along with his 1967 teammates were inducted in 1997.
It was Levine, however, that paved the way. He came to Laramie all the way from Massachusetts. Adamson followed three years later.
Why does this guy deserve the nod at No. 68? Well, there are plenty of reasons, this being the main one: "Bill Levine is probably the best all-around football player I ever coached."
Bob Devaney said that. And Levine played for Devaney just one season.
Levine starred for the Cowboys on both sides of the line of scrimmage. As a sophomore, Levine was named first-team All-Skyline Conference -- on offense and defense. He lost the following season due to an injury, but that just gave him one more year in Laramie.
He took full advantage.
Levine earned first-team All-Western Athletic Conference honors on defense in 1963. He also earned a Lineman of the Week award.
His senior campaign went about how you would expect: first-team All-Conference accolades, team captain, and a selection to the "All-West" team by Football Magazine. He also earned the Humphrey Trophy. That's given to the most outstanding player in the program.
Levine played most of his career under the tutelage of Lloyd Eaton. He never lost to Border War rival Colorado State. Levine's teams outscored the Rams, 70-17. He also swept BYU and Utah.
Back home in Massachusetts, Levine's family, as you could imagine, is well known in the sports community. The Winthrop Transcript calls them "The Adamson Gang."
The local newspaper also dubbed them the "Jewish Trifecta." That included Billy Adamson, Jimmy Adamson and Levine.
Levine was inducted into the UW Athletics Hall of Fame in 2004.
Honorable mention
Tyrone Fittje (1987-90) played in a lot of big games during his four-year career in Laramie.
He was a starter at guard in back-to-back Holiday Bowls against Iowa and Oklahoma State. He capped his career in the Cooper Bowl against California in 1990. Fittje played a major role in the resurgence of Cowboy football under head coach Paul Roach.
He was an iron man, playing in 49 consecutive games. He earned first-team All-WAC honors as a senior.
True to his iron man title, Fittje has been an assistant coach at Natrona County High School for 29 seasons. The Omaha native is the longest tenured coach in the history of the Mustangs' storied program.
Who else wore No. 68
Jim Finch (G), Dick Rosener (MG), Bill Onacki (OG), Roland Robinson (OL), Charlie Ruff (OL), Jeremy Sigg (LB), Kyle Huseby (OL), Mark Schwarz (OG), Eric Kottam (C-OG), Jim Downs (OL), Travis Bogard (C), Brayton Medina (OT), Trevor Meader (DE), Chris Steffey (OL), Dalton Fields (G-DT), Mason Schultz (OL)
All available rosters and photos courtesy of the University of Wyoming. If we missed one, please email Cody@7220sports.com.