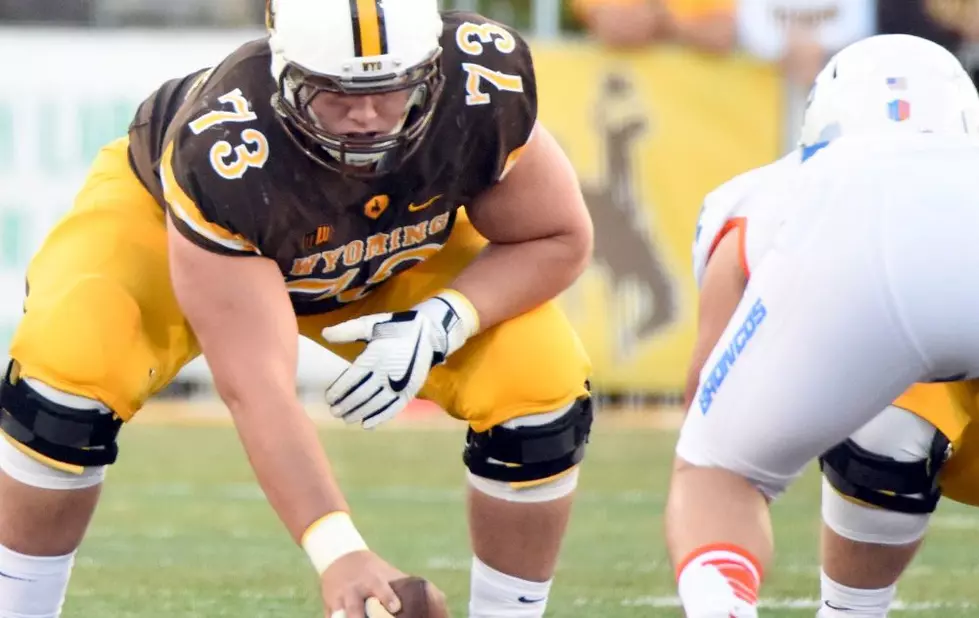 Which Wyoming Cowboy wore it best? No. 73
73roulliercropuse
CHEYENNE — Do you ever see a number on a Wyoming football jersey and think of all the great players to wear it? Yeah, me too. In this daily series, I'll give you my take on which Pokes' football player was the best ever to don each number. The criteria are simple: How did he perform at UW? What kind of impact did he have on the program?
No. 73 – Conrad Dobler
Defensive/ offensive line, 1969-71, Chicago/ Twentynine Palms, Calif.
Résumé in Laramie
Conrad Dobler earned All-Academic honors during his four-year stint in Laramie. He was a major part of the aftermath of the Black 14 incident in 1969, and played for both Lloyd Eaton and Fritz Shurmur. Dobler went on to have a nine-year NFL career, where he became known for his vicious style of play. He also played in three Pro Bowl games.
Why Dobler?
On social media, I asked you, the fans, who should receive the honor of the best player to ever wear No. 73 in Laramie.
You spoke -- but it was close. Heck, it should've been. Twitter gave the nod to Chase Roullier (46.4% to 46.1%) while Facebook hammered home the point that Conrad Dobler is the man here.
What does that tell you? Twitter is for kids and Facebook has plenty of adults? Something like that. This honor is going to Dobler, who came to Wyoming for one sole reason -- to win a national championship.
Yes, one of those.
Dobler was recruited by nearly every team in the Western Athletic Conference. Even Cal-Berkeley wanted a piece of the kid from the California desert.
"Wyoming was the king of the WAC back then," Dobler told me last summer on the back porch of his daughter's Pueblo, Colorado, home. "They were the best. That's why I went there."
Then, the Black 14 happened. Then-head coach Lloyd Eaton kicked every black player off the team for wanting to protest BYU and the racial policies of the Mormon Church. Wyoming won its first six games of the season during Dobler's sophomore year, including a 40-7 rout of the Cougars in Laramie.
They were victorious just once more all season, falling from 15th in the nation to 6-4. The following season, the Cowboys won one time, outlasting Border War rival Colorado State, 16-6, in Fort Collins.
Eaton resigned and the program had a big problem on its hands.
"The Black 14 was a bad deal," Dobler said. "We couldn't recruit any black guys after that.
"My stance on it was, let them wear the damn things," he continued. "It wasn't hurting anyone. We went out there and crushed BYU that day. But it wouldn't last. We were never the same."
Fritz Shurmur took the reins of the program before Dobler's senior season. Dobler joked that the coach must've liked him, he moved him from the offensive line to defense "where all the good players go."
Wyoming improved to 5-6 and won back-to-back games at Utah and Utah State.
Dobler finished his career in Laramie never going to a bowl game. He never earned All-Conference honors, either. He wasn't even considered one of the best at his position. It didn't help that he didn't really have one.
Despite all of that, he was selected in the fifth round of the 1972 NFL Draft by the St. Louis Cardinals. When his roommates told him the Cardinals took him, he laughed and called their bluff -- "The St. Louis Cardinals are a baseball team."
Dobler went on to have a nine-year pro career, making stops in New Orleans and Buffalo along the way. He also earned a trio of Pro Bowl selections from 1975-77.
But what Dobler was most known for is the nastiness and intensity he played with. That style earned him the moniker "Dirtiest player in the NFL."
Those moves weren't learned on the cold, hard AstroTurf of Busch Stadium, but the Laramie practice fields. The self-proclaimed "Master of the gray area" was born.
Want to read more about Dobler?
Check out these stories, videos, cartoons and photos from Dobler's visit with 7220sports.com back in July:
The Broken Warrior
TUCKER: Dobler gave his life to football. Was it worth it?
They call me dirty
Honorable mention
Twitter loves Chase Roullier (2013-16). And rightfully so.
Last week, the university released a poll asking fans who the best offensive lineman in program history is. Roullier, the Washington Redskins starting center, was a slam-dunk selection.
Roullier was known for his toughness, durability and smarts, leading some of the top units in Wyoming history. He blocked for the school's all-time leading rusher, Brian Hill. He snapped the ball to the future No. 7 overall pick of the Buffalo Bills, Josh Allen.
Roullier was an All-Conference honorable mention as a sophomore in Laramie. The following two years, he made the first team. As a senior, he earned second team All-American honors.
Roullier was selected in the sixth round by the Redskins in the 2017 NFL Draft.
The only No. 73 in school history to be inducted into the UW Athletics Hall of Fame was Jerry Durling (1965-66).
Durling was a two-time, first-team All-Conference selection and even earned honorable mention All-American honors after his senior season.
It's easy to see why.
Wyoming held its opponents to just 38.5 yards per game on the ground, tops in the nation.
Durling was a punishing defensive lineman for Lloyd Eaton's Cowboys, earning the title of Western Athletic Conference "Lineman of the Year." During his two-year stint in the Gem City, Durling and the Pokes went 16-5 overall and knocked off Florida State 28-20 in the 1966 Sun Bowl.
Wyoming held the Seminoles to minus-21 rushing yards that day in El Paso. Durling earned "Lineman of the Game" honors.
Durling was drafted by the AFL's Denver Broncos and had a brief stint in Philadelphia before a knee injury forced him to cut his pro career short.
Chase Johnson (2003-06) was a bruising tackle on Joe Glenn's offensive line in Laramie. He earned All-Mountain West honorable mention during his sophomore and junior seasons. As a senior, he was the Cowboys lone first-team All-Conference selection.
Johnson protected quarterbacks Casey and Corey Bramlet, along with Karsten Sween. He blew open running lanes for Derek Armah, Ivan Harrison and Wynel Seldon, among others.
Wait, there's another No. 73 that is making a strong case for this honor. His name is Keegan Cryder (2018-present) and he is the Cowboys' current starting center.
Cryder, a Littleton, Colorado, product, was named Freshman All-American after starting all 12 games up front for the Pokes during the 2018 season. Last year, Cryder was the anchor of one of the best units in the nation.
He has the hardware to prove it.
Cryder earned the "War Daddy Trophy," a wood stump with an ax jammed into it. It goes to the lineman with the most knockdowns. It is the creation of current line coach, Bart Miller.
Cryder, who was named to the All-MWC second team last season, finished his sophomore campaign in triple digits in the knockdown category. Wyoming's front five, dubbed the "Dirt Dogs," should once again be one of the best lines in the country in 2020.
Who else wore No. 73
Tom Ploszaj (T), Charlie Pattison (DT), Mark Foos (OT), Will Hutcheson (OT), Brian Johnson (OT), Levi Salmans (OT), Daniel Fleischman (OL), Mark Foos (OT), Bret Bommer (DE)
*** All available rosters and photos courtesy of the University of Wyoming. If we missed one, please email Cody@7220sports.com. ***