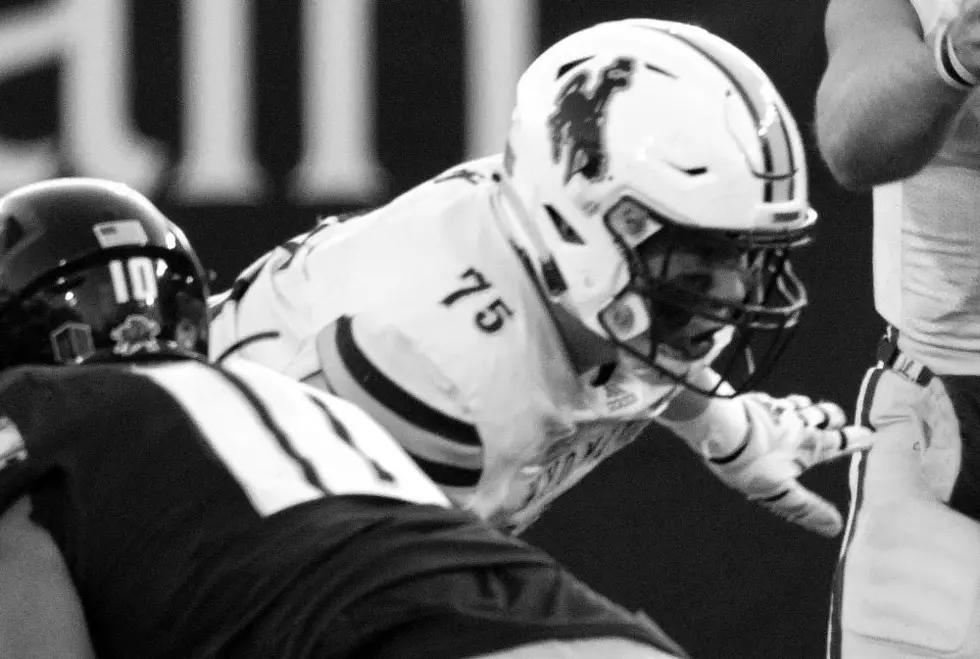 Which Wyoming Cowboy wore it best? No. 75
75cropBWuse
CHEYENNE — Do you ever see a number on a Wyoming football jersey and think of all the great players to wear it? Yeah, me too. In this daily series, I'll give you my take on which Pokes' football player was the best ever to don each number. The criteria are simple: How did he perform at UW? What kind of impact did he have on the program?
No. 75 – Byra Kite
Offensive tackle, 1966-68, Bakersfield, Calif.
Résumé in Laramie
Byra Kite was an All-Western Athletic Conference selection at offensive tackle during his senior season in 1968, joining teammate Tommy Tucker. All the Cowboys did was win when Kite was anchoring the offensive line under head coach Lloyd Eaton, racking up a record of 27-5, including trips to the Sun Bowl and Sugar Bowl.
Why Kite?
It was a 70 degree November day in Provo, Utah.
Wyoming, ranked in the Top 25 and coming off consecutive road wins over Wichita State and UTEP, needed just one more victory to win the conference and clinch a berth in the Sun Bowl against mighty Florida State.
Standing in the way, rival Brigham Young.
The Cougars had won four straight and were a victory over the Cowboys away from forcing a possible tie atop the WAC standings.
Byra Kite and the Pokes' offensive line got off to a slow start, tallying just a 51-yard field goal off the foot of Jerry DePoyster in the first quarter. The second, well, that was a different story.
Kite and the front five went to work on the Cougars, moving up and down the field at will. Whether on the ground or through the air, quarterback Rick Egloff had all day to dissect the home team in front of 38,000-plus.
Egloff hit Dennis Devlin from 12 yards out to give the Cowboys their first touchdown of the day. Two more followed, including a 13-yard and a 31-yard scoring strike to Jerry Marion. Wyoming went into the half up 23-8.
Wyoming would tack on another DePoyster field goal in the third before turning this one into a laugher in the fourth. Tim Gottberg returned a BYU fumble 32 yards for a score. The Egloff to Marion connection struck once again. This time it was a 55-yard touchdown pass. Wyoming rolled to an easy 47-14 victory, clinching its first of three straight conference championships.
Kite was on all of those teams.
That day in Provo, Wyoming's running game, led by Jim Kiick, amassed 192 yards on 33 carries. Egloff completed 9-of-19 passes for 161 yards and four touchdowns. Back-up Chuck Shelton even saw action, connecting on 5-of-7 passes for 61 yards.
All that damage started up front.
Kite would go 27-5 overall during his three-year career in Laramie. He helped lead the Pokes to a 28-20 win over the Seminoles in El Paso in '66. He also was a catalyst in helping Wyoming reach the Sugar Bowl the following season. In 1968, the Cowboys finished 7-3 and didn't receive a bowl invite.
Kite, however, earned first-team All-Western Athletic Conference honors.
Kite blocked for some of the best players to ever wear the Brown and Gold: Gene Huey, Marion, Egloff, Paul Toscano, Skip Jacobson, Kiick and Dave Hampton, among many others.
That 1966 squad is forever enshrined in the UW Athletics Hall of Fame. So is Kite's Sugar Bowl squad.
Who else wore No. 75
John Higgins (T), Rick Wells (OT), Jeff Frazier (DT), Jessie Houser (OT), Scott Coonce (OT), Ross Crum (OT), Travis Studie (DT), Trifon Demos (OT), Drew Severn (C), Sam Sterner (OG), Zach Rushing (OG), Kurtis Stirneman (OT), Dustin Weeks (OL), Frank Crum (T)
*** All available rosters and photos courtesy of the University of Wyoming. If we missed one, please email Cody@7220sports.com. ***