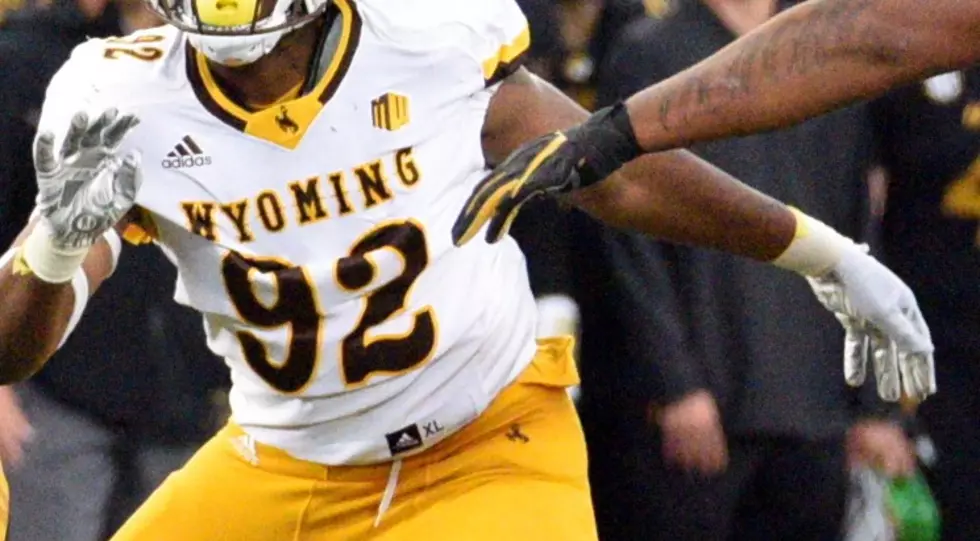 Which Wyoming Cowboy wore it best? No. 92
Picasa
CHEYENNE — Do you ever see a number on a Wyoming football jersey and think of all the great players to wear it? Yeah, me too. In this daily series, I'll give you my take on which Pokes' football player was the best ever to don each number. The criteria are simple: How did he perform at UW? What kind of impact did he have on the program?
No. 92 – Jeff Boyle
Defensive tackle, 1997-00, Norton, Kansas
Résumé in Laramie
Jeff Boyle was a three-time letterwinner in Laramie and was named a Freshman All-American at the nose guard spot in 1997. Following the departure of Joe Tiller, Dana Dimel kept the Cowboys in the conversation for conference titles in Boyle's first three seasons at UW. He was a big reason for that, helping lead the Pokes to one of the top rush defenses in the nation during that period. Wyoming won 23 games in that span. Boyle never put up huge numbers -- that wasn't his job. Instead, he forced plays to the outside time and time again for teammates like Brian Brown, Greg Van Leer, Al Rich and others.
Why Boyle?
Jeff Boyle was one of the most coveted high school wrestlers in the country in 1996. Colleges -- the national powerhouses -- were lining up for the big man. He was a three-time heavyweight champion. They thought that could translate to the next level.
For Boyle, that would've been the "easy" route to take.
One problem though -- his heart was in football.
That's where Dana Dimel comes in. The Cowboys' first-year head coach, who still to this day calls Boyle "The Mainimal," didn't see the Kansas product as just a great prep grappler, but the next bulldog on his interior defensive line in Laramie.
Dimel saw potential in Boyle when he was an offensive coordinator at Kansas State. He recalled thinking how disruptive he would be to play against, especially in the run game. The Wildcats of the Big XII didn't necessarily need to take on "projects."
At Wyoming, that was a different story.
The decision paid off immediately when Boyle was named a Freshman All-American by the Sporting News.
In 1998, Wyoming started the season 7-1. Its lone blemish came at No. 12 Georgia. That day, a guy named Champ Bailey had to carry the Bulldogs on his back to stave off a young Cowboys' team that fell just short, 16-9.
Boyle and the Pokes reeled off big wins over Utah and beat up on LaDainian Tomlinson and the Horned Frogs on a Halloween night in Ft. Worth. They didn't always win pretty, but Wyoming was getting the job done at home and on the road.
And they were getting it done on defense thanks to names like Robbie Duncan, Greg Van Leer, Matt Lehning, Al Rich, Trent Gamble, Patrick Chukwurah and many others.
Brian Van Emmerik, Boyle's partner on the line, was another destructive force. Before the Cowboys traveled to Las Vegas to take on the Rebels the year prior, Dimel had this to say about his dynamic duo in the trenches.
"(Boyle) and Brian Van Emmerik are both about 275 pounds and they both have waistlines of about 33 inches," Dimel told the Las Vegas Sun. "Both are ex-wrestlers. Between the two of them, in high school they lost one match in their whole career. That's how they go into every ballgame ... that they're going to win the wrestling matches that go on in the trenches."
Boyle had his best statistical season in 1998, recording 57 tackles. That was fourth on the team.
In a week-9 meeting with Border War rival Colorado State, it all came together. Playing in ankle-deep mud and with a constant foggy haze hanging over Hughes Stadium in Ft. Collins, the team that came into the game wearing all white, dominated in front of a national television audience.
And big No. 92 -- he was putting in work that night. Just watch what he does to CSU quarterback Ryan Eslinger at the 45-second mark of this clip:
Wyoming rolled to a 27-19 victory that night, led by quarterback Jay Stoner, wide receivers Wendell Montgomery and Kofi Shuck and tailback Marques Brigham. Van Leer and Rich both snagged an Eslinger interception, too.
The Cowboys were 8-1. A conference title, not to mention the first bowl bid since 1993, were in their grasp. All they had to do was beat rival Air Force the following week at War Memorial Stadium then cap things on the road against lowly Tulsa in the season finale.
The defense did what it had to do against the No. 25 Falcons. The offense sputtered in a 10-3 home loss that gave Air Force the Western Athletic Conference crown. Another disappointment was to follow. That was in the form of a 35-0 blanking in Oklahoma. Dimel said he still recalls the bowl t-shirts being placed on the chairs in the locker room. Those were long gone once the final whistle blew.
Wyoming was headed home for the holidays with a record of 8-3.
The final two years of Boyle's career didn't go as planned. In 1999, the Cowboys once again were in the mix finishing 7-4. And once again, there was no bowl game at the end of the season. Injuries plagued Boyle that season and during a senior season where nothing went right on the field for new head coach Vic Koenning.
Wyoming finished 1-10. Boyle was often injured throughout that season, however, he still got a free agent shot with the Cincinnati Bengals. They too saw the potential in the big man.
Boyle currently resides in Kansas City with his wife and children.
Let's call Boyle and our next selection 1A and 1B.
Whichever way you want to put it.
Craig Schlichting's (1986-89) 19 career sacks still ranks him in the Top 10 in school history.
Those teams in the late 80's were good at getting to the quarterback. How good?
Schlichting has six teammates who still litter the history books at UW, including the top three sack masters in program lore: Mitch Donahue, Pat Rabold and Jeff Knapton. There was also Thomas Williams, David Edeen and Doug Rigby.
Schlichting recorded 11 of those sacks in 1988, the same season that the Cowboys went 11-2 and played Barry Sanders and Oklahoma State in the Holiday Bowl.
Schlichting was selected in the eighth round of the 1990 NFL Draft by the Minnesota Vikings.
Honorable mention
Pat Larson (1993-96) was a fan favorite. Not only that -- a team favorite. To this day, his former teammates still post a yellow "No. 92" sign on their social media pages.
The former Cowboy passed away May 23, 2016, following a courageous battle with leukemia.
Larson was part of a WAC title team in 1993. The Cowboys went on to play in the Cooper Bowl. As a senior, Wyoming was ranked throughout the season and played in the inaugural WAC championship game in Las Vegas.
Larson was a second-team All-WAC selection that season.
Who else wore No. 92
Brian Devault, Steve Clooten, Anthony Jones, Scott Sorensen, Jay Yust, Erick Pauley, Ben Smith, Spencer Bruce, Tom Harris, Taylor King, Matt Barr, Shiloh Windsor, Alonzo Hall, Mike Davis
*** All available rosters and photos courtesy of the University of Wyoming. If we missed one, please email Cody@7220sports.com. ***