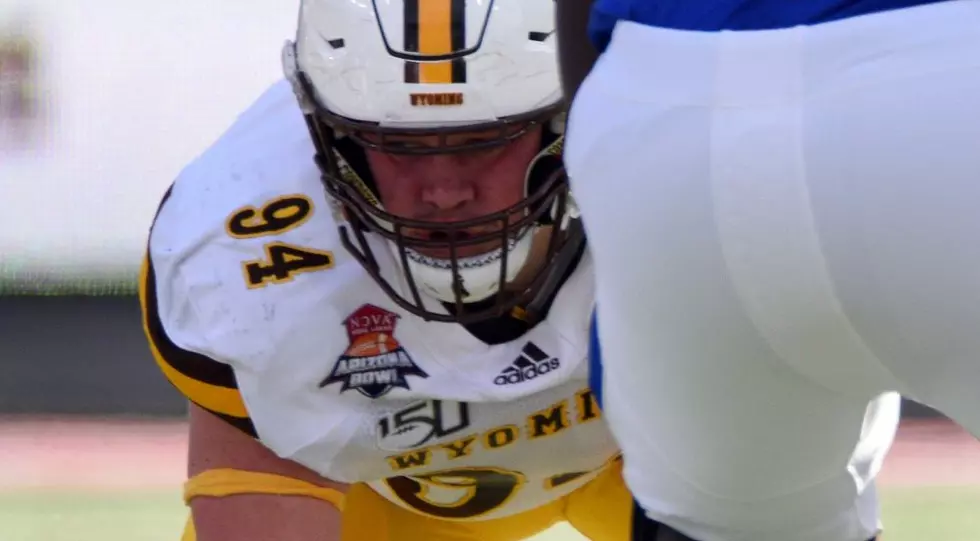 Which Wyoming Cowboy wore it best? No. 94
94cropuse
CHEYENNE — Do you ever see a number on a Wyoming football jersey and think of all the great players to wear it? Yeah, me too. In this daily series, I'll give you my take on which Pokes' football player was the best ever to don each number. The criteria are simple: How did he perform at UW? What kind of impact did he have on the program?
No. 94 – Jim Talich
Linebacker, 1994-97, Pine Bluffs, Wyoming
Résumé in Laramie
Jim Talich earned All-Western Athletic Conference honors during his junior season after helping lead the Cowboys to a 10-2 record and berth in the conference title game in Las Vegas. The Pine Bluffs product is still the program's third all-time leading tackler with 440, just 14 behind Andrew Wingard and 27 behind leader Galand Thaxton. Talich also earned All-WAC honors on the academic side during his last two seasons in Laramie. His older brother, Cory Talich (our pick for best No. 43 in school history) played for the Pokes from 1990-93.
Why Talich?
"I don't think I can say on camera what I think of it," Wyoming's Jim Talich told the Los Angeles Times on the night of Dec. 7, 1996, just minutes after the Cowboys fell to BYU 28-25 in overtime of the first-ever Western Athletic Championship game in Las Vegas. "I think it would be a shame if we don't get in a bowl at 10-2. The thought of not going to a bowl because of crowd support just blows my mind."
This after Sam Boyd Stadium was packed to the rafters with 41,238 fans, split right down the middle -- half brown and gold, half Cougar blue.
Wyoming fans don't travel?
While WAC commissioner Karl Benson was busy doing his best politician impersonation, attempting to get LaVell Edwards' team into an Alliance Bowl and an $8 million payday, the team in the losing locker room was left to wonder what just happened.
Not just in this game where the Cowboys gave the No. 5 team in the nation all it could handle, but the fact that rumors were swirling about Utah snagging a bowl bid while the Pokes' hit the dusty trail back to the high plains of Laramie.
When that dust eventually did settle, it was indeed those Utes who took the conference's final bowl slot. The 8-4 Utes, that is. And what did they do with that opportunity? Got blasted 38-10 by Wisconsin in the Copper Bowl.
BYU went on to Dallas and the Cotton Bowl. Steve Sarkisian and the Cougars outlasted No. 14 Kansas State, 19-15.
Wyoming, the 22nd-ranked team in the country, did indeed head home.
No bowl game.
No fanfare.
No money.
"The possibility to be left out of a bowl that year was never in my mind at the time," Talich said Wednesday night. "It seems more shameful and unbelievable today, especially how the qualifications to be bowl eligible seem easily attainable. It was more political and money driven than I was able to understand as a 21-year-old."
Talich tallied 138 tackles during that junior season. That is still the sixth-best mark in Wyoming history. He had 18 tackles alone in a 22-19 victory over Air Force in front of a capacity crowd inside War Memorial Stadium.
The Cowboys were known more for their potent passing attack in those days. Joe Tiller's "basketball-on-grass" offense, which would become famous at Purdue with Drew Brees under center, was perfected in Laramie. Josh Wallwork and Marcus Harris were the most prolific combo in the nation that fall.
Wyoming averaged nearly 39 points per game in '96.
It was the defense, however, that held BYU, Colorado State and Air Force to less than 29 points. It blanked Hawaii 66-0. It found a way in nail-biting wins over Idaho and Iowa State to begin the season.
Talich was the ringleader of it all, though he is quick to credit his brothers on the team. That point was proven when he earned All-WAC first-team honors.
"Ya think? Straight up beast," Marcus Harris said when he heard Talich was our selection for the best No. 94 in UW football history. "He's possibly the most underrated Cowboy ever."
Watch Talich meet the CSU running back in the hole at the 7:07 mark.
During his career in Laramie, Talich finished with a record of 30-18. If he played in today's college football, he might have gone to a bowl every season.
In 1997, his lone year under new head coach Dana Dimel, Talich was named a team captain. He responded with a 19-tackle day in a win over Southern Methodist. That is still tied for the fifth best single-game performance in school history.
Talich was also an All-WAC Academic selection during his final two seasons on campus.
"Wearing the brown and gold was a dream come true," he said. "Growing up as a young boy, I dreamed of the opportunity one day. Knowing no one really ever gave me a fighting chance of making the team as a walk-on -- let alone having any success -- makes it all worth the struggle today.
"I was honored to share the colors with so many greats before me, and my heart is at peace knowing I gave it all I had. I can only hope now that my kids will have the same opportunity I once had."
Talich is currently the defensive coordinator at Cody High School. His two oldest sons, Lucas (sophomore) and Nicolas (senior), play for the Broncs' football team.
Cole Godbout



Who else wore No. 94
Vaughn Henderson, John Bruley, Anthony Stannard, Daniel Gibson, RJ Robbins, Rob Hollway, Max Gustafson, Stuart Williams, Adam Kinder, Brendan Turelli, Hunter Lee, Cole Godbout, Gary Young, Rob Zalanka
*** All available rosters and photos courtesy of the University of Wyoming. If we missed one, please email Cody@7220sports.com. ***