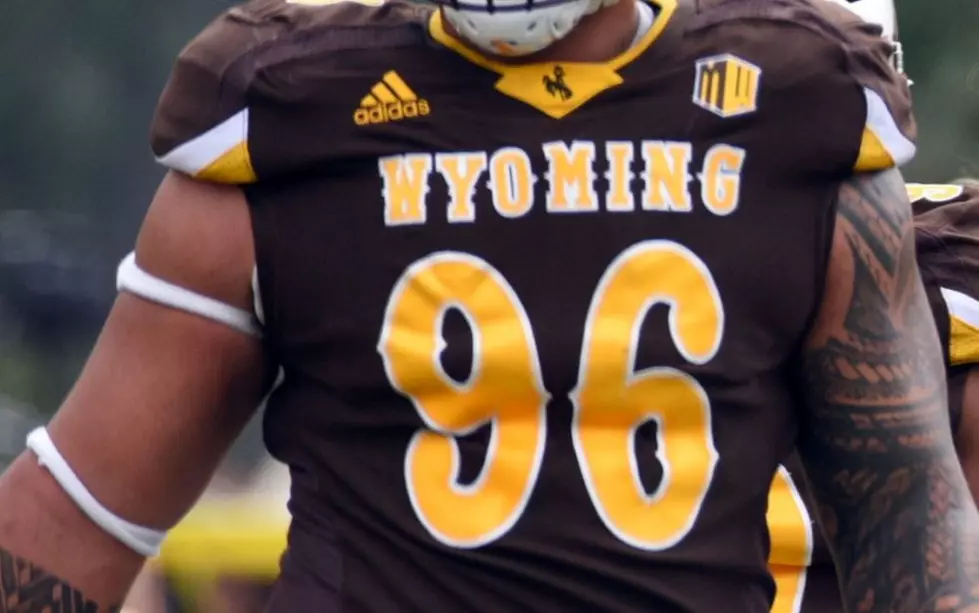 Which Wyoming Cowboy wore it best? No. 96
sidcropuse
CHEYENNE — Do you ever see a number on a Wyoming football jersey and think of all the great players to wear it? Yeah, me too. In this daily series, I'll give you my take on which Pokes' football player was the best ever to don each number. The criteria are simple: How did he perform at UW? What kind of impact did he have on the program?
No. 96 – Willie Wright
Linebacker, 1987-90, Riverton, Wyoming
Résumé in Laramie
Willie Wright played for the Cowboys during one of the most successful eras in program history. He played in three bowl games -- the Holiday Bowl (twice) and the Cooper Bowl. Wyoming compiled a record of 35-15 and won back-to-back Western Athletic Conference titles in 1987-88. Wright was signed by the Phoenix Cardinals in 1991 as an undrafted free agent.
Why Wright?
The following is a story in its entirety by Bob Vines (my first editor) at the Northern Wyoming Daily News in 2012.
WORLAND -- At 6-foot-3, Willie Wright towers over his South Side Elementary fifth-grade music class.
His somewhat intimidating physical presence is augmented by an easy demeanor which is demonstrated as he calmly instructs his young students to recite the notes to "Ode to Joy." After the notes are understood, he has them pick up their green plastic recorders and they fumble their way through the piece.
Wright, 43, is a contradiction of stereotypes. He looks like he would be just as comfortable wrapping his arms around a quarterback as he is wrapping his fingers around the holes of a recorder.
Both generalizations are believable.
Before earning his music education degree from the University of Wyoming, the Washakie County School District No. 1 music teacher, middle school and high school band director, played football professionally.
Passing up scholarship opportunities from smaller schools, the 1986 Riverton High School graduate walked on at the University of Wyoming and developed into a bruising outside linebacker and defensive end.
But in the classroom, he was a whiz on the alto sax.
Music wasn't really a Plan B option for Wright if his football career didn't become long-term. He had worn both hats simultaneously for most his life. He had declared music education as his major his freshman year at UW.
"I was into being a performer," he said. "I really enjoyed performing music and being in a jazz band."
Wright left UW in 1991 to pursue his football career as a free agent with the Arizona Cardinals – making their roster two years, spending a year playing for the Frankfurt (Germany) Galaxy in the World League of American Football and playing a partial year in the Canadian Football League.
In all, Wright spent parts of six years as a professional football player.
While on the Arizona practice squad his first year he made the conversion from linebacker to tight end where he would make the roster in his second year with the squad.
During the 1993 season the Cardinals made a late decision to go with one less tight end – Wright was the odd man out. The next year he found himself back at the Arizona camp playing for Buddy Ryan.
"I don't know if I ever really got a shot with Buddy," Wright laughed.
Without giving up on his football career, he decided to go back to UW in 1994 to complete his degree. By this time they had changed the graduation requirements for music education and he was faced with another year and a half of school.
One of the requirements was to march during halftime performances as a member of the UW marching band – a strange experience for a 27 year-old who had become accustomed to spending halftimes in front of chalk boards and screaming coaches.
During this time he began a relationship with a graduate assistant in the music program who would eventually become his wife, Amy.
She had known Wright casually before his return but became close after the two began visiting between band practice sessions. Amy Wright says that it wasn't always easy for her husband to be both athlete and musician, but the adults in his life did find ways to help him combine the two.
"There were conflicts sometimes," she said. "Do you play the game or do you play music? Often Willie would do the music because the games happen every week and the special (music) festivals didn't. He talks about how his coach would often drive him to the music event."
Willie Wright remembered one particular conflict when his basketball coaches went to Casper to watch him and two other teammates perform at the Casper Jazz Festival then drove them to Green River to play a game later that night.
"To have that kind of support from the band teachers and the coaches to allow him to serve both loves is just awesome," Amy Wright said.
Willie Wright's last training camp was with the Cardinals in 1996.
"I had a pretty good camp that year, but when we got to the preseason games I wasn't getting any reps," he said. "If you can get on film, you can get picked up off the waiver wires by another team. If they don't let you get on film then nobody else will pick you up. Then (your team) can pick up later in the season if someone gets hurt."
There was never a definitive moment with he decided it was time to hang up the cleats and pick up the conductor's baton.
"Even when I was playing down in Arizona, I would go home and practice my saxophone at night. We had Tuesday's off, so on Monday night I would go to this jazz club called the 'Melody Lounge' and I got to know some of the musicians there. I would actually go and sit in sometimes. I always kept up with my music because it was a real passion of mine."
Willie Wright's first job after graduating from UW was to start a band program in a new charter school set up in an abandoned courthouse in Brighton, Colo. After a few years, he and Amy taught music in Paonia, Colo. before moving to Worland with their 9 year-old son, Trey, prior to the school year.
Amy Wright is a music teacher for Cloud Peak Middle School in Manderson and Laura Irwin Elementary in Basin. Willie Wright teaches music to elementary, middle school and high school students in Worland.
The transition from football player to band director wasn't always easy. Willie Wright says that being a high school band director can be a tough gig.
"There are just so many details. You have to know how to teach drummers, brass, woodwinds, not only that but you have to know how to organize everything and get it to run the way it should. To get good at it takes a long time," he said.
"It is such a big job," he continued. "I finally got to the point where I realized that becoming a good teacher is a whole other form of musicianship. You have to take your musicianship not just to the next level, but way above just being a good player. So, once I understood that I was able to work at being a better teacher."
Although he looks back on his UW football days and his professional career with fond memories, he's comfortable with the transition from quarterbacks to recorders. He knows that not too many people get the opportunity to make a living doing the things they love – twice (end of story).
Wright shared the field with some of the best defensive players of the 80's: Galand Thaxton, Mitch Donahue, Jeff Knapton, Bret Bommer, David Edeen, Robert Midgett and many others.
The 1987 Holiday Bowl team was enshrined into the UW Athletics Hall of Fame in 2018.
Honorable mention
Sidney Malauulu (2015-18) was a dominant force on the Cowboys' interior defensive line during his time in Laramie. The big run-stuffer from Arizona tallied 86 tackles, four sacks and 10 tackles for loss in his Wyoming career.
He even picked off a pass in the 2016 Mountain West title game. And he did it on one foot.
"I wasn't really think about it... I was just trying to play football," Malauulu said of an injured right foot that head coach Craig Bohl called "functional."
"I'm all right," he told the Casper Star-Tribune. "I'll be out there ready to function."
Malauulu did indeed play against BYU in the Poinsettia Bowl. He made four tackles in rainy San Diego.
Who else wore No. 96
Garrett Smith, Andy Reinwald, Sterling Kihei, Joe Anderson, Adam Diehl, Tyler Breckenridge, Justin Bernthaler, Jordan Bertagnole
*** All available rosters and photos courtesy of the University of Wyoming. If we missed one, please email Cody@7220sports.com. ***