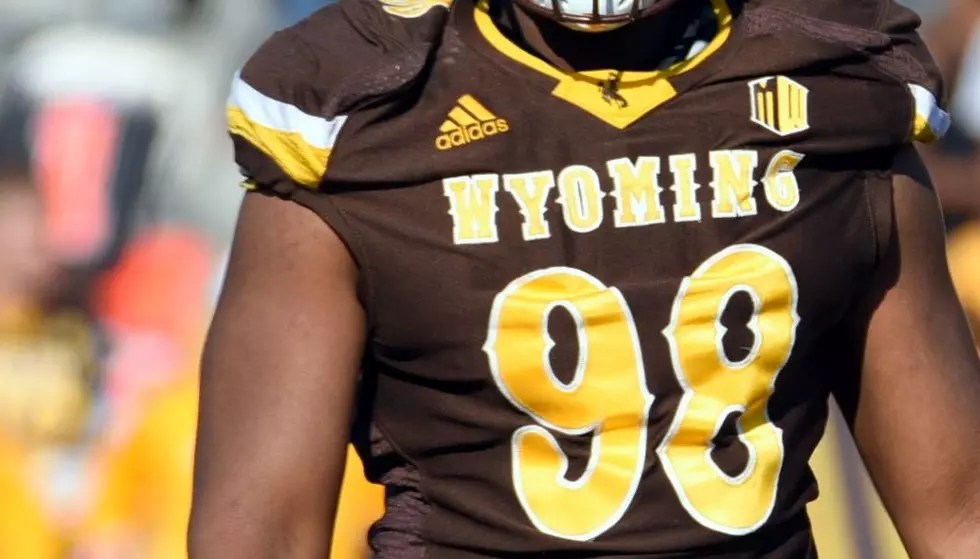 Which Wyoming Cowboy wore it best? No. 98
98use
CHEYENNE — Do you ever see a number on a Wyoming football jersey and think of all the great players to wear it? Yeah, me too. In this daily series, I'll give you my take on which Pokes' football player was the best ever to don each number. The criteria are simple: How did he perform at UW? What kind of impact did he have on the program?
No. 98 – Mitch Unrein
Defensive end, 2006-09, Eaton, Colorado
Résumé in Laramie
Mitch Unrein was a four-year starter in Laramie after walking on to the Wyoming football program out of Eaton High School. He earned All-Mountain West Honorable Mention during his final three seasons on Campus. In 2007, Unrein tallied 11 tackles for loss, which is still tied for ninth all-time for a single-season performance in school history.
Why Unrein?
The nation's leading rusher, Ryan Mathews, was surely getting the ball.
Fresno State was on the Cowboys' goal line in the first overtime of the 2009 New Mexico Bowl. With the score tied 28-28, the Bulldogs' sledgehammer was all but assured his third touchdown of the night.
Plus, Graham Watson, an ESPN writer, knew Mathews was going to have a big day. She wrote that in her "game prediction."
"Fresno State has been here before -- literally. The Bulldogs lost this bowl a year ago. But with Mathews going against Wyoming's weak rushing defense, it's going to be tough for the Cowboys to keep up. Wyoming's best bet is to limit the big plays, but Mathews has played well even against some of the best defenses. The Bulldogs win this one 30-14."
The first snap, Mathews ran up the middle and right into the arms of Josh Biezuns just short of the white stripe.
Second down and goal.
Same play. Once again, it was Biezuns and Weston Johnson, along with a host of Cowboy defenders, bringing down No. 21 short of the goal line.
Third down and goal.
This time, it was a quarterback sneak. Fresno State quarterback Ryan Colburn ran right into the pile. There, Gabe Knapton and Chris Prosinski were waiting on him.
What would Pat Hill do, now facing a fourth-and-goal from the 1-yard line?
Well, go for it, of course.
This time, it was Mathews again. He followed his lead blocker into the hole. It was there -- but only for a split second. Biezuns, along with Knapton and Prosinski, plucked Mathews out of the air and dropped him short of the end zone. The Cowboys had held.
And our selection for the best No. 98 in Wyoming history was in the middle of all of it.
Mitch Unrein wasn't credited with a tackle during that final frenzy, but he was named the game's Defensive MVP. That happens when you force a Mathews' fumble late in the fourth quarter that leads to the tying score to force overtime.
"I got my hand on it. It kind of rolled away from him," Unrein told the Associated Press following the 35-28 double overtime victory, the Cowboys' first bowl win since 2004. "It was right on my chest. I said to myself, 'I can't believe that just happened.' I got up and I was showing the refs. They didn't believe me. They were like, 'No way.'"
Unrein also added six tackles, a pair of tackles for loss and two sacks in the contest.
Unrein capped his Wyoming career that night, hoisting the New Mexico Bowl trophy high into the Albuquerque air as Cowboys' fans rushed the field.
It was a storybook ending to a career that saw Unrein tally 162 tackles, 10.5 sacks and 20.5 tackles for loss.
The beginning of his football journey wasn't quite so magical.
Unrein was a walk-on out of Eaton High School on the eastern plains of Colorado. He was undersized and under recruited. Marty English, then Wyoming's defensive coordinator under Joe Glenn and now going into his first season back in Laramie as a defensive ends coach, saw something in Unrein but was honest right up front -- it was going to take a lot of hard work to get to a Division-I level.
"I started eating a bunch," Unrein laughed, telling 7220sports.com back in February what English meant to him. "I was 225 when I got there. After practicing for two weeks, Marty told me, 'we're going to put you on full-ride next year.' It was awesome."
After college, Unrein was once again doubted. No one selected him in the 2010 NFL Draft. Still, that didn't deter him from going all out. He just needed a chance.
The Houston Texans gave that to him with a free agent contract.
Though he didn't stick in the Lone Star State, Unrein received the opportunity of a lifetime when his home-state Denver Broncos came calling. Unrein lined up in Denver for four seasons. He racked up 46 tackles from his defensive tackle spot.
His moment in the sun came against Tampa Bay in 2012 when he lined up in the offensive backfield as a fullback. He slipped out into the open and snagged his first and only career touchdown pass. He is the only Broncos' defender in team history to catch a touchdown.
It came off the right arm of Peyton Manning.
"It felt like a really long time when that ball was floating toward me," Unrein told the AP. "I was like, 'don't drop it, don't drop it.' Luckily, it hit my hands and I caught it. That's why I wrapped it up with both hands and stood there for a second and was like 'I just scored a touchdown.' That's pretty cool."
Unrein played nine seasons in the NFL with the Broncos, Chargers, Bears and Buccaneers. He suited up for Denver in Super Bowl XLVIII.
Ravontae Holt missed the entire 2019 season with a knee injury. Just ask any of his teammates, Holt is on a mission to come back bigger and better than before in 2020.
Who else wore No. 98
Rob Yelland, Eric Naugle, Jarod Thiele, Ken Boris, Kendrick Rawls, Garry Gotfredson, Jay Yust, Kurt Taufa'asau, Dalton Fields
*** All available rosters and photos courtesy of the University of Wyoming. If we missed one, please email Cody@7220sports.com. ***