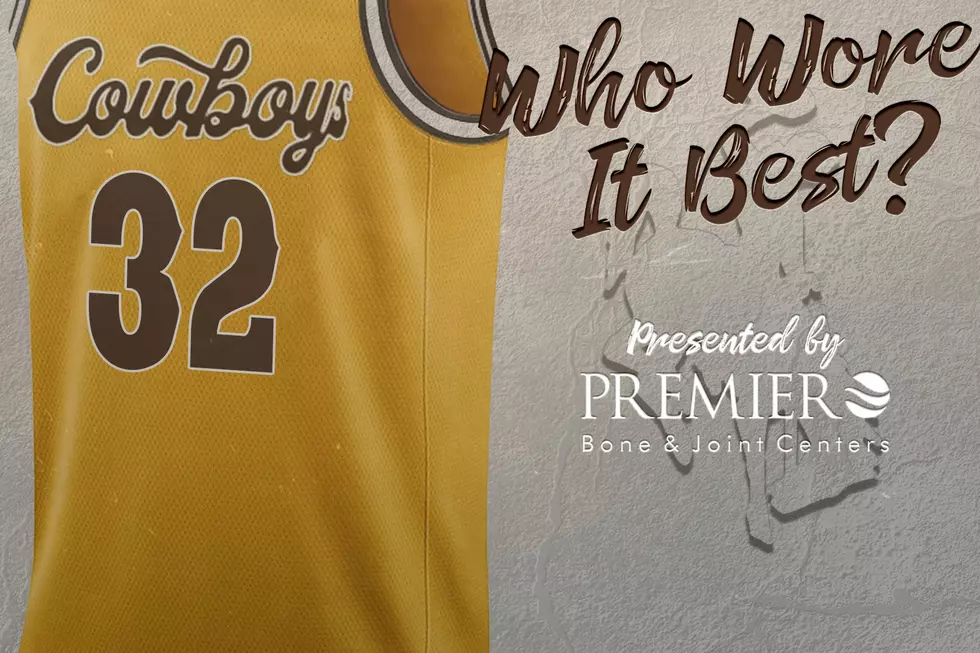 Which Wyoming hoopster wore it best? No. 32
Jen Kost graphic
LARAMIE -- Do you ever see a number on a Wyoming basketball jersey and think of all the great players to wear it?
Yeah, me too.
In this summer series, I'll give you my take on which Pokes' hoopster was the best ever to don each number. The criteria are simple: How did he perform at UW? What kind of impact did he have on the program?
No. 32 - MIKE JACKSON
Guard, 1979-83, Aurora, Colo.
Résumé in Laramie
* 112 games played at UW
* 10.3 points per game
* First-Team All-WAC selection 1983
* Second-Team All-WAC selection 1982
* NCAA Tournament appearances in 1981, 82
* WAC Champions in 1981, 82
* UW Athletics Hall of Fame selection
Why Jackson?
Mike Jackson was a major part of one of the best two-year stretches in Wyoming basketball history.
The Cowboys won 47 regular season games. They finished with a conference record of 27-5. The "big boys" -- Stanford, Oklahoma, Nebraska -- all suffered losses courtesy of Jim Brandenburg's bunch.
Jackson, a 6-foot-3 point guard from the Denver area, averaged more than 11 points per game during his sophomore and junior seasons. Playing alongside stars Charles Bradley, Bill Garnett, Kenneth Ollie and others, Jackson and the Pokes rolled to a 23-5 regular season record, including a 13-3 mark in WAC play. Two of those setbacks came against No. 14 Utah and 18th-ranked BYU on the road.
UW repaid the Cougars and Utes later that season during one of the most memorable weekends in Cowboy basketball history. BYU, led by All-American Danny Ainge, fell to the Pokes in double overtime that February. Two nights later, Wyoming outlasted the seventh-ranked Utes, 53-50, inside War Memorial Fieldhouse.
The Cowboys blew out Howard 78-43 in the opening round of the NCAA Tournament before eventually hooking up with No. 19 Illinois and dropping a 67-65 heartbreaker to the Illini.
Wyoming would be back.
Jackson and Co. won 22 games during the 1981-82 regular season. At one point they won seven straight. They lost just two league games, both against the UTEP Miners. The Cowboys were back in the Big Dance and had a date with the USC Trojans, a team that knocked off UW 59-57 in Los Angeles a year prior.
That wouldn't happen again.
The Cowboys pulled off a 61-58 victory over the Trojans, advancing to the second round and a date with Patrick Ewing and the top-seeded Georgetown Hoyas. Jackson hit 4-of-9 shots that night in Logan, Utah, scoring 11 points in the 51-43 loss. Ewing netted just seven points but helped lead the Hoyas all the way to the title game in New Orleans where Georgetown fell to North Carolina.
"We could have beaten Georgetown," Jackson told Robert Gagliardi back in 2009. "Our eyes were kind of wide open with guys like Patrick Ewing, Eric "Sleepy" Floyd. I thought we were a better team, we just didn't show it."
Despite suffering a season-ending knee injury during his senior season, Jackson was selected by the Kansas City Kings in the fourth round of the 1983 NBA Draft.
After his playing career, Jackson became a basketball coach and golf pro in Cheyenne. He was inducted into the UW Athletics Hall of Fame in 2009
Who else wore No. 32
Earl Nau (60's), Ron Long (60's), Tom Shields (60's), Mike Eberle (60's), Rod Penner (70's), Stan Boyer (70's), Tony Barnett (70's), Les Bolden (80's), Willie Jones (80's), Michael Brown (80's), Derek Washington (90's), Fayssal Akacem (90's), Ryan Wildenborg (00's), Travis Nelson (00's), Mahamoud Diakite (00's), Rob Watsabaugh (00's), Charles Hankerson Jr. (10's), Alan Herndon (10's), Andrew Moemeka (10's)
Look who wore the No. 31 best right HERE.
Check out our "Who Wore it Best" football series right HERE.
* All available rosters provided by the University of Wyoming Athletics Department. If we missed a player who wore this number, please email cody@7220sports.com
* A number of players wore different jersey numbers during their careers. From the 1930's through the 50's, players were issued a home and an away jersey.
University of Wyoming's Top 50 Football Players
The rules are simple: What was the player's impact while in Laramie? That means NFL stats, draft status or any other accolade earned outside of UW is irrelevant when it comes to this list.
This isn't a one-man job. This task called for a panel of experts. Joining 7220's Cody Tucker are Robert Gagliardi, Jared Newland, Ryan Thorburn, and Kevin McKinney.
We all compiled our own list of 50 and let computer averages do the work. Think BCS -- only we hope this catalog is fairer.
Don't agree with a selection? Feel free to sound off on our Twitter:
@7220sports
- #Top50UWFB
- University of Wyoming's Top 50 Football Players