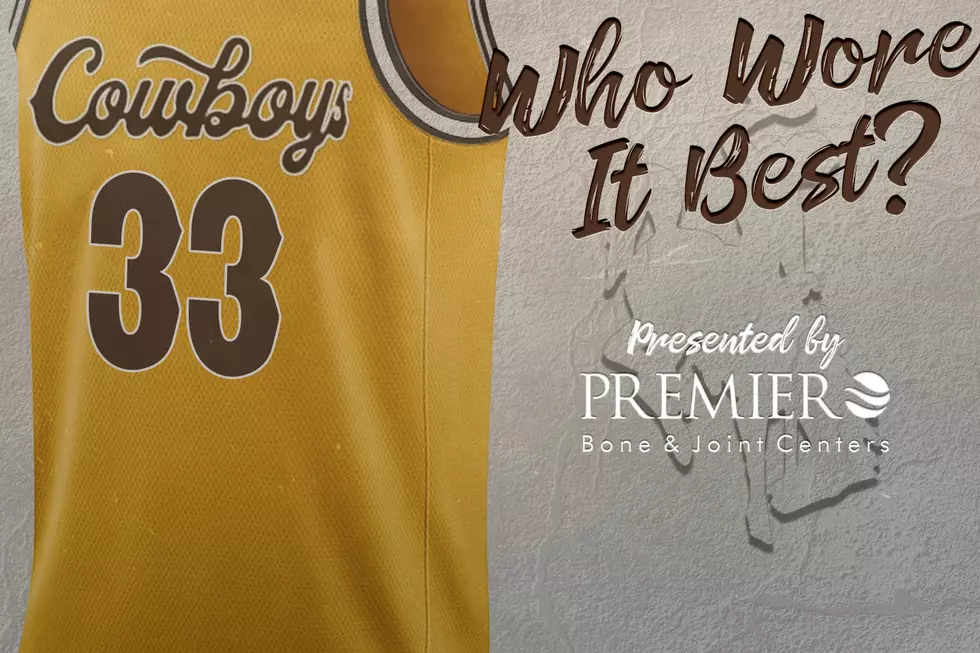 Which Wyoming hoopster wore it best? No. 33
Jen Kost graphic
LARAMIE -- Do you ever see a number on a Wyoming basketball jersey and think of all the great players to wear it?
Yeah, me too.
In this summer series, I'll give you my take on which Pokes' hoopster was the best ever to don each number. The criteria are simple: How did he perform at UW? What kind of impact did he have on the program?
No. 33 - MIKE EBERLE
Guard, 1965-68, Clinton, Iowa
Résumé in Laramie
* 82 games played at UW
* 13.4 points per game
* One of just 38 UW players to reach 1,000 points
* NCAA Tournament appearance
* NIT appearance
Why Eberle?
Mike Eberle's teams weren't exactly what one would call dominant, but that didn't keep the Cowboys out of postseason play during his final two seasons on campus.
The 6-foot-0, 180-pound point guard from Iowa helped lead Wyoming to an 8-2 mark in WAC play during the 1966-67 season. Overall, the Pokes finished just a game over .500 at 15-14, but in those days, when you won the conference, you danced.
Eberle and the Cowboys dances right into a hornet's nest, falling to Lew Alcindor (Kareem Abdul-Jabbar) and the top-ranked UCLA Bruins, 109-60.
The following season, UW capped an 18-9 regular season but managed just a 5-5 record in league play. That earned an invite to the NIT where the Cowboys fell to Villanova, 77-66.
Eberle is just one of 38 players in Wyoming basketball history to reach the 1,000-point mark in his career. He averaged 13.4 points per game out of the backcourt and his best season was his first, when he netted nearly 14 an outing.
In September of 2020, Eberle passed away in Des Moines, Iowa at the age of 73. Kevin McKinney, UW's long time color commentator, penned a remembrance dedicated to the humble player who won 50 games under head coach Bill Strannigan.
"I remember Mike as a heck of a player who always seemed to fly under the radar," McKinney wrote. "He wasn't flamboyant like some of our greatest Poke basketball heroes, guys about whom we fondly reminiscence. Mike wasn't that kind of player. Although extremely athletic, his game was to score and play great defense while quietly leading the team."
Eberle was the sixth-round selection of the Los Angeles Lakers in the 1968 NBA Draft. He was also picked up by the American Basketball Association and Major League Baseball. He earned an invite to the New York Yankees' Spring Training, but instead opted to join the Army, where he served a tour of duty in Vietnam.
You can read all about Eberle's impressive career accomplishments in McKinney's piece right HERE.
Honorable mention
When the final chapter is written in Graham Ike's (2020-present) Wyoming career, he will likely be remembered as one of the most impactful big men in program history. Despite playing just 45 games, the Colorado native has already netted 778 points, which is an average of 17.3 points per game.
Last season, the Cowboys' offense ran through Hunter Maldonado and Ike. That duo was the highest scoring in the nation. They also helped lead the team to the NCAA Tournament in just Year 2 of the Jeff Linder era.
The 6-foot-9, 252-pound sophomore was selected to the All-Mountain West First Team in 2021-22.
Who else wore No. 33
John Bertolero (50's), Earl Nau (60's), Ron Long (60's), Tom Shields (60's), Rod Penner (70's), Anthony Martin (80's), Brett Buller (80's), Clauzell Williams (80's), Reggie Page (80's), Eric Wattree (90's), Sam Brinson (90's), Antone Lostetter (90's), Brandon Dickerson (00's), Boubacar Sylla (00's), Jordan Naughton (10's)
Look who wore the No. 32 best right HERE.
Check out our "Who Wore it Best" football series right HERE.
* All available rosters provided by the University of Wyoming Athletics Department. If we missed a player who wore this number, please email cody@7220sports.com
* A number of players wore different jersey numbers during their careers. From the 1930's through the 50's, players were issued a home and an away jersey.
PRESS PASS: Roaming The War
Wyoming Cowboys vs. Montana State Bobcats
-LOOK: Pokes vs. Bobcats