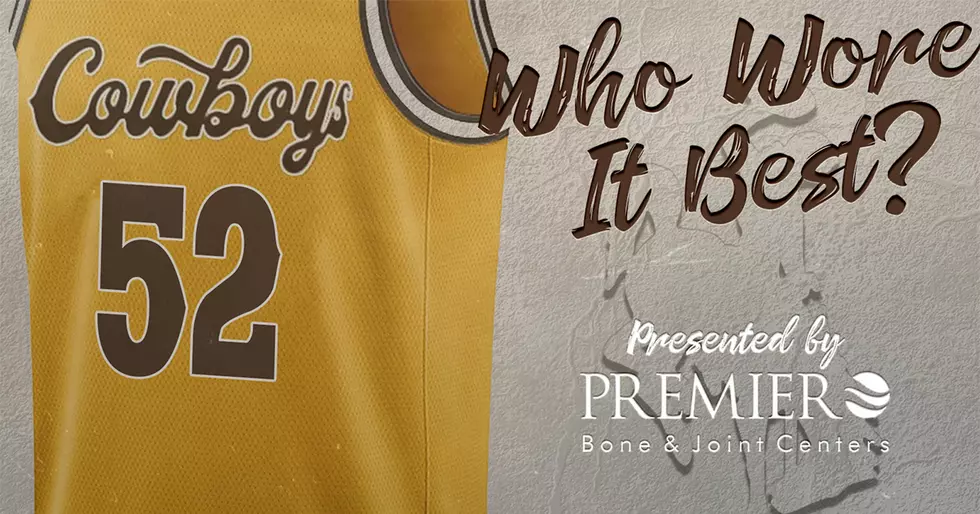 Which Wyoming hoopster wore it best? No. 52
Jen Kost graphic
LARAMIE -- Do you ever see a number on a Wyoming basketball jersey and think of all the great players to wear it?
Yeah, me too.
In this summer series, I'll give you my take on which Pokes' hoopster was the best ever to don each number. The criteria are simple: How did he perform at UW? What kind of impact did he have on the program?
No. 52 - BRADLEY MANN
Guard, 1996-2000, Bourbonnais, Ill.
Résumé in Laramie
* 96 games played at UW
* 5.4 points per game average
* Two NIT appearances
Why Mann?
If you were ranked in the Top 15 in 1998, you would've been wise to steer clear of Laramie and the Arena-Auditorium.
Just ask New Mexico and Utah.
The No. 12 Lobos were the first to fall inside the Dome of Doom, falling 58-55 to the Cowboys and first-year head coach Larry Shyatt. A month later, Rick Majerus was on the High Plains, seeking his 300th-career win.
That didn't happen.
Thanks to a pair of clutch 3-pointers from Andy Young, and our choice for the best No. 52 in Wyoming history, Bradley Mann, the Pokes outlasted Andre Miller and the fifth-ranked Utes, 62-56. UW's late 9-0 run, coupled with a critical three-point play from big man, Justin French, gave the home team its 16th victory of the season.
"Basketball-wise, it was probably when we defeated Utah in Laramie when they were ranked among the top teams in the nation," Mann told a UW reporter back in 2017, the same year the Illinois product earned his bachelors degree from the school 16 years after his playing days. "The same season, we also beat New Mexico when I think they were ranked in the Top 10 or Top 15."
Mann played for three different head coaches during his time in Laramie. He came in during Joby Wright's final season, played one year for Shyatt before he bolted to Clemson and capped his tenure under Steve McClain.
Despite the coaching carousel, Mann's teams appeared in a pair of NIT Tournaments, knocking off USC 81-77 during his junior campaign, and winning 56 games over his final three years on campus.
Mann still ranks ninth all-time in 3-point field-goal percentage, hitting .362 of his attempts (136-of-375). During the 1997-98 season, Mann sunk 38 of his 86 attempts from beyond the arc. That's still the sixth-best single-season in school history.
He concluded his Wyoming career with 523 total points.
Who else wore No. 52
Alan Eastland (60's), Dick Wilkinson (60's), Mike Colby (70's), Willie Brown (70's), Pat Flanigan (70's), Mike Hamilton (70s), David Koehn (80's), Steve Golson (80's), Brad Enzi (90's)
You might have noticed we didn't have a selection for No. 51? These are the guys who wore that jersey number in Laramie: George Black (50's), Bill Stuart (60's), Steve Popovich (60's), Eli Bebout (60's), Steve Mountjoy (60's), Chris Hiti (80's), AJ Davis (00's)
Look who wore the No. 50 best right HERE.
Check out our "Who Wore it Best" football series right HERE.
* All available rosters provided by the University of Wyoming Athletics Department. If we missed a player who wore this number, please email cody@7220sports.com
* A number of players wore different jersey numbers during their careers. From the 1930's through the 50's, players were issued a home and an away jersey.
Super Bowl Champions From Wyoming