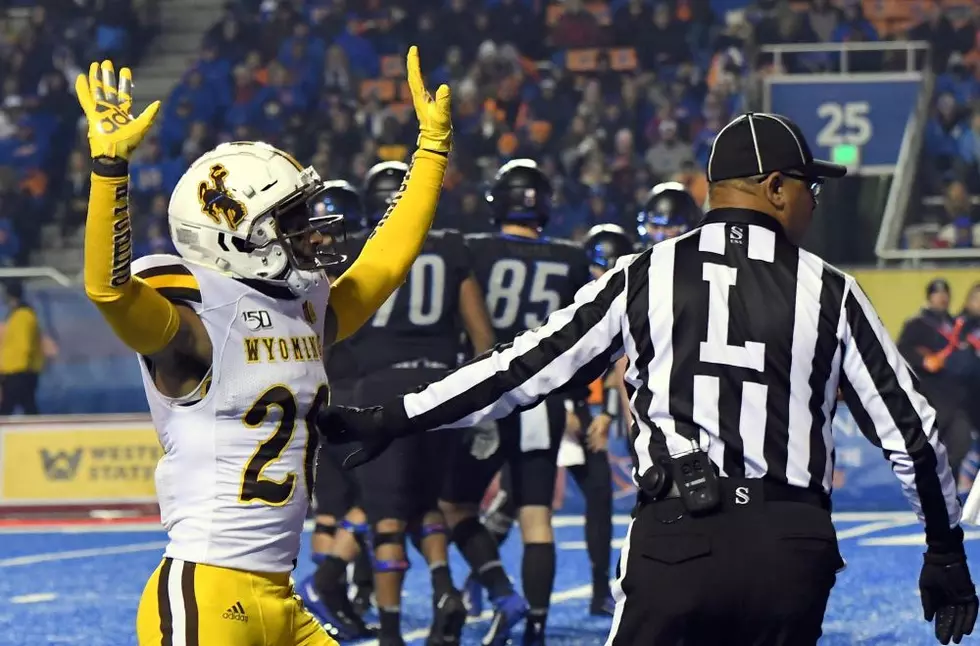 Who might UW snag off the transfer portal?
hearncropUSE
LARAMIE -- It's no secret that Craig Bohl will never rely on graduate transfers or junior college players in his program.
The same can be said for the transfer portal, though Wyoming's head coach isn't naive enough to discount newest pool of college "free agents."
Last season, Wyoming snagged Arizona cornerback, Azizi Hearn, from the portal. That might have been the biggest move off the offseason in hindsight.
The Cowboys secondary suffered one setback after another, whether that was through injury, suspension or leaving the team, the way three-year starter Antonio Hull did. Hearn served as a mainstay at the corner opposite Tyler Hall, tallying 37 tackles and knocking down four passes in all 12 games for the Cowboys.
Looking ahead to the 2020 campaign -- Where are Wyoming's biggest needs? Who are some of the best available players? Not only do they need to have what it takes on the field, Bohl often says, but they must fit the culture.
Here are five options Bohl and Co. should pursue this offseason:

5. Roshauud Paul, WR/ PR, Texas A&M
Wyoming must replace senior receivers Austin Conway, Raghib Ismail and John Okwoli. That's not just 55 catches, 743 yards and three touchdown grabs the Cowboys need to compensate, Conway and Ismail also returned punts. Enter Paul. The 6-foot, 180-pound speedster from Bremond, Texas, was third in the SEC in punt returning in 2018, hauling in 24 kicks and racking up 209 yards. Paul would have two seasons in Laramie after redshirting in 2019, and could make a major impact on the Cowboys' return game and help out a young receiving corps. At Texas A&M, Paul caught 23 passes for 268 yards, including a seven-catch, 129-yard performance against New Mexico in 2017.

4. Jonathan Perkins, OLB, Oklahoma
This one is a longshot, but why not kick the tires? Wyoming needs a linebacker -- or three -- and Perkins needs a new home. Maybe the youth and enthusiasm of new linebackers coach, Aaron Bohl, can come into play here? Or, will the fact that Wyoming just lost three defensive coaches also scare some potential candidates away? The Cowboys need to replace four-year starter and three-time captain, Logan Wilson, Cassh Maluia and Ben Wisdorf. Bohl and Co. have picked up a couple linebackers in the 2019 recruiting class, the latest being Sabastian Harsh from Scottsbluff, Neb. However, Chad Muma is the lone linebacker with playing experience on the current roster. Perkins is a 6-foot, 214-pound California product, who played in just one game as a freshman at OU. He's a three-star player, who likely got lost in the numbers game. Like I said, this is a long shot. Perkins had offers from Auburn, UCLA, Texas A&M and plenty of other major Power-5 programs. It's worth a call.
3. Pernell Jefferson, LB, Nebraska
Who doesn't like an underdog story? Not to mention, Bohl has ties to Nebraska. If anyone could get the low down on why Jefferson didn't quite stick in Lincoln, it's him. Jefferson was set to become a redshirt senior at Nebraska in 2020 before leaving the program. The Cowboys might just need a "bridge" player at this position. That could be Jefferson. The 6-foot, 2-inch, New Orleans native had a bizarre tenure in Lincoln. He spent four years there and never played a game despite being named scout team defensive MVP as a freshman. He was a scholar athlete in 2018, too. Maybe a change of scenery will do Jefferson some good.
2. L.C. Greenwood, WR, Oklahoma State
There are 134 wide receivers currently in the transfer portal. This is a major need for Wyoming in 2020. The roster is littered with pass catchers -- not many have experience. A "bridge" player would work here, too. Greenwood, a 6-foot, 3-inch, Garland, Texas, product caught just three passes for 12 yards in his Oklahoma State career. That all came last season. He redshirted in 2017 and played in just three games in 2018. He played in six games as a sophomore and was moved to linebacker before entering the transfer portal. Greenwood is one of three OSU wide receivers to join the portal. It's no secret that the Cowboys like to sling it all over the field. The chances Greenwood got lost in the shuffle in Mike Gundy's offense is very real. Greenwood would likely become a starter right away in Laramie and has two more collegiate seasons. He was also recruited by Mountain West foe, San Diego State. Bohl might have already done his homework on Greenwood.
1. Kieston Roach, CB, Texas State
The Cowboys will get CJ Coldon back, who was lost for the season in week two with a knee injury, and freshman, Jordan Murry, who was seventh on the depth chart when the 2019 season began, played big for the Pokes over the final 10 games. But who replaces Hall? What if Hearn gets hurt? What if Coldon isn't 100 percent? There are too many unknowns at the cornerback spot for Wyoming. Could Roach be that guy? The 6-foot, 185-pound corner out of Houston was a steal for Texas State in the 2017 recruiting class. He was listed as a three-star player. He played for Texas powerhouse, North Shore High School, and received offers from Baylor, Texas and Purdue. He chose San Marcos. And nothing has gone as planned. After redshirting the 2017 season, Roach played in six games, recording two tackles the following year. He didn't play in 2019.
Who do you think the Pokes should snag off the transfer portal?