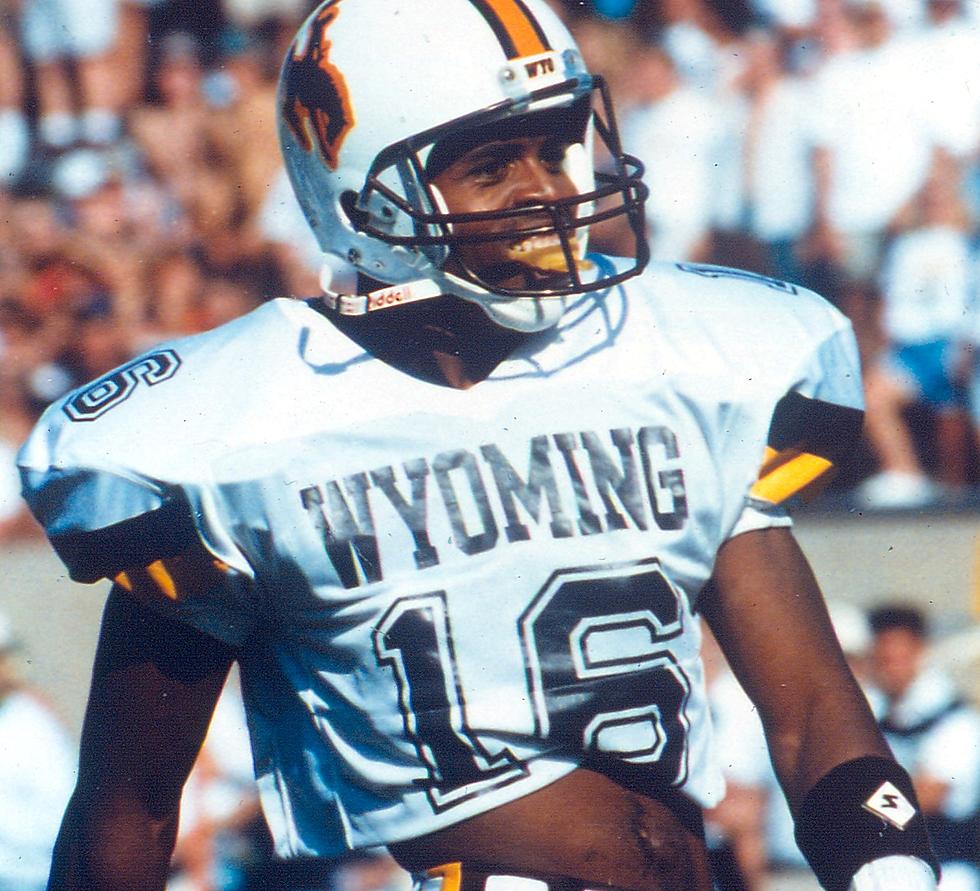 Which Wyoming Cowboy wore it best? No. 16
Former Wyoming wide receiver Ryan Yarborough is our selection for the best No. 16 in Wyoming football history./ UW courtesy photo
CHEYENNE -- Do you ever see a number on a Wyoming football jersey and think of all the great players to wear it? Yeah, me too. In this daily series, I'll give you my take on which Pokes' football player was the best ever to don each number. The criteria are simple: How did he perform at UW? What kind of impact did he have on the program?
No. 16 – Ryan Yarborough
Wide receiver, 1990-93, Park Forest, Ill.
Résumé in Laramie
Ryan Yarborough became Wyoming's first two-time All-American after racking up a then-school record 4,446 yards on 239 catches. He still holds the record for most touchdown catches with 42. He finished his career the NCAA's leading receiver. He also had the most 200-yard receiving games and held the record for most games in which he caught a touchdown pass. He set five NCAA records – yards, touchdowns, receptions, 200-yard games and his touchdown streak – and also tied two others: Three consecutive years with 1,000 yards and single-season touchdown catches with 16. He was twice named first-team All-WAC in 1992 and 1993. He also broke five WAC receiving records. As a senior, Yarborough caught 75 passes for 1,584 yards. That was the standard at the time.
Why Yarborough?
Ryan Yarborough made a habit of torching San Diego State.
See:
Two of his biggest receiving days came against the Aztecs. In 1991, the speedster from Illinois caught eight passes for 218 yards, his best single-game yard total in his four-year career. Two years later, Yarborough snagged 10 passes for 217 yards.
Wyoming went 3-1 against SDSU over that span. The games were close, exciting, and the team who had the ball last typically pulled it off.
That was the case in 1992.
The Aztecs were all but penciled in for a Holiday Bowl berth when they came to Laramie that November. A little trickery from Joe Tiller's Cowboys thwarted those plans.
Late in the third quarter with the Pokes clinging to a 10-6 lead, Yarborough took a hand off on the reverse from running back, Ryan Christopherson. Rolling to his right, the junior receiver planted and fired a 35-yard strike into the awaiting arms of a wide open, Eric Edmond. Wyoming took the lead for good, knocking Marshall Faulk and the Aztecs out of the driver's seat in the Western Athletic Conference race.
"It's a play we have worked on," Tiller told reporters after the game. "At halftime we talked about it, and said that if we get past midfield we were going to let it go. It was great execution. Ryan is such a fine athlete … If you asked him, he'd tell you he could throw it and catch it on the same play."
Faulk became the Aztecs all-time leading rusher that day with 2,738 yards, but the Cowboys held the nation's leader out of the end zone, becoming only the fourth team to do that. Wyoming held on for the 17-6 upset.
Yarborough still owns the seventh through 10th single-game receiving yards records. The third-best day belongs to Yarborough, too. Against Air Force in 1993, he caught seven passes for 241 yards.
You don't have to look too far into the history books to find his name nearly three decades after his playing days. He still has the most touchdown catches in school history. Until a guy named Marcus Harris showed up on campus in 1993, Yarborough owned every major record in the book.
That's including the NCAA book.
Yarborough, who stands 6-foot, 2-inches and 195 pounds, is still ninth all-time in yards receiving, eighth in touchdown grabs and in the Top 125 in receptions. When he graduated, Yarborough set five NCAA records and tied two others. He was Wyoming's first two-time All-American. He was inducted into the UW Athletics Hall of Fame in 2003.
In 1994, Yarborough was selected in the second round of the NFL Draft by the New York Jets.
He did it with speed:
He did it with toughness:
He did it with flare:
Kevin Sumlin, the current head coach at Arizona, was Yarborough's wide receiver's coach in Laramie. He joked with reporters that he would get fined by Tiller anytime one of his wide outs dropped a pass in a game or practice. He said he only made $19,000 a year in those days.
With Yarborough on his side, he didn't spend a dime.
Honorable mention
It may come as a shock to you -- heck, it may not -- that Brett Smith, despite playing only three years of quarterback in Laramie, is one of the best signal callers in school history.
The numbers prove it.
Smith is No. 1 in program history in touchdown passes (76), completion percentage (61.9), most passes without an interception (183) and single-game yards and touchdowns (498 yards, 7 touchdowns against Hawaii in 2013) and was part of the longest pass play in UW lore, a 93-yard out to Robert Herron. Herron did most of the work on that.
Smith, a 6-foot, 3-inch, 195-pounder from Salem, Oregon, sits just behind Casey Bramlet in all-time passing yards (8,834), attempts (1,212), completions (751) and single-season passing yards with 3,375 in 2013.
He also rushed for 20 touchdowns. This isn't one of them, but his athleticism is on full display:
If Yarborough wasn't such a stud, in the program and nationally, Smith could've easily been the best to ever wear the No. 16.
Imagine if he would've come back for his senior season instead of entering the NFL Draft after his junior year? He'd likely be the best QB in Wyoming history ... and likely would've been drafted.
Who else wore No. 16
Gary Fox (QB), Phil Davis (QB), Tom Kilpatrick (P/TE), Michael Watson (QB), Alan Jones (WR), Brandon Neill (QB), Marcus Freeman (CB), Drew Larson (K/P), Keithon Flemmings (RB), Karsten Sween (QB), Kenny Browder (CB), DeAndre Jones (CB), Cortland Fort (CB), Austin Fort (QB/WR also wore 81), Jeff Lark (LB), Milo Hall (RB), Riley Sessions (S), Gunner Gentry (WR).
All available rosters and photos courtesy of the University of Wyoming. If we missed one, please email Cody@7220sports.com.
UW vs. NIU September 11, 2021