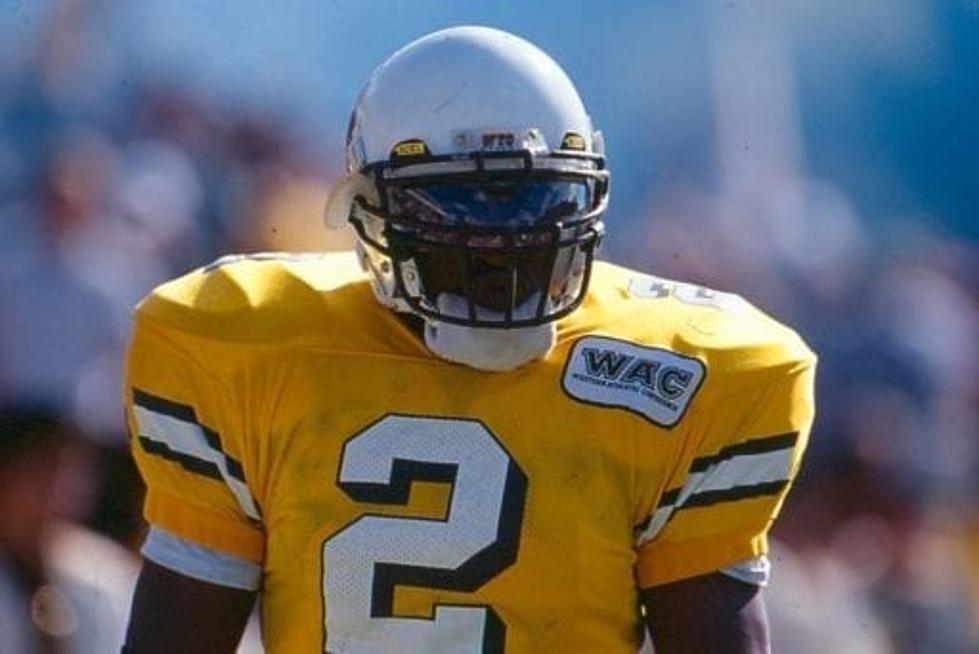 Which Wyoming Cowboy wore it best? No. 2
Anyone remember these "third jerseys" during the Dana Dimel days of the late 90's? Here's Patrick Chukwurah sporting the gold tops that were worn with white pants./ UW courtesy photo
CHEYENNE -- Do you ever see a number on a Wyoming football jersey and think of all the great players to wear it? Yeah, me too. In this daily series, I'll give you my take on which Pokes' football player was the best ever to don each number. The criteria are simple: How did he perform at UW? What kind of impact did he have on the program?
No. 2 – Patrick Chukwurah
Defensive end, 1997-00, Irving, Texas
Résumé in Laramie
Patrick Chukwurah earned second-team all-conference honors as a junior and landed a first-team selection after his final season in Laramie. Chukwurah tallied 245 tackles during his four seasons as a Cowboy, including 27 sacks. He was also named team MVP in 1999.
Why Chukwurah?
Dana Dimel calls Patrick Chukwurah the "Nigerian Nightmare."
The 6-foot, 1-inch, 250-pound defensive end/ linebacker hybrid was a nightmare for opposing quarterbacks. Just ask Utah's TD Arceneaux.
Midway through the fourth quarter of the 1999 tilt in Salt Lake City, the Utes were trailing 21-17 and starting a drive inside their own two-yard line. Arceneaux, Utah's junior quarterback, took a five-step drop, gliding into the back of the end zone. Chukwurah, with an assist from teammate Jared Jarnagan, hammered the helpless signal caller, violently smashing him into the field-goal post and leaving him unconscious.
An ambulance pulled into a silenced Rice-Eccles Stadium and whisked the QB to a local hospital with what team doctors called a "massive concussion."
Linebacker Courtney Barnes scored on the play after Arceneaux lost the ball during the hit.
The Texas product finished his four-year career as a Cowboy with 26 more sacks and 245 tackles, which is still good enough for 11th in school history.
As a senior, while the Cowboys limped to a hapless 1-10 record, Chukwurah was one of the lone bright spots in Vic Koenning's first season as head coach. Despite the train wreck happening on the field, Chukwurah earned all-conference honors with 100 tackles and seven sacks.
That stellar senior season and consistent body of work in Laramie landed Chukwurah with the Minnesota Vikings as a fifth-round selection in the 2001 NFL Draft. He became a starter at linebacker in Minnesota and played in all 16 games as a rookie. Two years later he was cut by the Vikings.
After a short stint on the Texans practice squad, Chukwurah landed in Denver. That's where he flourished as a pro, mainly on special teams, and as a third-down pass-rush specialist. He played three seasons for the Broncos, racking up 42 tackles, five tackles for loss and 5.5 sacks.
"I'm getting a lot more opportunities. I'm doing things I know I can do. I have an opportunity to showcase," Chukwurah told the Associated Press back in 2006."I'm glad I'm getting the opportunity. But I'm still doing my special teams thing, that's what's putting food on the table right now."
Chukwurah got his five minutes of fame on Sunday night football that season. It wasn't because he sacked Tom Brady, either. Instead, it's when ESPN cameras caught him vomiting before a snap. He continued to rush Brady anyway.
"I try to leave everything out there," he joked with reporters. "They've been making a big deal of that. I don't think it's that big of a deal. I'm sure I'm not the first person that's done that and I'm not the last person who's going to do it. I don't know what the big deal was with that. I was just giving it my all."
Honorable mention
Like yesterday's honorable mention, Richard Peace (1993-96) was also a nice outlet for senior quarterback Josh Wallwork during the 1996 season. Richard Peace caught 72 passes for 972 yards and six touchdowns during his four seasons in Laramie. Peace shared the load with Marcus Harris and David Saraf.
In the inaugural WAC title game that December, Peace set up the go-ahead touchdown pass to Saraf late in the fourth against sixth-ranked BYU. Watch Peace cruise past the Cougars defense -- and through a Cougar -- on that play.
Here's visual evidence:
Who else wore No. 2
Marcell Gipson (DB), Roderrick Jackson (CB), Ivan Harrison (RB), Ian Hetrick (QB), Mazi Ogbonna (WR), Eric Nzeocha (WR/TE/LB also wore 11), Cameron Coffman (QB), Robert Priester (CB), Justin Byleveld (WR), Eddie Donald (DB), Anthony Young (QB), Chris Packer (QB), Matt Mondragon (WR), Lawrence Chavers (SE), George Dozier (DB), Craig Johnson (QB), Cameron Murray (S), Marqueston Huff (DB)
All available rosters courtesy of the University of Wyoming. If we missed one, please email Cody@7220sports.com.
University of Wyoming's Top 50 Football Players
The rules are simple: What was the player's impact while in Laramie? That means NFL stats, draft status or any other accolade earned outside of UW is irrelevant when it comes to this list.
This isn't a one-man job. This task called for a panel of experts. Joining 7220's Cody Tucker are Robert Gagliardi, Jared Newland, Ryan Thorburn, and Kevin McKinney.
We all compiled our own list of 50 and let computer averages do the work. Think BCS -- only we hope this catalog is fairer.
Don't agree with a selection? Feel free to sound off on our Twitter:
@7220sports
- #Top50UWFB
- University of Wyoming's Top 50 Football Players