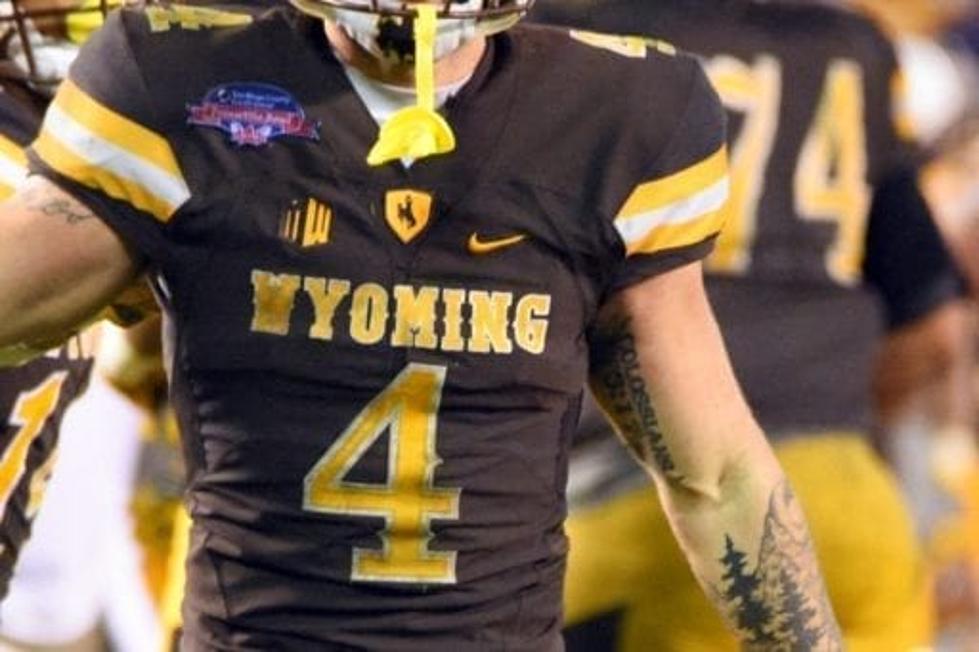 Which Wyoming Cowboy wore it best? No. 4
Gentry e1560103452736
CHEYENNE -- Do you ever see a number on a Wyoming football jersey and think of all the great players to wear it? Yeah, me too. In this daily series, I'll give you my take on which Pokes' football player was the best ever to don each number. The criteria are simple: How did he perform at UW? What kind of impact did he have on the program?
No. 4 – Tanner Gentry
Wide Receiver, 2013-16, Aurora, Colo.
Résumé in Laramie
During his senior season, Tanner Gentry was named to the All-Conference second team, despite leading the Mountain West in receiving. Gentry was named to the 2015 Bilentnikoff Award Watch List. Gentry is No. 5 all-time in receiving yards with 2,815. His 20 touchdown catches is good enough for fourth in school history. He is in the school's Top 10 in receptions (8th-180) and single-season yardage (6th-1,326).
Why Gentry?
Tanner Gentry was a playmaker. He always seemed to be open. He hauled in bullet after bullet from Josh Allen. He made the easy catch and the leaping, diving back-of-the-end zone circus grabs. Still, I wasn't sure if Gentry was the best to ever wear the number.
Then, I cracked open the record book.
Wyoming has been blessed with some great receivers in its history – and Gentry is very much in that conversation, despite never eclipsing the 40-catch mark until his breakout senior season when he snagged a conference-leading 72.
The 6-foot, 2-inch, 210-pound wideout's name is littered throughout the Top-10 categories in UW receiving history.
Think about this: Gentry had more career touchdown receptions than Anthony Sargent and Malcom Floyd. More yards than Ryan McGuffey and Robert Herron.
His 2016 season was the sixth best in school history. That 1,326-yard performance topped names like Javon Bouknight, Ryan Yarborough and Shawn Wiggins.
Pretty solid company Gentry keeps, huh?
When I think about Gentry, those amazing catches always come to mind. It was like he had a glue trap on each hand. An Allen Rocket never seemed to phase him. Unfortunately, I always think about one game – the bad road loss at UNLV. You know, the one that ended 69-66 in three overtimes.
That certainly wasn't Gentry's fault.
He made a leaping, one-handed catch over a Rebel defender in the second quarter and made an over-the-shoulder grab in the third look routine. Gentry saved his best for last.
Capping a 97-yard drive and with the game clock on triple zero, Allen rolled to his right and slung it toward the end zone. The end result – tie game. Overtime.
Watch Gentry go to work here:
Gentry's stat line was a thing of beauty: five catches for 184 yards and three touchdowns. Watch his highlight video ion YouTube. It's worth every second.
The Aurora product went undrafted but was quickly scooped up by the Chicago Bears.
Honorable mention
There was another No. 4 who I thought could challenge Gentry. That man is Tashaun Gipson. The defensive back picked off nine passes in his four seasons in Laramie and racked up 250 tackles in the process. For three seasons, he played in the UW secondary with his brother, Marcell. Tashaun Gipson started every game of his collegiate career.
Gipson also went undrafted, but eventually landed on the Cleveland Browns. He picked off 14 passes during his four years in Cleveland. He even scored a couple of touchdowns from his safety spot. He eventually landed a lucrative five-year, $36 million contract with the Jaguars.
He played three seasons in Jacksonville and was picked up by Houston this offseason.
Who else wore No. 4
Jay McNeal (S), CJ Brewer (WR), Evan Weatherspoon (WR), Chris Packer (QB), DeAndre Jones (CB), Ivor Samilton (CB), Mike Jones (WR), Scott Jones (QB), Eddie Pratt (WR), Hasan Muhammad (S), Jon Jennings (RB), Arlen Smith (LB), John Graham (QB), Pete Merrill (S), Mack Crandelle (SE), Antonio Hull (CB), Xazavian Valladay (RB)
All available rosters courtesy of the University of Wyoming. If we missed one, please email Cody@7220sports.com.
PRESS PASS: Roaming The War
Wyoming Cowboys vs. Montana State Bobcats
-PRESS PASS: Roaming The War