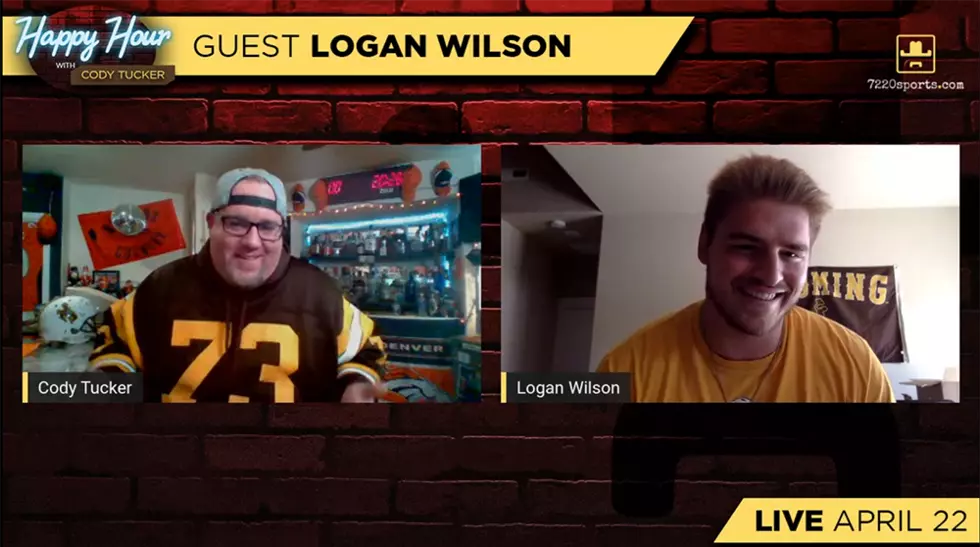 Wilson helps 'Happy Hour' relaunch hit home
SCREENSHOT-HH-APR22_feature-img
CHEYENNE -- Lights, camera, livestream.
More than 1,600 fans tuned in live to hear what Logan Wilson had to say on what has evolved into a whole new sports talk show from 7220sports.com.
Our team has searched for a way to stay connected with fans during the shut-down and quarantine effecting most of the world, especially after coronavirus restrictions hampered production of the weekly "Roaring Repeater" talk show and podcast. On Wednesday, Wilson joined us in our answer, the newly remade "Happy Hour."
Cody Tucker started doing an occasional Facebook Live Q&A session with fans, which was well received. He called it "Happy Hour" because of the informal nature of the content. During the increasingly prohibitive restrictions rolled out in the past two months, Cody started making Happy Hour sessions a weekly habit.
We had planned to host Raghib "Rocket" Ishmail Jr. on the Roaring Repeater before the shutdown, and Cody asked the rest of the team to help find a way to allow Rocket and other players to join him in connecting to the thousands of fans stuck at home. Our photographer DJ Johnson discovered just the ticket. A simple livestream program called Streamyard. We started hatching plans.
So we finally got Rocket on the air for an interview, but this new medium let us connect him directly to fans live. The audience was well pleased, and so were we. With the trial run a success, we put our plans to work and used our collective expertise to revamp Happy Hour into a whole new live sports show we'd hope to air every week.
So we announced our guest for the first fully reborn episode of Happy Hour, the great and humble Logan Wilson.
We started with a simple interview and launched right into fan questions. Later, Wilson even gave away some of his team-issued gear. We heard everything from the hit he took his freshman year that let him know hew was really playing NCAA football to how he's mentally preparing for the NFL Draft, which begins April 23, the day after we aired.
An hour after the interview ended, the view count had tripled and we knew we had the new show we wanted, and apparently that fans wanted, as well. So please enjoy the first episode of the new Happy Hour, with guest Logan Wilson.
DON'T MISS THIS MOMENT FROM LOGAN'S DRAFT DAY