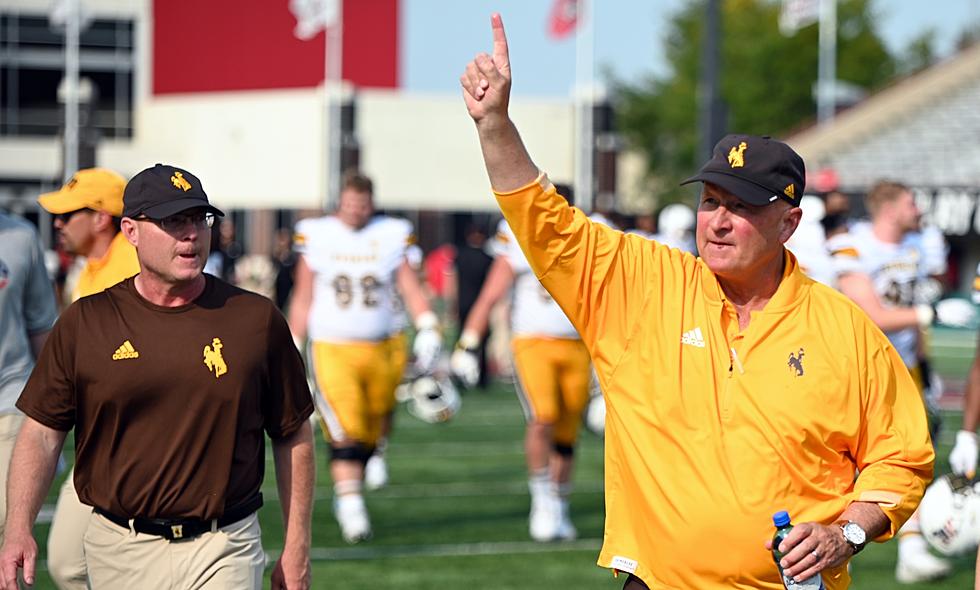 Wyoming football: News and notes
Wyoming head coach Craig Bohl waves to Cowboys' fans in attendance Saturday inside Huskie Stadium./ DJ Johnson photo
LARAMIE -- It all hinged on a couple of inches.
Craig Bohl said Monday if running back Titus Swen would've picked up that first down on the Cowboys' final drive of the first half, the playbook could've expanded drastically.
That didn't happen.
Official replay showed the sophomore's knee scraped the blue turf and Wyoming was forced to punt from its own 28-yard line with less than a minute remaining. UW punter Ralph Fawaz trotted onto the field and boomed a punt to the Broncos 12-yard line. It wads downed with just 52 ticks on the clock.
For an aggressive Boise State staff -- that was an eternity.
Hank Bachmeier and Khalil Skakir connected on three straight passes and in the blink of an eye, Jonah Dalmas was setting up for a 43-yard field goal. The Lou Groza Award semifinalist wasn't fazed by Bohl's three consecutive timeouts and split the uprights, giving the home team a 10-7 advantage at the half.
That was a 7-play, 62-yard drive.
Wyoming's previous possession: 3 plays, 9 yards, 1:55 off the clock.
If Bohl had to do it all over again, would he stick to the script?
"If we could come up and generate a first down there, we were going to probably change our MO," he said. "... So, that changed the complexion. You know, we were hoping to keep some points off the board. There was a whole lot of conversation that was going on right during that play. Not only about the spot, but also the time, because I knew how much time they had left.
"... We wanted to see where we were at on that field position to see where we could go and we came up -- I guess by the review -- maybe an inch or two short. So, you know, hindsight is 2020. I don't know if I would have second guessed that. I wish Titus maybe had gotten two more inches and then the conversation would probably be a little different."
Boise State 23, Wyoming 13
Here's what else Bohl had to say during his weekly press conference:
* Eric Abojei, the Cowboys left guard, missed the Boise State game with an injury he sustained in the first half against Colorado State the week prior. Bohl said he is in hopes Abojei will be back at practice today and can suit up this Saturday night in Logan, Utah.
* Bohl had plenty of praise for Utah State's first-year head coach Blake Anderson, calling him a "prince of a guy." Unlike Wyoming, the Aggies new staff relied heavily on the transfer portal (25 players) and junior college players (11). It's paid off, too. Utah State is 8-2 overall and is currently sitting in first place in the division with a 5-1 mark in Mountain West play. USU routed San Jose State 48-17 last Saturday in Silicon Valley. "They certainly fortified the roster with good players," Bohl said. "You know, that's not our MO -- we're a developmental program -- but, you know, kudos to coach Anderson. They're a good football team. It's going to take a good effort for us to beat them."
* Gary Andersen coached the Aggies through the first three games of the season before abruptly resigning. Co-defensive coordinator Frank Maile stepped in for the remaining three games. Utah State played six of its eight scheduled games during a season marred by COVID-19. Because of virus issues within the Aggies football program, then sitting at 0-4 overall, they canceled the Nov. 19 game in Laramie. USU players declined to play the season finale against CSU, boycotting the game due to disparaging racial and religious remarks made by president Noelle Cockett.
* Wyoming, once again, lost the turnover battle in Boise. The Cowboys started the season with a plus-7 in turnover margin after the first three weeks. Since, the Cowboys have turned the ball over 16 times over the previous seven games. The defense has forced just four turnovers in that span. UW quarterback Levi Williams was picked off in the fourth quarter of Friday night's loss to the Broncos. The Cowboys are 1-6 overall since the turnover mark went under water. "I told our our team that the game is probably going to come down to a play somewhere in the fourth quarter -- and we're going to need to make the play," Bohl said. "... "Certainly the turnover margin had a big impact in the ball game. That wasn't the only factor, but to be minus-1 going on the road, that was going to be a difficult to overcome. You know, when I saw the deflection, I kind of gnashed my teeth because I thought, you know, that whole swing had a big, big impact in the ballgame."
* Bohl is well aware that the Aggies possess an explosive offense. Led by quarterback Logan Bonner, Utah State is averaging 467 yards of total offense per outing. Bonner, an Arkansas State transfer who followed Anderson to Logan, is completing more than 61% of his passes and has thrown for 2,749 yards and 25 touchdowns. "Bonner had a heck of a career when he was at Arkansas State, as well," Bohl said. "Really, he's got a great understanding of their offense and puts the ball where it needs to be. So, as a result of that, sometimes you work so hard on defending the pass."
* The Aggies aren't a one-trick pony. Calvin Tyler and Elelyon Noa are both averaging more than four yards per carry. Tyler leads the team with 577 rushing yards on just 125 attempts. Noa has 471 on 112. This running back duo has combined for nine touchdowns on the ground. "The numbers don't lie, they're able to run the football, as well," Bohl said. "So, you know, it's a real challenge to be able to take away that space, make plays, and then also limit the running game."
* Watch out for No. 13. Deven Thompkins was just named a Biletnikoff Award finalist this week after snagging 77 passes for 1,441 yards and eight touchdowns. The junior from Fort Myers, Florida has rolled up 100-plus yards through the air in seven straight games, including a 215-yard outing against New Mexico State.
* Join us tonight at 6 p.m. MT on Facebook live as Ryan Clement and I break down the Boise State game and look ahead to the matchup at Utah State. Bring your questions and let's have a fun Happy Hour live from Dillinger's Bar in downtown Cheyenne.
* Make sure to stay tuned to 7220sports.com throughout the week for all your Cowboy football news.
University of Wyoming's Top 50 Football Players
The rules are simple: What was the player's impact while in Laramie? That means NFL stats, draft status or any other accolade earned outside of UW is irrelevant when it comes to this list.
This isn't a one-man job. This task called for a panel of experts. Joining 7220's Cody Tucker are Robert Gagliardi, Jared Newland, Ryan Thorburn, and Kevin McKinney.
We all compiled our own list of 50 and let computer averages do the work. Think BCS -- only we hope this catalog is fairer.
Don't agree with a selection? Feel free to sound off on our Twitter:
@7220sports
- #Top50UWFB
- University of Wyoming's Top 50 Football Players