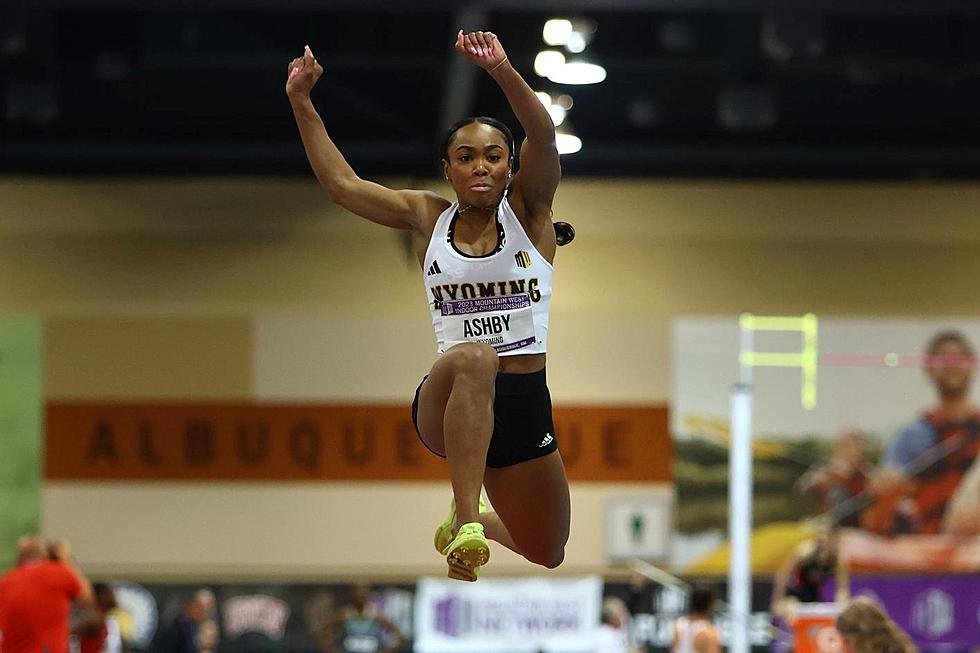 Wyoming Heads West for 2023 Mountain West Outdoor Championships
The University of Wyoming Track & Field Teams will head to Fresno, Calif., for the 2023 Mountain West Conference Track & Field Championships running Thursday through Saturday this week in the Golden State./ UW courtesy photo
* University of Wyoming press release
LARAMIE -- The University of Wyoming Track & Field Teams will head to Fresno, Calif., for the 2023 Mountain West Conference Track & Field Championships running Thursday through Saturday this week in the Golden State. 
With action beginning on Thursday at noon Pacific Time with the finals of the Hammer Throw and ending Saturday at 9:10 with the 4x400 Relay it is an action-packed three-day event to crown conference champions. 
Thursday will see the Pokes compete in the finals for the Hammer, Javelin, and the 10,000. Friday we will see action in the Long Jump, High Jump, Shot Put, Pole Vault, and the 3,000M Steeplechase. The Final day of action will crown champions in the Discus, Triple Jump, 4x100 Relay, 1500M, 100/110M Hurdles, 400, 100, 800, 400/440M Hurdles, 200, 5,000 and the 4x400 Relay. 
Wyoming student athletes in the Top 10 of the conference heading into the Championships:
Katelyn Mitchem ranks second in both the 1500 and Steeplechase as well as seventh in the 5000M. Sadie McMullen ranks second in the Long Jump, Aumni Ashby sixth in the Triple Jump, Gabby Drube sixth in the 400 Hurdles and Cosette Stellern eighth in the Discus. 
Cameron Burkett has maintained the top spot in the Mountain West since his first outdoor meet of the season where the freshman threw 59-11.
Kareem Mersal, Remar Pitter and Hunter Brown rank third, fourth and fifth respectively in the Long Jump, Jaheim Ferguson ranks fourth in the 440 Hurdles while teammates Carson Kaminski and Caige McComb rank eighth and ninth in the same event.
Jefferson Danso and Kaliff Guevara rank fourth and sixth in the Triple Jump. Jacob White owns the fifth spot in the 5000M as does Tarqiue George in the Discus. Ryker Holtzen and Seth Bruxvoort come in at sixth and seventh in the Steeplechase while Samuel Schneider and Pete Mead rank sixth and eighth in the High Jump.
Jaymison Cox owns the eighth spot in the 400 while Ferguson also clocks in at ninth in the 110M Hurdles. 
The Top 48 in each event from each east and west region after the conference championships will qualify for the NCAA Track & Field Regionals.
Burkett, Mersal, Holtzen, Bruxvoort and Ferguson are all in the top 48 at the moment for the Cowboys while Mitchem and Drube currently make the cut for the Cowgirls. 
Fans can watch the Mountain West Championships live and follow live results at https://themw.com/sports/2023/1/23/2023_otf_championships.aspx Stay up to date on Wyoming Track & Field by following @wyo_track on Twitter.
10 Of The Most Famous Wyomingites In History
We asked our listeners to tell us who they thought was the most famous Wyomingite in History, here are the top 10 picks. NOTE: To be a Wyomingite you do NOT have to be born here, but you DO have to have lived here for at least a year.
- 10 Of The Most Famous Wyomingites In History