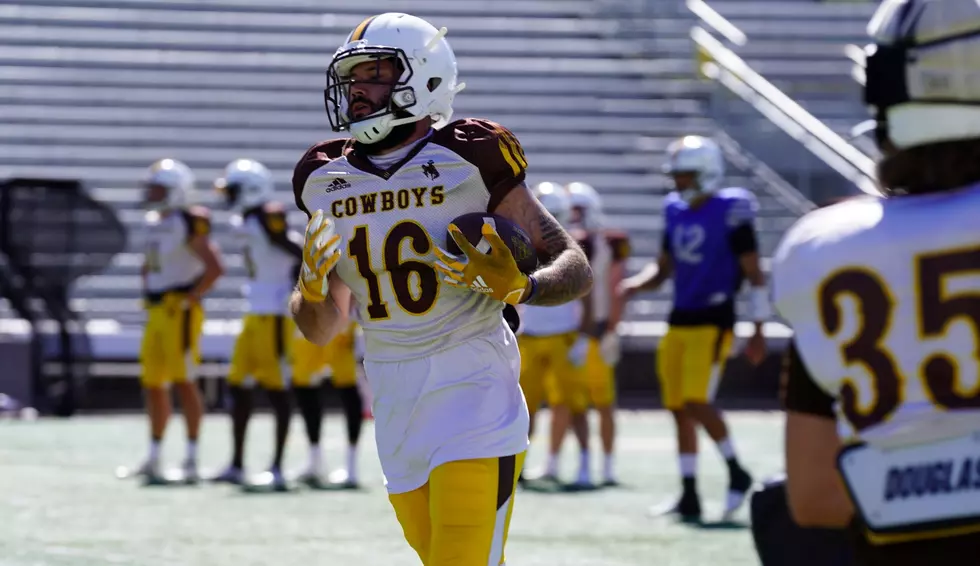 Wyoming WR Gunner Gentry to miss season with knee injury
Wyoming receiver Gunner Gentry suffered a season-ending knee injury during Thursday's practice inside War Memorial Stadium./ UW courtesy photo
LARAMIE -- It happened again.
Gunner Gentry will miss his second straight season with a knee injury, Wyoming head coach Craig Bohl announced Friday, just eight days before the Cowboys' season opener at Illinois.
Bohl said Gentry went up to catch a pass in Thursday's practice and "landed wrong."
"It was a non-contact injury," he said. "... It's too bad."
Bohl said he didn't know the severity as of now.
"It's something with his knee," he continued. "We'll get the final reports, but the initial assessment was not good. So it looks like he'll be done for the year. He's really shown great signs, but injuries come into play. It's part of football."
The redshirt junior receiver suffered consecutive torn patellar tendons in his left leg, the first coming during a spring practice in 2021. Five months later, it ruptured again.
"It's heartbreaking, but, you know, I mentioned to our football team that that's an injury, he'll bounce back and we got to move forward as a team," Bohl said.
Gentry, who hasn't played in a game since the season finale of the 2020 campaign, has just eight receptions for 158 yards and a touchdown during his four-year career in Laramie. That score came on a 22-yard heave into the end zone from Levi Williams in an opening-night overtime loss at Nevada.
MORE UW FOOTBALL NEWS:
* WATCH: Former UW standout Logan Wilson boots 40-yard FG
* Pokes Practice Report: 'I'm glad we're not playing Illinois today'
* Wyoming's Eric Abojei: 'We definitely have something to prove'
* Current, former Pokes sold wide out Chase Locke on Wyoming
The Aurora, Colo., product was labeled a three-star recruit out of Grandview High School after being named to the 2017 CHSAA 5A All-State First Team. During his prep career, the 6-foot-3, 202-pound wide out hauled in 81 passes for 1,314 yards and 19 touchdowns.
His older brother, Tanner Gentry, is the fifth-leading receiver in UW history, amassing 2,815 yards and 20 scores on 180 career receptions from 2013-16. He is currently a member of the Buffalo Bills.
One week ago, Bohl said he had some real concerns about Gentry and whether or not he would be up to speed before the season kicks off on Aug. 27 in Champaign.
"Even like a week before fall camp, you started to wonder and our sports medicine head trainer, Dave (Kerns), said, 'you know, I think he'll be there,'" UW's ninth-year head coach said. "It's going to take a little bit and -- he's a little bit ahead of schedule -- so he's a guy that's really making some plays."
A day with the Bills Mafia