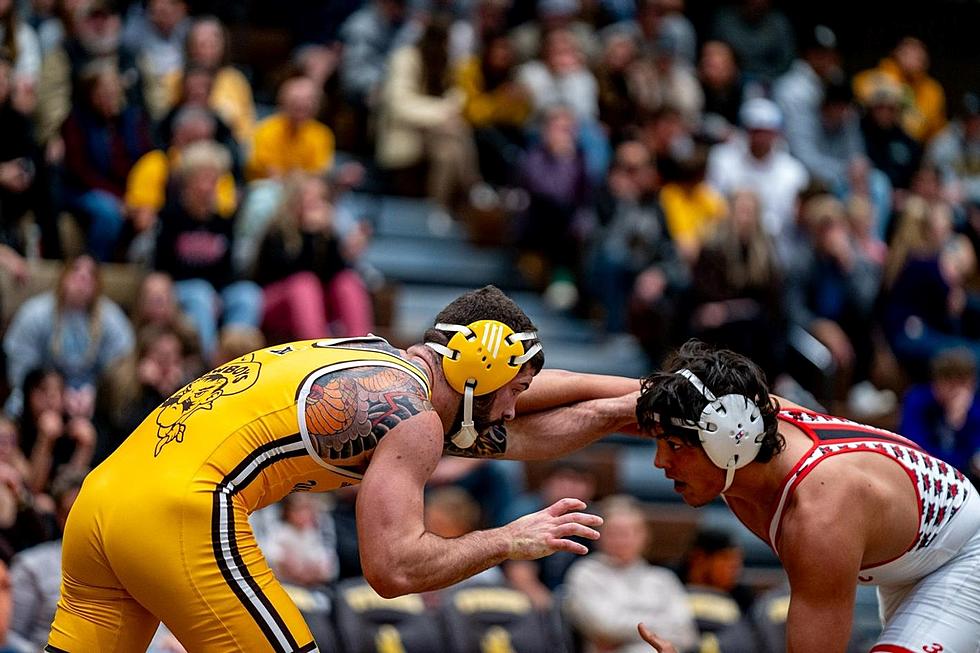 Wyoming Wrestling Makes Quick Work of Roadrunners
The Cowboys were the aggressor, and it led to a dominating 40-3 victory inside the Icardo Center. The victory improved Wyoming to 2-0 on the season and dropped the Roadrunners to 0-1./ UW courtesy photo
* University of Wyoming press release
BAKERSFIELD, Calif., – University of Wyoming wrestling head coach Mark Branch wasn't particularly pleased with his team's aggressiveness in their season-opening dual against Western Wyoming. That passiveness was put to bed and not present at CSU Bakersfield on Friday.
The Cowboys were the aggressor, and it led to a dominating 40-3 victory inside the Icardo Center. The victory improved Wyoming to 2-0 on the season and dropped the Roadrunners to 0-1.
"We had several guys that didn't wrestle in the dual Sunday that got their debut for us," Branch said. "Part of the reason they got their debut is how they wrestled after the dual Sunday. Some of those same guys that did wrestle in the dual made some adjustments, listened and it paid off. They came out and showed a lot of energy and a lot of aggressiveness. You put it all together, that's how you have a dominant win."
As Branch alluded to, the Cowboys' lineup was altered a bit ahead of the CSU Bakersfield match. And a few of the newbies flourished.
Two of them, Riley Davis (174) and Paolo Salminen (157), recorded first-period falls. Another pair, Joey Novak (197) and Cole Brooks (141), boasted technical falls.
A trio of starters from Sunday registered major decisions Friday. Ethan Ducca (184) moved to 2-0 on the season with a 14-3 major decision. Aidan Noonan (149) also remained perfect on the season with a 12-1 major decision, and Cooper Birdwell (133) moved to 1-1 on the year with a 10-1 victory.
Brett McIntosh (165) began the match Friday with a gritty 2-1 victory over Guillermo Escobedo. Kevin Zimmer (HWT) also methodically defeated Jake Andrews, 4-1, to remain unbeaten on the season, as well.
"It was definitely an improved performance," Branch said. "We have to build. There's still definitely room for improvement, and we have to learn from our performance. We need to go down there to Cal Baptist with the same energy and fire and go out and wrestle to dominate those individual matches."
The Cal Baptist match is slated for Saturday at 8 p.m. inside the Dan Vyne Gym. It marks the Big 12 opener for both teams.
Wyoming 40 | CSU Bakersfield 3
165 – Brett McIntosh (WYO) dec. Guillermo Escobedo (CSUB), 2-1
174 – Riley Davis (WYO) fall Evan Gilbert (CSUB), 2:28
184 – Ethan Ducca (WYO) major dec. Braden Smelser (CSUB), 14-3
197 – Joey Novak (WYO) tech. fall Khristian Dove (CSUB), 17-2
HWT – Kevin Zimmer (WYO) dec. Jake Andrews (CSUB), 4-1
125 – Richie Sandoval (CSUB) dec. Garrett Ricks (WYO), 7-4
133 – Cooper Birdwell (WYO) major dec. Santino Sanchez (CSUB), 10-1
141 – Cole Brooks (WYO) tech. fall Luis Ramos (CSUB), 20-4
149 – Aidan Noonan (WYO) major dec. Johnathon Viveros (CSUB), 12-1
157 – Paolo Salminen (WYO) fall Jacob Peralta (CSUB), 1:32
POKES: The Seven Best Games In The History Of The Wyoming-CSU Border War Rivalry (Naturally, they were all Wyoming wins)