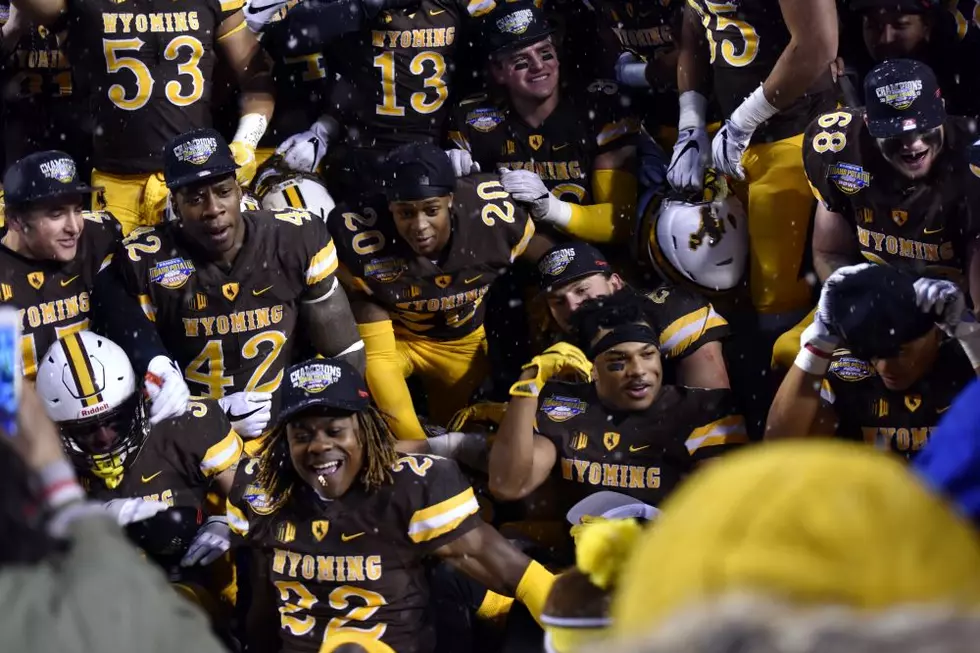 teampotatobowlUSE
LARAMIE -- As Wyoming gears up to play in its 16th bowl game in program history, we thought it would be fun to come up with an All-Bowl team, featuring some of the best performances in Cowboys' postseason history.
DL -- Jerry Durling
Durling and the Cowboys defense held mighty Florida State to minus-21 rushing yards in the 1966 Sun Bowl. Durling was named Lineman of the Game in the 28-20 victory over the Seminoles.
RB -- Jim Kiick
Wyoming's legendary running back had plenty of big bowl moments, but in the 1966 Sun Bowl in El Paso, Texas, he was named the game's MVP. Kiick rushed for 135 yards on 25 carries, including a 43-yard touchdown run to give the Pokes the 28-20 upset win over Florida State. He also caught four passes from Wyoming quarterback Rick Egloff for 42 yards.
RB -- Jim Crawford
The Greybull native rushed for 103 yards on just 18 carries in the 1956 Sun Bowl, garnering MVP honors after the Cowboys 21-14 upset win over Texas Tech. Little did anyone know at the time, but Crawford would go on to lead the nation in rushing the following season.

WR -- Jovon Bouknight
This guy did it all in the 2004 Las Vegas Bowl against UCLA. Bouknight caught five passes for a game-high 107 yards and also tossed a 22-yard touchdown strike to back-up quarterback JJ Raterink to bring the Cowboys to with in 21-17 in the fourth. He also returned three kicks for 70 yards in the 24-21 upset win over the Bruins.
QB -- Corey Bramlet
The Wheatland product picked a perfect time to have one of his best career games. Bramlet completed 20-of-34 passes for 307 yards and a pair of touchdown strikes in the 24-21 win over UCLA in the 2004 Las Vegas Bowl. His 12-yard connection with tight end John Wadkowski with 57 seconds remaining sent the Cowboy faithful into a frenzy and snapped a six-game losing streak in bowl games.
DL -- Leonard Kucewski
Kucewski picked off a Harold Stephens pass in the 1958 Sun Bowl helping lift the Cowboys to a 14-6 victory over Hardin Simmons. He became the first lineman to be named the game's most outstanding player. Kucewski was even named to the 75th-Anniversary All-Sun Bowl Team.

DL -- Dusty Hoffschneider
Even at 5-feet, 8-inches tall, they didn't make 'em much tougher than Hoffschneider. The entire week leading up to the 2004 Las Vegas Bowl, the talk surrounded how Wyoming's much smaller line would be effective against the mass of UCLA's front five. Well, the 24-21 Wyoming win should give you a good idea. Hoffschneider didn't put up massive numbers, but he, along with John Flora, took Bruins quarterback Drew Olson out of the game in the second quarter with a left knee sprain.
DL -- Mitch Unrein
Midway through the fourth quarter, Unrein reached into the chest of the nation's leading rusher, Ryan Mathews, and stripped the ball, putting the Cowboys in business and helping erase an 11-point deficit to take the game into overtime. That play earned Unrein the Defensive MVP trophy of the 2009 New Mexico Bowl. Wyoming knocked off Fresno State 35-28 in double overtime.
DL -- Josh Biezuns
If you're Fresno State, you might want to block No. 44. On three of the four attempts from inside Wyoming's one-yard line in the first overtime, the nation's leading rusher, Ryan Mathews, carried the ball. All three times Biezuns stuffed him. It was one of the biggest goal-line stands in bowl history. Biezuns finished with seven tackles on the night.
LB -- Gabe Knapton
Knapton had plenty to do with shutting down Mathews in overtime, too. Along with Biezuns, Wyoming's linebacker was there to finish the job before the Bulldogs' running back could break the plane. Knapton racked up 11 tackles that night. Knapton also had seven tackles in the 2011 New Mexico Bowl.
QB -- Josh Allen
We all figured it was his final game in a Wyoming uniform, but it wasn't until Allen completed an 11-for-19 outing, throwing for 154 yards and three touchdowns to a trio of receivers that he decided to tell the world. Standing on the victorious podium after a 37-14 win over Central Michigan in the 2017 Famous Idaho Potato Bowl, Allen announced he would enter the NFL Draft.
WR -- Tanner Gentry
In his final game in a Cowboys uniform, Gentry snagged seven passes for 113 yards and two touchdowns in a 24-21 loss to rival BYU in the 2016 Poinsettia Bowl.
DB -- Andrew Wingard
Wyoming's all-time leading tackler picked off a Tanner Mangum pass and returned it 20 yards in a 24-21 loss to BYU in the Poinsettia Bowl in 2017. The following season, he intercepted Central Michigan's Shane Morris and returned it 20 yards.
LB -- Logan Wilson
The Casper product still has one chapter left in his Wyoming bowl book, but he has already made an impact in Pokes' postseason history. The linebacker known as "The Governor" finished with nine tackles and an interception in the 2017 Famous Idaho Potato Bowl win over CMU. What will he do against Georgia State Dec. 31 in the Arizona Bowl?
DB/ KR -- Tyler Hall
Hall snagged one of the Cowboys four interceptions of Shane Morris in the 2017 Famous Idaho Potato Bowl, but he didn't stop there. The then-sophomore also returned a pair of kicks against the Chippewas, including a long of 37 yards. Hall finished with 60 return yards.
PK -- Cooper Rothe
Rothe was perfect against Central Michigan in the 2017 Famous Idaho Potato Bowl. Not only was he 4-for-4 on extra points that day in Boise, Idaho, he also booted through all three of his field-goal attempts, including a long of 28.
OL -- Clayton Kirven
The Buffalo product opened holes all evening long for Alvester Alexander during the 2009 New Mexico Bowl win over Fresno State. Kirven was instrumental in Alexander racking up a game-high 137 yards rushing on just 12 attempts in the 35-28 double overtime win.
DL -- Youhanna Ghaifan
The Cowboys big defensive tackle had a field day with Central Michigan's offensive line in the 2017 Famous Idaho Potato Bowl. Ghaifan finished with five tackles, two sacks and 2.5 tackles for loss in the 37-14 win over the Chippewas.
OL -- Ryan Cummings
Wyoming's all-time leading rusher Brian Hill played just three quarters of the 2016 Poinsettia Bowl against BYU, but in that time, he amassed 93 rushing yards on 26 attempts behind Cummings and Co. The junior handled business all night long, including blocking for Josh Allen as he tossed a pair of touchdown strikes to Tanner Gentry.
OL -- Dave Rupp
In the 1966 Sun Bowl victory over Florida State, Rupp can be credited with opening that gaping hole that allowed Jim Kiick to pick up the go-ahead points for the Cowboys that afternoon in El Paso, Texas. Rupp, along with Glen Lybarger, were the road-graders in that 28-20 upset.
PR -- Robert Rivers
Rivers hauled in a punt and took it 70 yards down the sideline for a touchdown in the 1990 Copper Bowl. Unfortunately for the Cowboys, the two-point conversion was unsuccessful and Wyoming fell to Cal, 17-15.
WR -- Shawn Wiggins
Wiggins hauled in seven passes for a game-high 119 yards from quarterback Tom Corontzos in a 17-15 loss to Cal in the 1990 Copper Bowl in Tucson.
DB -- Selmer Pederson
The Lander native was called the "best safety in football" by former head coach Bowden Wyatt. In the 1951 Gator Bowl, Wyoming's first bowl game in its history, Pederson picked off a pass to help give the Cowboys a 20-7 win over Washington & Lee.
QB/ RB -- Eddie Talboom
This guy could do it all. And in Wyoming's first-ever bowl appearance, he did, throwing for 141 yards and rushing for 31 more in a 20-7 win over Washington & Lee in the 1951 Gator Bowl.
QB -- Paul Toscano
Wyoming's mobile signal caller hit on 14-of-23 passes for 239 yards in a 20-13 loss to LSU in the 1968 Sugar Bowl.
K/P -- Jerry DePoyester
DePoyster broke Sugar Bowl records on his four punts that afternoon in New Orleans, averaging 49 yards per kick. DePoyster also made two field goals against LSU, one from 29 and another from 49. The latter was also a bowl game record.
Did we miss any names? Moments? If so, please leave a comment and let us know. We don't want to leave any deserving players out of the mix.