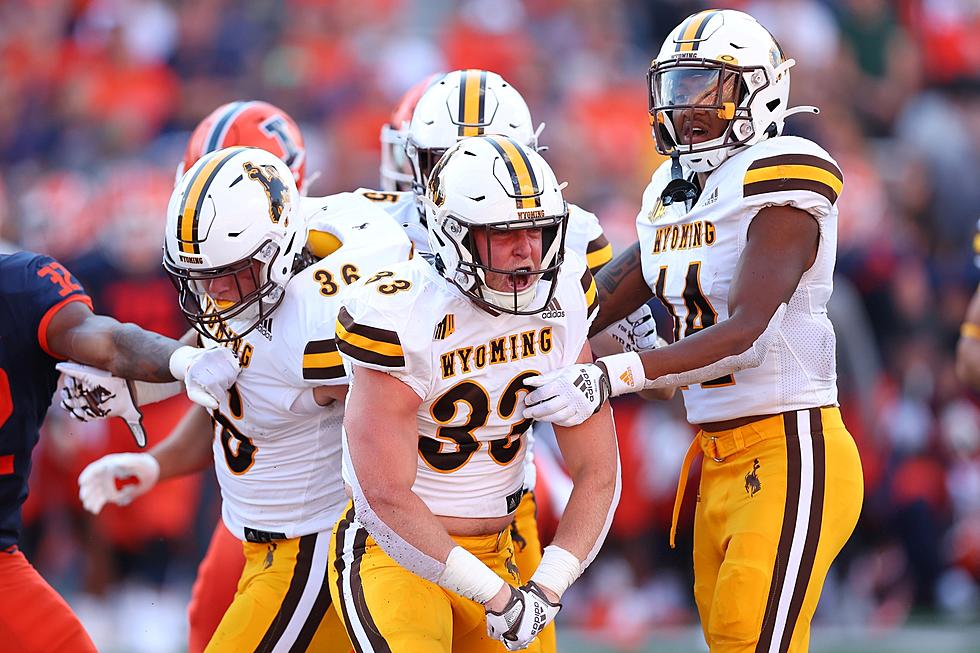 Wyoming's Connor Shay Vying For Starting Linebacker Spot
CHAMPAIGN, ILLINOIS - AUGUST 27: Connor Shay #33 of the Wyoming Cowboys celebrates a tackle against the Illinois Fighting Illini during the second half at Memorial Stadium on August 27, 2022 in Champaign, Illinois. (Photo by Michael Reaves/Getty Images)
LARAMIE -- Connor Shay is vying for a starting linebacker spot this fall.
Those are Craig Bohl's words.
Wyoming's head coach said he has been impressed with the junior's football IQ. Not only that, Shay packed on roughly 15 pounds in the offseason and has held onto his trademark speed, which landed him multiple FBS interest out of high school, including a Power-5 offer from Utah.
There's another reason Shay is firmly on the radar of the Cowboys' coaching staff -- he's one of the last men standing right now at a position that has been decimated by injury this spring.
The California product is making the most of that opportunity.
"He's playing with much more confidence and putting all the pieces in place," Bohl said of the 6-foot-2, 230-pound three-star from Monte Vista High School in Danville. "I think he's going to be a guy that will really challenge for a starting spot this fall. The other guys that are not out there -- it's not their fault that they're not out there -- but I know this is a guy that's out there practicing and getting better. You know, we have to take a hard look at that."
Shay is currently lining up at middle linebacker spot in place of Wyoming's leading tackler from a season ago, Easton Gibbs. Read Sunn has stepped in on the outside, replacing Shae Suiaunoa and Cole DeMarzo. That trio of absentees are rehabbing offseason surgeries and will not participate this spring.
Gibbs, who registered 121 stops and was named to the All-Mountain West First Team, isn't going anywhere. The weakside, however, might just be up for grabs. Suiaunoa started all 13 games at that spot in 2022, registering 73 tackles, 2.5 sacks and an interception.
"Easton has that MIKE spot pretty locked down," said Aaron Bohl, UW's linebackers coach. "We've looked at it and we're just going to find ways to get the best guys on the field."
Bohl added, it's much easier to transition from the middle to the outside than the other way around.
MORE UW FOOTBALL NEWS VIA 7220SPORTS:
* Pokes Practice Report: Does Wyoming finally have cornerback depth?
* War Memorial Stadium upgrades to begin this fall
* Wyoming's newest running back looking for larger role in Laramie
* Caden Becker not only welcomed a position change, he asked for it
* Pokes Practice Report: Preparing for Texas Tech? Already?
* Wrook Brown prepared to 'pay rent' to keep starting job
* Sabastian Harsh entering 2023 season with a new perspective
How does Shay feel about all of this sudden attention from the ultimate decision makers?
"It means a lot," he said. "It shows that the work I've put in is getting results. I've worked hard all offseason. Since I've been here, I've just been waiting for my opportunity.
"When my opportunity comes, I'm going to be ready for it."
Shay arrived on campus during the COVID-19-shortened 2020 campaign and never saw the field. That changed the following fall when he became a staple on special teams and appeared in 12 games. Last season, he added 12 more outings to the résumé.
He has a grand total of six tackles -- so far -- to show for it.
That, he hopes, will change in a big way this fall, beginning Week 1 when Texas Tech pays a visit to War Memorial Stadium.
"It's big," Shay said of this chance. "I'm getting a lot of reps and I'm in control of the defense right now. I just need to keep doing what I'm doing ... I'm seeing more pictures and it's just going to make me a better player, at the end of the day."
Shay, who was named North Coast Section Defensive Player of the Year and earned a spot on the San Francisco Chronicle First Team All-Metro Team, tallied 134 tackles, including seven for loss, during his final prep season. That's an average of nearly 12 stops per game. He also added a sack and a forced fumble.
He just keeps checking off boxes.
"He's doing a good job," Aaron Bohl said. "You know, it's fun to see him grow ... He has embraced this role of him and Read being the only guys that have experience out there. He has really embraced that in terms of his communication, how he plays and how he leads. You just see a switch flipping with him, which is good to see."
Just The Facts: Size Doesn't Matter For Wyoming's War Memorial Stadium
Did you know it would take the populations of
Gillette
(32,857),
Laramie
(32,381),
Rock Springs
(23,319),
Sheridan
(17,844) and Wright (1,200) to create a sellout inside Michigan's famed 107,601-seat
Big House
, the largest college football stadium in the nation?
For those of you not familiar with the
Cowboy State
, those are Wyoming's third through sixth most inhabited cities, along with the small mining town in Campbell County.
- Just The Facts: Size Doesn't Matter For Wyoming's War Memorial Stadium