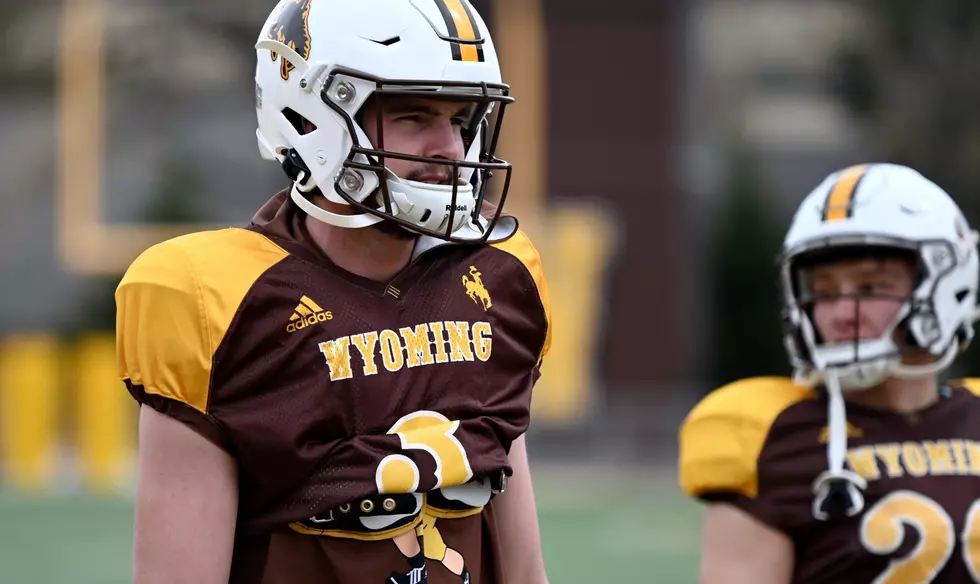 Wyoming's Gavin Beerup now in at … wide receiver?
Former Wyoming QB Gavin Beerup is embracing a position change to wide receiver this spring./ DJ Johnson photo
LARAMIE -- Gavin Beerup isn't afraid to admit it -- he was scared.
With less than four minutes to go in regulation, starting quarterback Levi Williams was down on the turf inside Sam Boyd Stadium, courtesy of a Ben Gansallo sack. Beerup, then a true freshman, was the only available signal caller left on Wyoming's roster.
Ready or not, he was entering this one.
The Cowboys, trailing New Mexico 17-16, faced a 3rd and 20 from their own 37-yard line.
No pressure, kid.
"I start warming up on the sideline, and the worst part is I'm getting in the part of the game where the game's close," Beerup joked. "We're in a two-minute offense and I'm getting signals thrown at me. Being a freshman, it was a lot."
Beerup connected with Ayden Eberhardt on an 18-yard gainer. On fourth down, the Camarillo, Calif., product tucked the ball and sprinted 38 yards down the field.
Maybe this gig isn't so hard after all?
Wrong.
On 2nd and goal, UW running back Trey Smith fumbled the ball. The Lobos pounced. After running a couple more critical minutes off the clock, Beerup got one more chance to avoid the upset.
Three incomplete passes followed. Brandon Shook picked off the fourth. The longest losing streak in the nation -- 14 games -- was no more. The Lobos' 20-game Mountain West skid was now a thing of the past, too.
The following Saturday, the Cowboys' 2020 finale, Beerup was forced into action late once again. The former three-star recruit connected on just 1-of-8 pass attempts in a driving Laramie snowstorm. He added another interception.
"I tried to do my best," he said.
Beerup will likely never be asked to attempt to pull the Pokes from the fire again. Last week, he officially traded in his blue No. 3 practice jersey and now dons a brown one. His days under center are over. He was asked to make the move to wide receiver.
It's a transition he accepted with eagerness and an open mind.
"I wasn't ever expecting to ever have a position change in my life," he said. "Obviously, I played quarterback my whole life. I thought it was going to be my position. I was going to stick with it for however long I was going to play. Then, things switched like that, but I'm happy. It's a good group of guys in the room. They are all positive and they teach you a lot."
MORE UW FOOTBALL COVERAGE:
* Pokes Practice Report: Force feeding with a firehose
* Bertagnole: 'My mindset is to just keep my motor going'
* By the numbers: Wyoming football jersey numbers
* Ever try to tackle a 6-foot-2, 230-pound running back?
This move had little to do with Beerup's early career statistics -- 2-of-13 for 37 yards and those two picks -- but was made because of another number -- five. That's the number of bodies that will populate Wyoming's QB room in June when Caden Becker arrives on campus.
A labrum tear in his throwing shoulder didn't help Beerup's cause, either. That happened before the Air Force game last October. The redshirt freshman said he was too tall to run the scout team in practice. Instead, he was shuffled to the outside.
"CJ (Coldon) was pressed up on me one day and I tried to swim over the top," Beerup said. "My shoulder popped out of place."
That setback sidelined him for the remainder of the 2021 season. The pain, it lingered.
"I just couldn't do it anymore," he said.
That's a realization that is still hard to swallow for a guy who threw for 3,867 yards and 30 touchdowns during his final two seasons at St. Bonaventure High School. Southern Miss offered him. So did UNLV.
"I'm going to miss everything," he said. "I like throwing. I like leading the offense. I like learning everyone's position. It's tough, you know, but it's been fun."
UW wide receivers coach Mike Grant said Beerup is a "work in progress." Head coach Craig Bohl echoed those sentiments Tuesday, adding "the jury is out."
How did Beerup handle the news?
"We had a good conversation," Bohl said. "You know, anytime you're a quarterback, you see yourself as a quarterback. He also saw the number of repetitions he was getting and just saw an opportunity to help our football team."
That might sound like lip service, but remember, it was Beerup who tweeted "#rideforthe brand" as a number of his teammates were flooding the NCAA Transfer Portal in late December.
"I just said, 'that's fine,'" he said of that conversation with Bohl. "I want to be here in this program. I don't want to go anywhere else. I'll do anything for this team."
So, what does Gavin Beerup the wide receiver look like?
Turns out, he's played the position before. He split reps at quarterback and wide out in high school. Even with that shoulder injury, Beerup was a pass catcher in practice throughout the 2021 season. He knows the offense. He was already tight with this unit.
Beerup certainly has the size, standing 6-foot-5 and weighing in at 205.
"I'm excited for him," redshirt junior receiver Gunner Gentry said. "I'm excited he's getting the opportunity to show his athleticism and try to make plays somewhere else on the field. He loves it. He's embracing every second of it."
Bohl said it's his experience that quarterbacks have good hand-eye coordination. He also likes the idea that Beerup is familiar with the routes. Still, he's not sure quite what to expect.
"Whether that's going to be a great move for him or not, we'll find out," he said. "I wouldn't say right now there's a lot of things that jump off the page, but we shall see."
Technique work is on the immediate docket for Beerup. He already has offseason plans to workout with the other receivers. He hopes that tutelage makes this transition even smoother.
He laughed and shook his head when discussing the first shot he took from an oncoming Boise State defender in 2020. His hands, already frozen, were buried under several inches of snow. Not an ideal situation for a kid from SoCal.
He won't miss that part.
"I can wear gloves now and I'm constantly running around," he joked. "That's what sucks about playing quarterback, you're pretty much taking a three-step drop and you're stuck in the pocket. You're not doing a lot of running."
PRESS PASS: Roaming The War
Wyoming Cowboys vs. Montana State Bobcats
-LOOK: Pokes vs. Bobcats