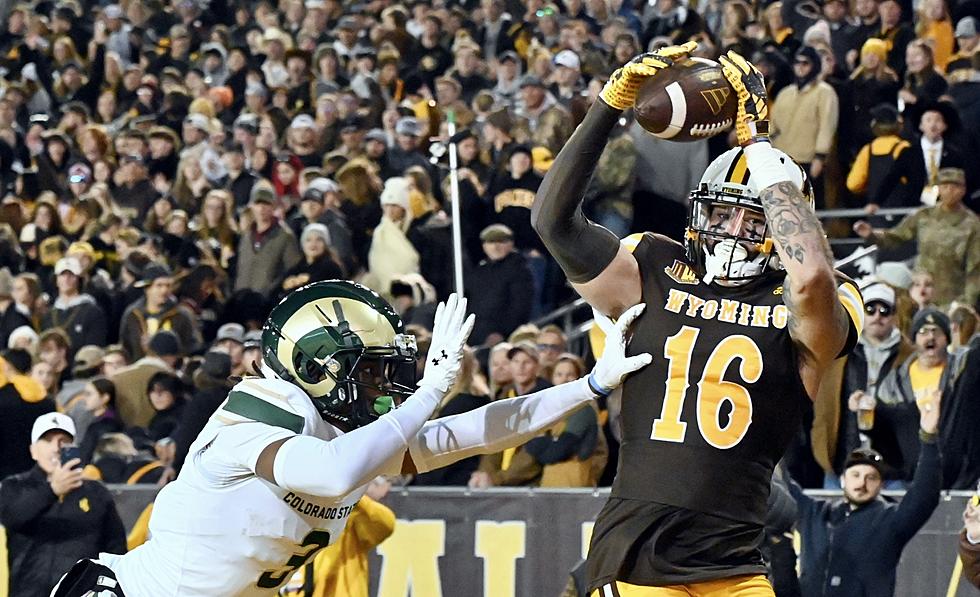 Wyoming's Gunner Gentry: 'I Wouldn't Trade This For The World'
Wyoming wide receiver Gunner Gentry hauls in a 9-yard touchdown pass in a 24-15 victory over CSU in the 115th edition of the Border War./ DJ Johnson photo
LARAMIE -- Andrew Peasley took the shotgun snap and briefly tucked the ball into the belly of running back of Harrison Waylee before looking to his left and tossing a perfectly-placed throw into the back corner of the end zone.
The receiver plucked the pass out of the sky and tapped both feet in bounds before tumbling into the metal railing.
Gunner Gentry felt no pain.
The senior quickly hopped up to his feet and into the awaiting arms of 6-foot-8 left tackle Frank Crum. Fellow linemen Wes King and Jack Walsh were there, too. So was Treyton Welch, Will Pelissier and a whole host of Wyoming players who left the bench area to join in on the celebration.
The home team was up 10-0 early in the second quarter against its most-hated rival.
That had little to do with the joy -- and, yes, even a few tears -- in that moment.
"To come out and make a play in a game this big, for the program and for the university, I mean, it was huge for me and shows all the hard work that I've put in and all the years of suffering, and just everything that I've been through, is finally paying off," Gentry said from behind the podium just minutes after the Cowboys knocked off Colorado State 24-15 last Friday night in Laramie. "It's just really an insane feeling, honestly."
Some thought a moment like this would never happen.
At tone time, that included Gentry himself.
After suffering consecutive patellar tendon tears in his left knee, admittedly, the senior's thoughts drifted to some "dark places." He never stepped foot on the field in 2021 or '22. His love of the game, he says, never wavered. Support from his family, along with his Wyoming teammates and coaches, made his decision a "no-brainer." Still, the grueling rehab and the helpless agony of watching from the sideline couldn't be ignored.
Was it all worth it?
After being mobbed by his teammates, Gentry finally got a chance to get a breather and gather his thoughts. The emotions were palpable. They became even more intense when his brother strolled onto the sideline.
"You know, it's Tanner. He can just do whatever he wants," Gentry said with a smile. "He just walked right on the field and came right up to me and gave me a huge hug. He just told me how proud he was.
"It was a great moment."
Tanner Gentry was a wide receiver at this university from 2013-16. He quickly became Josh Allen's favorite target and hauled in a career-best 72 passes for 1,326 yards and 14 touchdowns during his senior campaign.
He slowly made his way onto Jonah Field last night as the student section poured onto the playing surface to celebrate with the coveted Bronze Boot. The smile he was sporting was likely glued to his face from the moment he shared that embrace with his little brother.
"I just said, you are built for this moment," Tanner said. "And that we are so proud of you, congratulations. You deserve it. You know, you just deserve the moment and we love you."
He also took time to reflect on the struggles Gunner has endured during his tenure in Laramie.
"I'm just trying to be there for him and just be someone for him to talk to," he continued. "Just for him to persevere through it all, it was for that moment right there. The whole family is proud and couldn't be prouder of him."
Gunner Gentry came to Wyoming in the fall of 2018, listed as a three-star recruit out of Grandview High School in the Denver area. It was deserved. During his prep career, Gentry hauled in 81 catches for 1,314 yards and 19 touchdowns, 10 of which came during his senior year.
He also brought with him that last name and the expectations that unfairly come with it.
Though he played in 11 games as a true freshman, Gentry never caught a pass. The following season he snagged just six for 130 yards. He finally found the end zone in the 2020 opener at Nevada, catching a 22-yard touchdown pass of the right arm of Levi Williams.
He would appear in just two more games during that COVID-19-shortened season. He finally emerged this fall in a home tilt against Portland State. That September afternoon, after sitting out for more than 1,000 days, he again toed the line.
"Yeah, it was neat," Wyoming head coach Craig Bohl said postgame. "... You know, he's had injury after injury after injury. I didn't even know if he'd be able to (play again). I mean, coming into fall camp, he was still hobbled. He's got a lot of good skills, and for him to come from Denver and choose to come to school here when he had other choices (CSU was not one of those, Gentry made sure to point out), he hung in there and made a big-time catch.
"It's kind of emotional. I know coach (Tim) Polasek got emotional. It was for me, too. I went over and shook Gunner's hand because he's been so much."
The coaches weren't the only ones having a hard time keeping it together on this night.
"It brought tears to my eyes," linebacker Easton Gibbs said. "I mean, a lot of guys did, too. I think that kid is the definition of this program. The grit, hard work and, you know, that never-give-up attitude. He's been through some stuff. We're all super happy for him. I mean, I think it was a very emotional score. It definitely gave us some extra boost to the night."
"Man, I am so happy for Gunner to get a touchdown," Crum added, stopping to ask the man himself if that was his first-ever score. "Gosh, man, that's awesome. It was awesome to see Gunner get that."
The man who threw that ball beamed when talking about his beloved teammate.
"After the game, I told him I wasn't even excited about the touchdown, I was just filled with joy," Peasley said. "Seeing him catch that after everything he's been through and, you know, to stick with playing football and just being in a rivalry game and getting the first touchdown in the game, you know, it was a lot of joy and happiness through our football team. Everyone felt that, so it was great."
After the final whistle Friday night, defensive tackle Cole Godbout made his way over to the table where the grand prize sat. That traveling trophy, a bronze-encased Vietnam-worn combat boot, was in his sights. Godbout, who is also Gentry's roommate, grabbed the hardware and immediately turned to No. 16.
This was his moment.
"For us to share that moment together, it was really special," Gentry said. "Just being next to Cole and celebrating with him, I mean, that's the stuff you don't forget about playing college football right there. Grabbing that boot and being there with your brothers and, you know, enjoying that moment together, It was just really special to me."
So, was it all worth it?
"Oh, yeah. 100%," he said, a smile creasing his face. "It's a very big mental battle as well as a physical battle going through injuries, especially major surgeries. So, just (trying) to do everything that I can to get back and live these moments, this is what it's all about.
"I wouldn't trade this for the world."
POKES: The Seven Best Games In The History Of The Wyoming-CSU Border War Rivalry (Naturally, they were all Wyoming wins)